News
Sharon Cohn and Breathless Wines will be featured on the ABC show, "Days with Zarah" - Sunday, July 1st at 11am on ABC-7. This show takes viewers all around the world in an effort to live life to the fullest! We dive into a variety of cultures, tasting outstanding food and sipping extraordinary wine. We want to show you where to travel and create unforgettable memories. From The Napa Valley, The Riviera Maya and San Francisco to New York, Tuscany and Oahu, we will take you to the best places to eat, sip, play and stay. http://dayswithzahrah.com/the-show/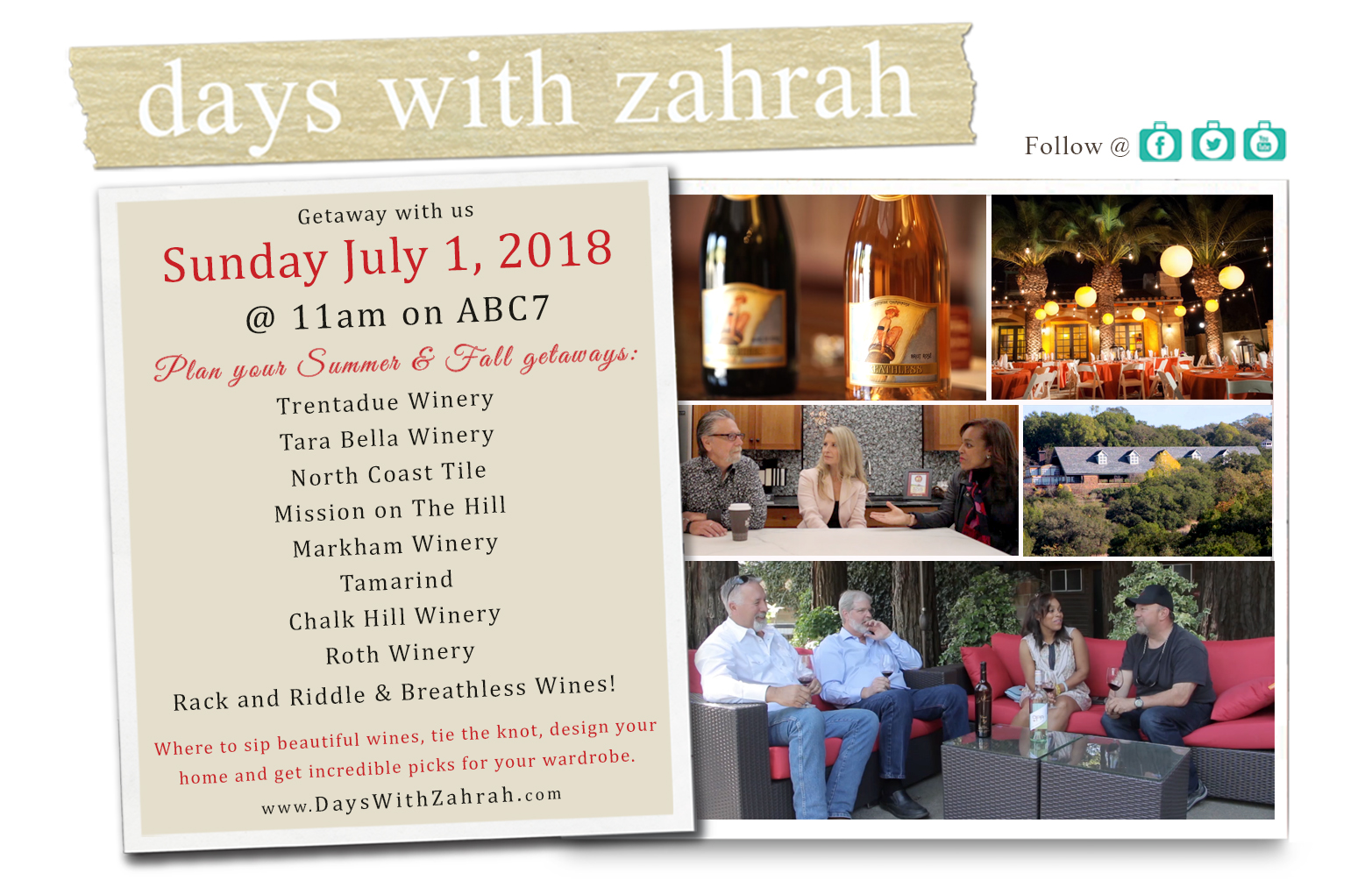 Breathless Sister 1-of-3, Sharon Cohn was interviewed for the popular Wine Country Podcast by Jeff Davis from "On The Wine Road". It's a great interview! Click Here to Listen.
Breathless wines and an interview with Sharon Cohn was featured on the Weekly Wine Show podcast! Read the article and listen to the interview HERE.
From the recent slideshow/article in Sonoma Magazine, Breathless was included among the top 11 wineries in Napa and Sonoma for Sparkling Wine. Click Here for the full article and to see the other fantastic producers.
Excerpt: "Owned by three bubble loving sisters, who have partnered with legendary winemaker Penny Gadd-Coster, Breathless produces fun-loving, refreshing sparklers. Their tasting room, located a few walkable blocks from downtown Healdsburg, offers an unpretentious and retro-inspired tasting experience with Art Deco decor. Enjoy a tasting on their patio, which is surrounded by gardens. Breathless also offers a Sabrage Experience, which teaches you how to slice open a bottle of sparkling with a sword - a necessary skill for any bubblehead. 707-395-7300, 499 Moore Ln., Healdsburg."
"'It's hard to pour just a little Champagne," says Sharon Cohn with a smile, after I remark on the healthy pours of sparkling wine lined up on the bar at Breathless Wines. The little sparkling wine brand with a big heart has opened a new tasting room just in time for the holidays." Read more here: http://www.bohemian.com/northbay/bubbles-up/Content?oid=3067885
You know you want to


Sign Up For Our Newsletter

Keep up to date on the latest wine releases, events, and promotions and get 10% off your next order.