News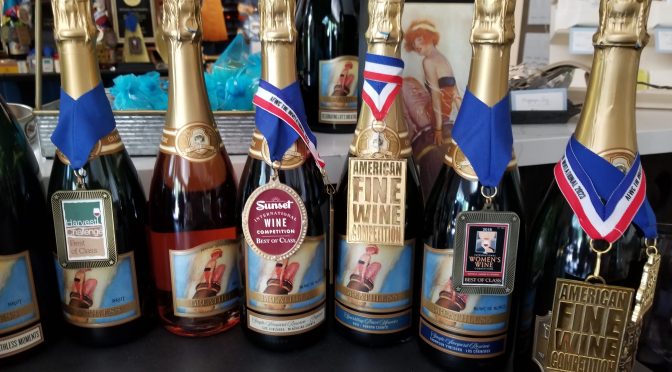 Winemaker Penny Gadd-Coster of Breathless Wines and Rack & Riddle, shares with THE VARIETAL SHOW her evolution into making sparkling wines: With wine judging and winemaking in her pocket, she helps make life festive with her bubbly creations! We taste the Breathless Blanc de Blancs, Sonoma County & Blanc de Blancs, Reserve Organic, Cox Vineyard, Mendocino together and discuss the best food pairings. Watch the interview.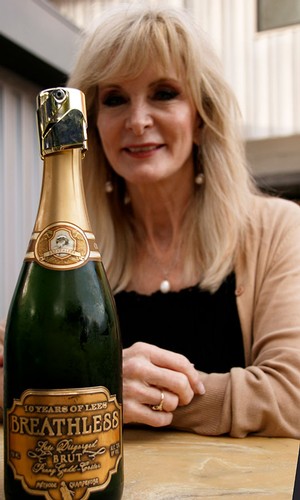 Breathless Sparkling Wines is a local legend, a place to find local bubblies of national stature right here in town. Its tasting area is surrounded by mature trees with overarching canopies and blue umbrellas, creating a comfortable, shaded space cozy enough for conversation. It's a social environment, and it's probably impossible not to have a good time.
After all, they serve champagne. And there's something about champagne—the bubbles, the relatively modest yet noticeable alcohol, the exuberant act of opening a bottle—that banishes the blues. Not without reason is it associated with life's happiest moments: an engagement or a wedding, a birth or a birthday, a promotion or an award.
It's also, more than any other drink, associated with women. Breathless makes no bones about the female power in champagne, and the company's ownership by three sisters is as much a part of the brand as the wine label—a fetching cabaret girl riding the swollen brut cork toward unknown celebrations.
Continue Reading ...