News
Sharon Cohn and Breathless Wines will be featured on the ABC show, "Days with Zarah" - Sunday, July 1st at 11am on ABC-7. This show takes viewers all around the world in an effort to live life to the fullest! We dive into a variety of cultures, tasting outstanding food and sipping extraordinary wine. We want to show you where to travel and create unforgettable memories. From The Napa Valley, The Riviera Maya and San Francisco to New York, Tuscany and Oahu, we will take you to the best places to eat, sip, play and stay. http://dayswithzahrah.com/the-show/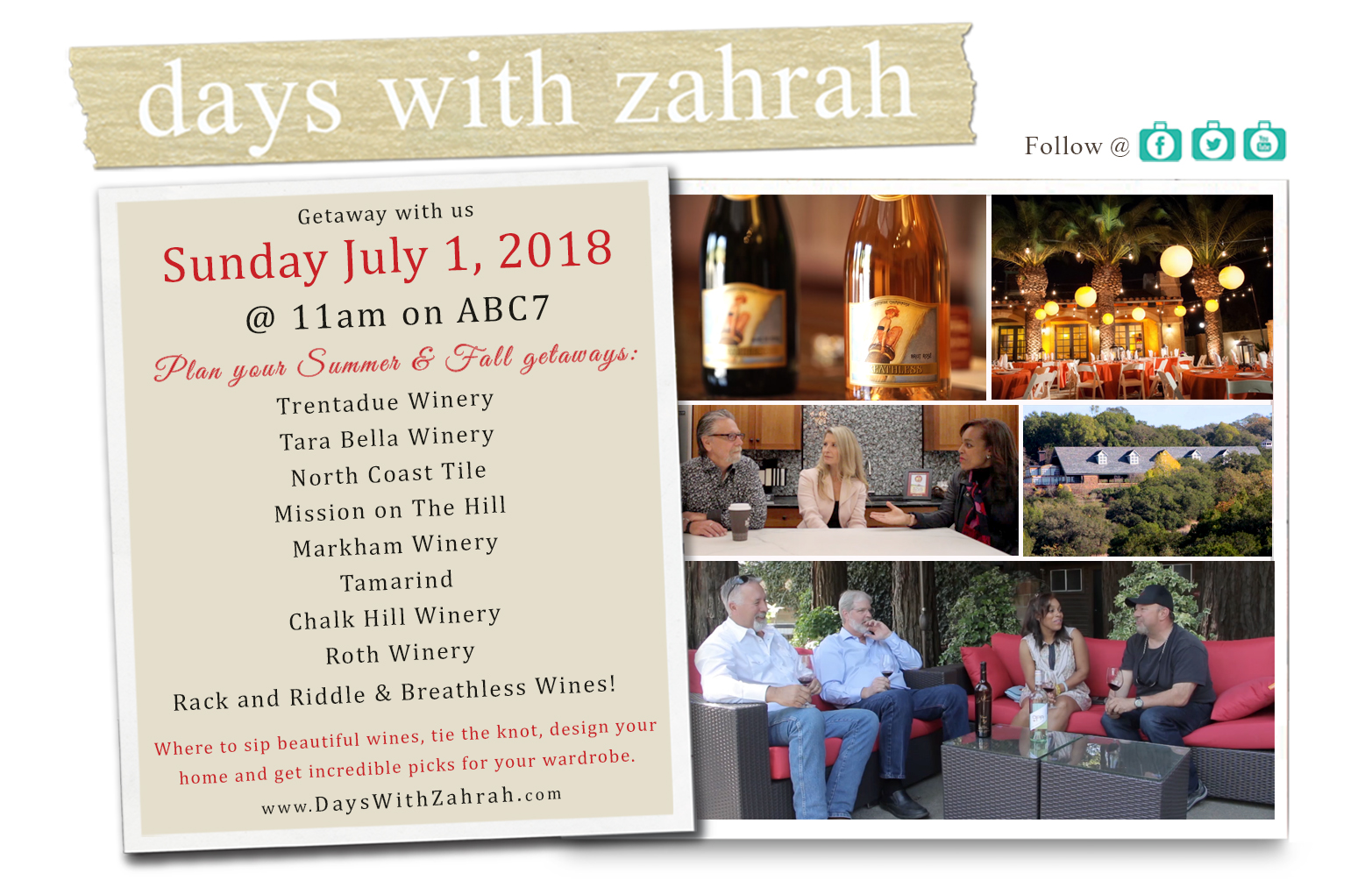 Breathless was featured in the San Jose Mercury News on April 28, 2018 as a special feature for Mother's Day! Excerpt below and click here to view the whole article.
Breathless Wines
If it's bubbles and baubles mom is after, a visit to Breathless Wines is in order. Sisters Sharon Cohn and Rebecca and Cynthia Faust, who have eight children and one grandchild between them, launched their label as a tribute to their mother, Martha.
Like their wine, the tasting room also sparkles. Crafted out of four shipping containers that feel more chic than industrial, the room doubles as a boutique, filled with jewelry and a collection of pretty Champagne flutes and coupes.
Surrounded by a flower garden, the patio is an attractive oasis a few blocks off Healdsburg's town square, and a great place to sample sparkling wine from award-winning winemaker Penny Gadd-Coster. The pinot noir-based Blanc de Noirs is a treat, as is the Brut, which is served with a side of potato chips.
Details: Tastings are available from 11 a.m. to 6 p.m. Thursday through Tuesday, for $16 or up to $69, if you opt for the sabrage experience, which includes a lesson in opening a bottle of bubbly with a saber. 499 Moore Lane, Healdsburg; www.breathlesswines.com