News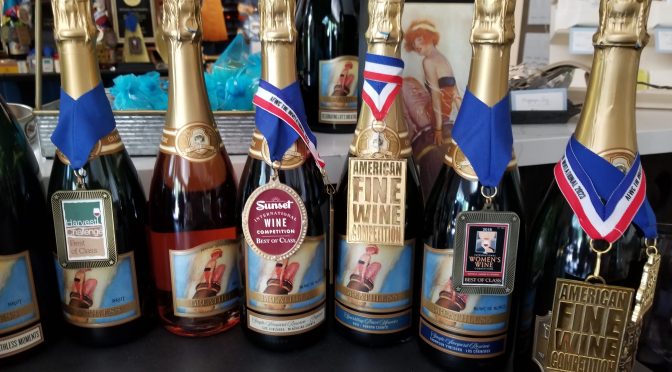 Winemaker Penny Gadd-Coster of Breathless Wines and Rack & Riddle, shares with THE VARIETAL SHOW her evolution into making sparkling wines: With wine judging and winemaking in her pocket, she helps make life festive with her bubbly creations! We taste the Breathless Blanc de Blancs, Sonoma County & Blanc de Blancs, Reserve Organic, Cox Vineyard, Mendocino together and discuss the best food pairings. Watch the interview.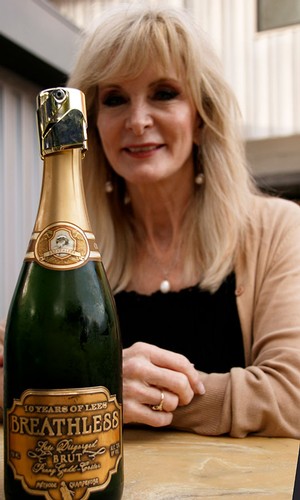 Breathless Sparkling Wines is a local legend, a place to find local bubblies of national stature right here in town. Its tasting area is surrounded by mature trees with overarching canopies and blue umbrellas, creating a comfortable, shaded space cozy enough for conversation. It's a social environment, and it's probably impossible not to have a good time.
After all, they serve champagne. And there's something about champagne—the bubbles, the relatively modest yet noticeable alcohol, the exuberant act of opening a bottle—that banishes the blues. Not without reason is it associated with life's happiest moments: an engagement or a wedding, a birth or a birthday, a promotion or an award.
It's also, more than any other drink, associated with women. Breathless makes no bones about the female power in champagne, and the company's ownership by three sisters is as much a part of the brand as the wine label—a fetching cabaret girl riding the swollen brut cork toward unknown celebrations.
Continue Reading ...
We're filled with gratitude to have been featured on The Good Neighbor Podcast with Cindy Butner. Our very own sister 1 of 3 Sharon sat down with Cindy for a bubbly-filled discussion - take a listen!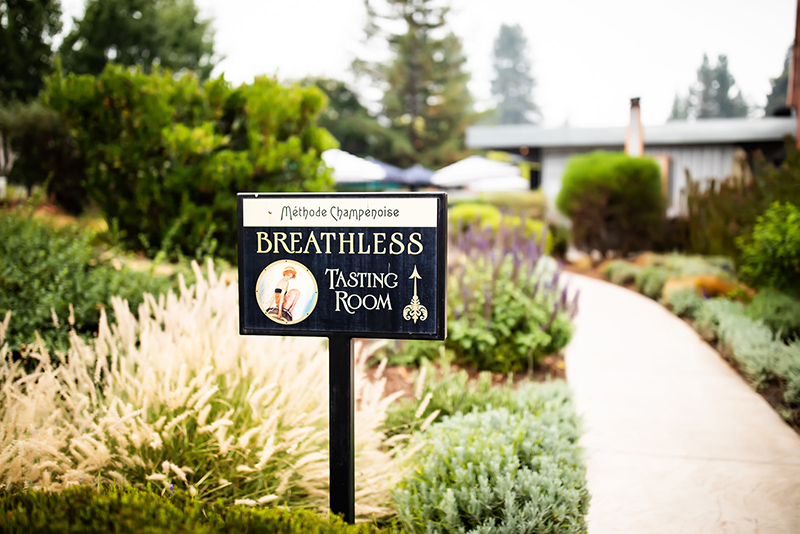 As Breathless Wines co-founder Sharon Cohn notes, "In such a male-dominated field, it's important to recognize and celebrate the work of women in the industry." By enjoying their wines, "we can celebrate the achievements of these women and appreciate the unique perspective and approach they bring to winemaking."
Sharon Cohn, Gary & Rebecca Rosenberg created and organized a 5-day tour of Reims & Epernay. The group of 19 from all over the US toured some of the larger, well-known Champagne houses as well as some small, unique ones. There was a walk through the vineyards, art tours, and many great dining experiences mixed with some exceptional tastings.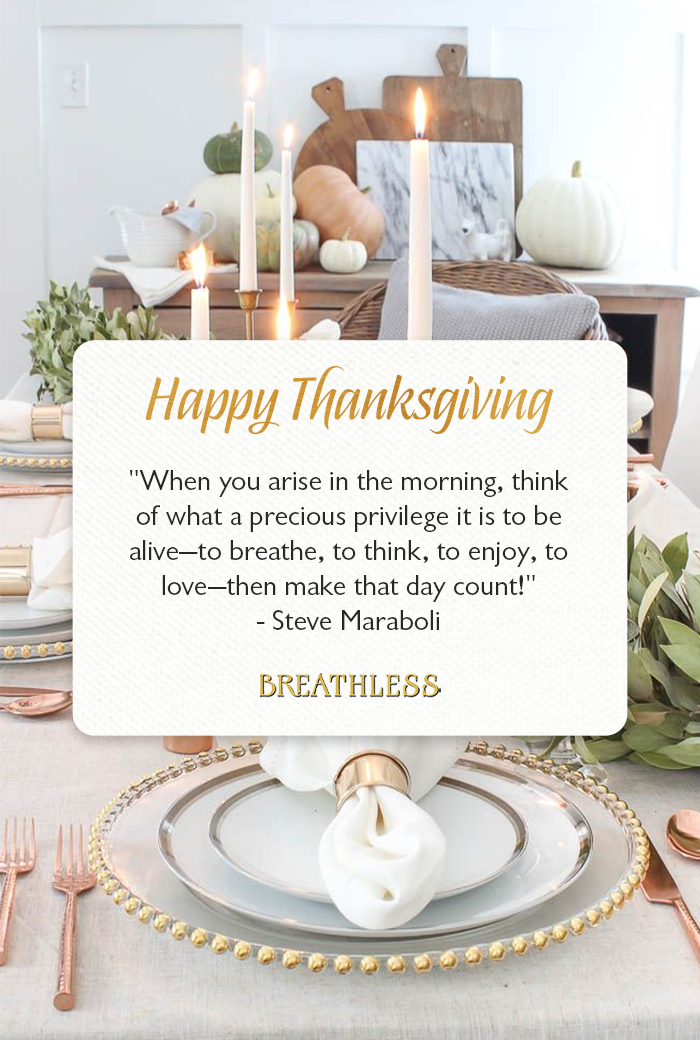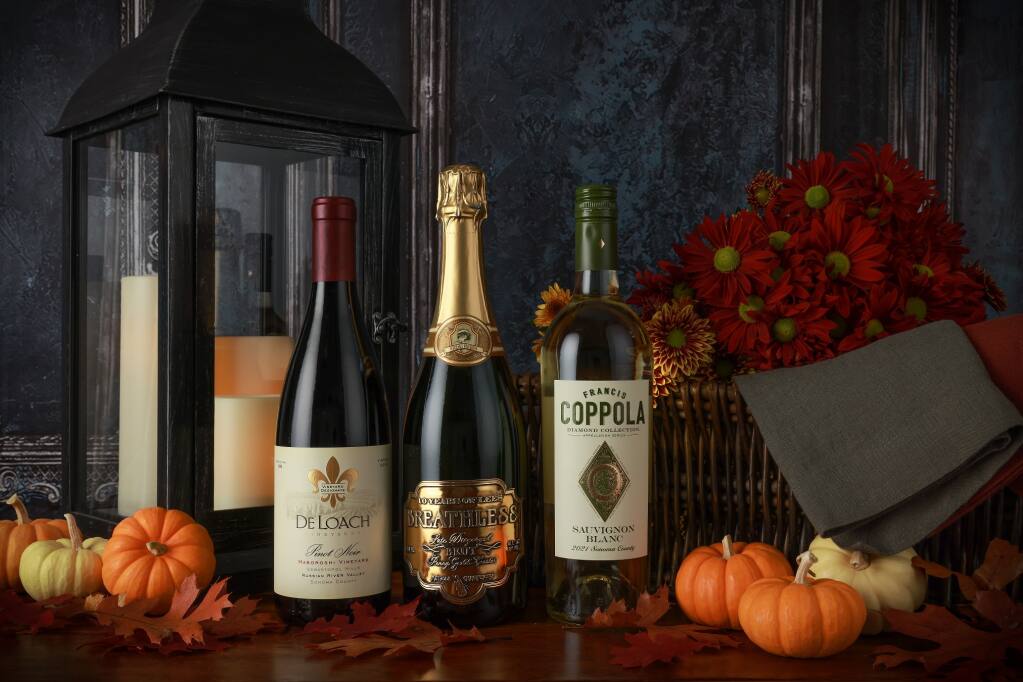 Winner of Sweepstakes Specialty Wine: Breathless, Late Disgorged Brut, Sonoma County 97 points
"Handily challenges some of the best french style champagnes, with the warm brioche and hazelnut intro then a macintosh apple, white cherry, and delicate mousse dalliance. Definitely one to delight"
Congratulations, to our wine-maker Penny Gadd-Coster. We are so grateful for this award!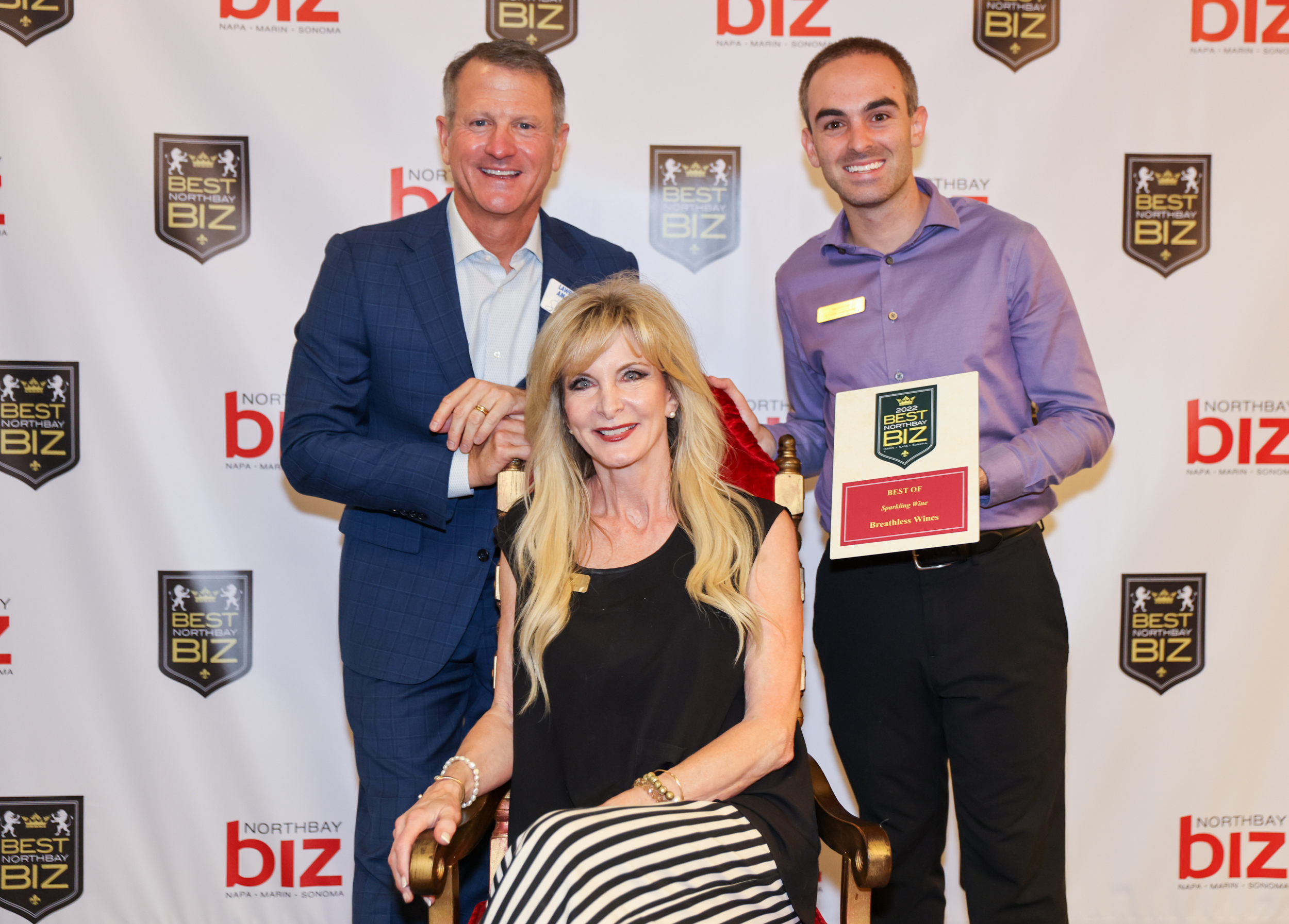 "Being chosen as the Best Sparkling Wine by NorthBay biz magazine's readers' poll is a huge honor, adds Cohn, because Breathless is such a small producer. The wines are exquisite, she says, and they continue to win awards everywhere they go. It's also about the connection they have with their customers and how their sparkling wine continues to bring them back to the winery. Cohn says it's not a one-time wine. Customers really do want to come back and enjoy the winery experience, its location, or prefer to take the wine home with them and celebrate every day, wherever they're going. It's a wine that fits all occasions.
The wines are also approachable. "We are very accessible as far as sparkling wines go," says Cohn. "They're right in the middle—not too sweet, not too dry. And, also accessible as far as pricing. Those are two of our big pluses."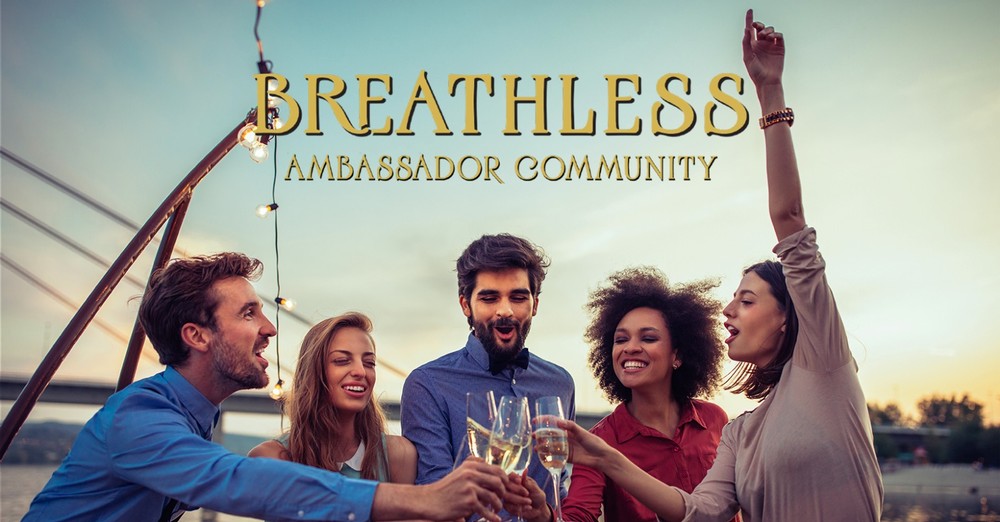 For the past two years, we have all been struck with a global pandemic that forced many companies to be more creative than ever. You have seen us take our wine-tasting events into the digital world with the Virtual Tastings, and we have loved seeing so many of you there.
We want to be able to contribute further to those who are looking for new solutions, to the families who are facing real income challenges. We want to be able to offer our members a way to thrive, and empower the inner-entrepreneurs budding inside.
Introducing… Breathless Ambassadors.
The Breathless Ambassador program is a new way for you to share the wines you already love and let us reward you for it. In an age where we are all so connected through social media, the opportunity has never been greater. Affiliate marketing is an industry experiencing explosive growth and influencers are among some of the most lauded people on the planet.
So how does it all work?
Well, when you become a Breathless Ambassador, you will receive the all new Be Breathless Box, which not only contains three, six or twelve of your favorite sparkling wines, but also a treasure trove of other gifts and tools to help you get your business started off in style.
You'll also receive a unique link (YourName.BreathlessAmbassadors.com) you can share with friends, family and just about anyone else. Here's the real beauty though – you get rewarded every single time that person decides to purchase wine – an ongoing, residual income. In fact, there are several ways to earn with Breathless Ambassadors, should you choose. Being able to encourage, support and empower our community during these trying times means everything to us. We truly hope you take a serious look at this new opportunity – your success story is ready to be written.
If you can't wait to hear more about this new venture, please reach out to us directly at (855) 5-bubbly (855-528-2259) or connect with us at support@breathlessambassadors.com. We would love it if you would follow us on your favorite social channel.
Your options have expanded! There's so much we love about offering the Breathless Ambassadors Community to you, but we also want to assure you our focus doesn't change. We want to deliver fantastic Breathless Wines to you whenever you are ready to celebrate.
Cheers to you all!
Sharon & Your Breathless Team
Learn more and sign up here.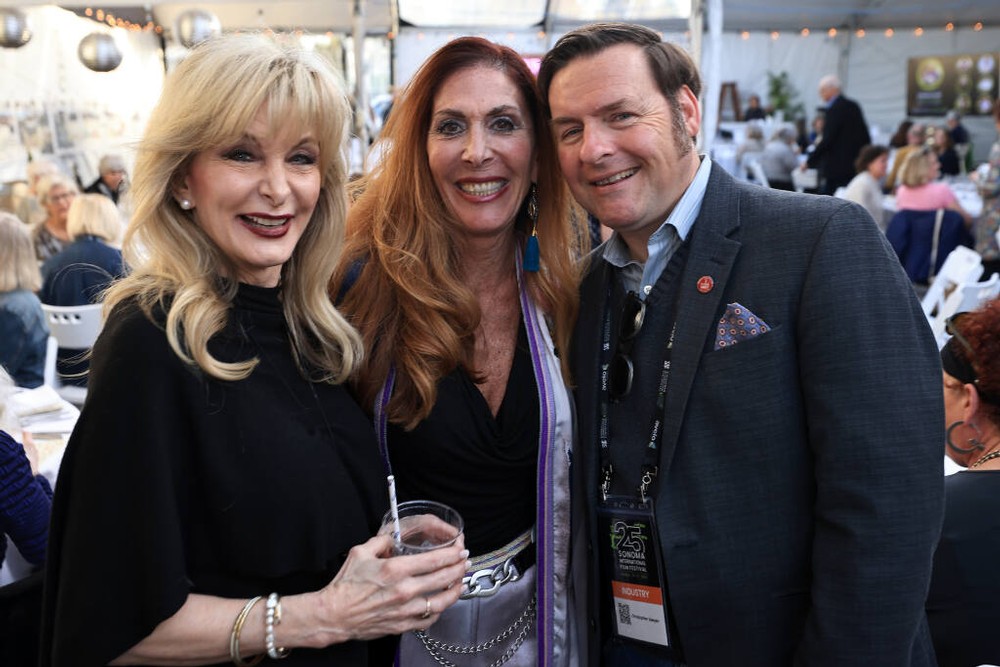 The Sonoma International Film Festival, known for screening independent and international films that are hard to find elsewhere, celebrated its in-person return Thursday during an opening gala.
Big stars headed to Sonoma for film fest's 25th anniversary
More than 120 films, including 79 premiers and shorts, will screen during the festival, which runs March 23 to 27. The festival was forced to pivot from live screenings and events during the COVID-19 pandemic.
To read more, click here.