Our Tasting Room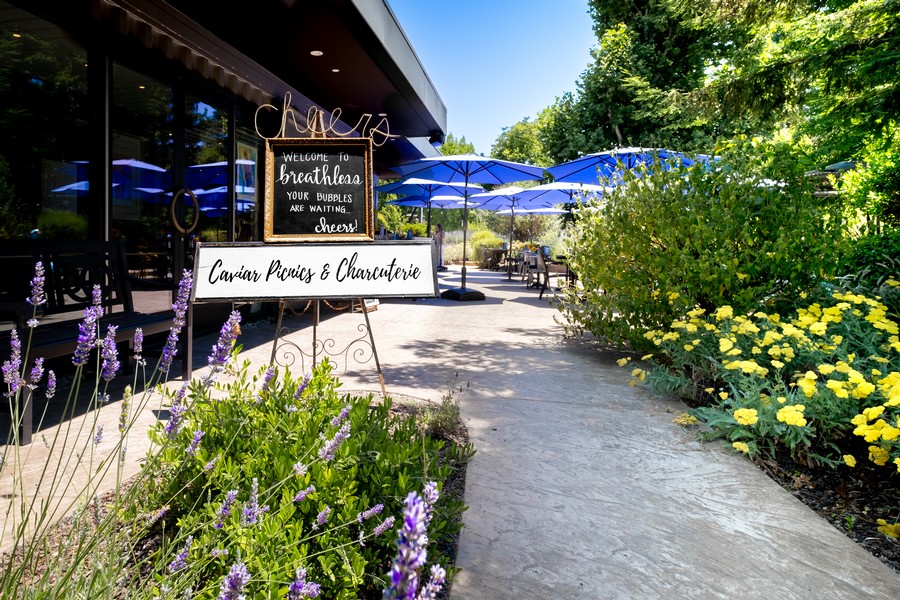 Located just a few blocks from downtown Healdsburg's town square, our tasting room and garden is a must visit for Sparkling Wine fans.
We took an eco-friendly approach to building our innovative indoor/outdoor Healdsburg tasting room, located just a short walk from the picturesque town square.
The building was constructed from reclaimed shipping containers, by a metalworking artist. In contrast to the industrial exterior, our stylish tasting room displays our affection for the glamorous Art Deco period, with colorful Parisian blue walls, ornamental centerpiece chandeliers, and a 20's vibe décor, highlighted by mixed metal and white marble accents.

Our outdoor patio features a stately gazebo surrounded by majestic redwood and cypress trees.
Because Breathless tastings can either be an interior or an al fresco seated experience, we offer a range of settings, from a group gathering venue in a distinctive tasting room reserved for our Sparkling Society members, to our tiered patio with its umbrella shaded terrace tables overlooking a drought-resistant garden.
The perfect place to enjoy a glass of sparkling before exploring downtown Healdsburg, there's always plenty of parking at Breathless, just three blocks from the center of it all.

We look forward to your visit.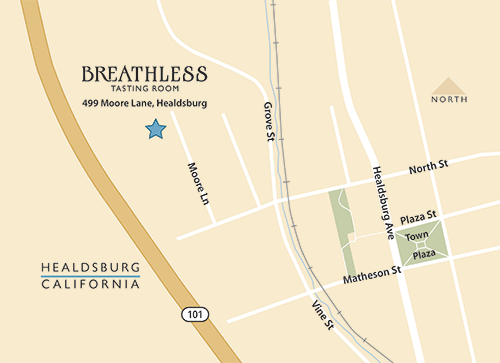 TASTING ROOM HOURS:
Thursday-Saturday: 11:00 am - 6:00 pm
Last Seating 5:00 pm
Sunday: 11:00 am - 5:00 pm
Last Seating 4:00 pm
Monday: 11:00 am - 4:00 pm
Last Seating 2:30 pm
Closed Tuesdays & Wednesdays
Reservations are recommended. Tastings are available "al fresco" on our patio garden or inside our Tasting Room

For questions or for further information:
info@breathlesswines.com
(707) 395-7300
Address
499 Moore Lane
Healdsburg, CA 95448


---