Breathless Experiences
Join us at our tasting room and garden in Downtown Healdsburg for a tasting flight or glass of our small production sparkling wine. Celebrate the day in a fun and relaxed atmosphere while learning about the history and art of making sparkling wine.
July & August Tasting Hours:
Thursday & Friday 1PM – 4PM
Saturday 11AM – 6PM
Sunday 11AM – 4PM
Closed Monday - Wednesday

Wine Club Members sign in to your account to access your complimentary tastings.

From your seat on our lovely garden patio, enjoy a flight of wines from the Breathless Sparkling and Still Wine Collection. Compare the styles while you learn about the sparkling and still winemaking process. After your tasting, we invite you to sip a glass or a bottle while enjoying the serene atmosphere and the company of other wine lovers.
Sparkling Society Members receive complimentary tastings by signing into their account.
Purchase 3 or more bottles or join our Sparkling Society and we'll waive the tasting fee. This tasting is a maximum of 90 minutes.
---
Because sharing wine is all about companionship, Breathless welcomes groups of 8 people or less with advance reservation. Gather your friends and take a seat on our lovely garden patio, where you'll enjoy a flight of wines from our Sparkling and Still Wine Collection. Compare the different styles while you learn about the sparkling and still winemaking process. Group tastings are a maxium of 90 minutes.
---

Tasting Additions
Stay awhile and discover our favorite culinary pairings, perfect in taste and texture.
Add when booking your tasting through our Tock Reservation system, with a 72-hour advance required for Cheese & Charcuterie and Caviar Picnic.

Cheese & Charcuterie
Local artisan cheeses paired for our wines. Furnished by local purveyor, Field & Farm Boards.
For 2: $29.99 | For 4: $49.99
| For 6: $69.99

Caviar Picnic
Wild-caught American Hackleback Sturgeon caviar, organic locally-crafted Cowgirl Creamery crème fraîche and savory potato chips. One of our favorites is all-natural AL de IBIZA chip, thinly sliced from Agria potatoes, cooked in pure sunflower oil and sprinkled with a touch of mildly salty-sweet Fleur de Sel. The result is a delicately refined textural balance of crunchy, crispy, and creamy, with the lightly golden potato chips contrasted against the glistening black caviar.
Serves up to 4 people $50.00



Sabrage Experience
One-on-one instruction with our experienced guides on the art of sabering, or using proper technique to open a bottle of champagne using impact from the blunt side of a saber. Then, toast with your newly-sabered bottle of Breathless bubbles on site!
$69 Per Person
---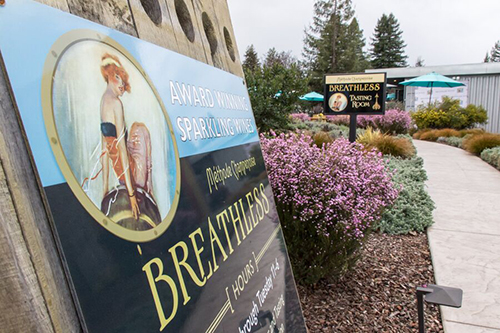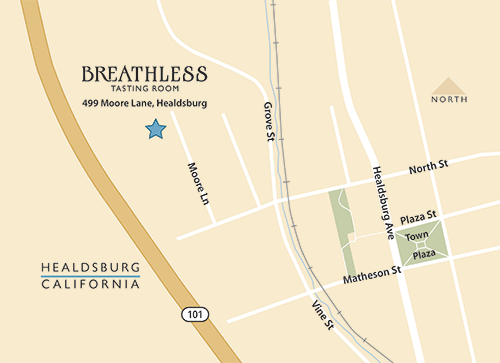 Sonoma County Leave No Trace: Protecting the Outdoors Together
Nothing pairs with wine quite like the beautiful and varied terrain in Sonoma County. If you are planning to make the outdoors part of your visit, please join us in practicing the Sonoma County Leave No Trace Principles. Together, we can all play a part in helping to protect the outdoors.
You know you want to


Sign Up For Our Newsletter

Keep up to date on the latest wine releases, events, and promotions and get 10% off your next order.