News
Sisters Dream Big and Honor Late Mother With Breathless Wines
"Life is not measured by the number of breaths we take, but by the number of moments that take our breath away." -Maya Angelou.
My first thought after being invited to explore the sparkling wines of Breathless Wines was that it was a rather unusual name for a winery. By its very definition, one might immediately think of not being able to breathe. Having just recovered from Covid-19, I admit that my thoughts did wander in that direction. But other definitions for "breathless" are anticipation, excitement, or the act of experiencing a strong emotion. And after tasting these enchanting sparkling wines, they did take my breath away but in a very positive way!
The box that the wine arrived in was an eye-catching presentation with a lot of thought and love poured into it and certainly captured my attention!

Breathless Wines, a female-led winery, was founded in 2008 and is located in Healdsburg, CA in the heart of Sonoma County's wine country. It is owned and run by three sisters, Sharon Cohn, Rebecca Faust and Cynthia Faust. The winery was born out of a desire to honor their mother who passed away from a rare lung disease. I asked the sisters why the name "Breathless". Sharon replied, "We are honoring our mom, Martha, who encouraged dreaming big. Our mom lived her life taking no breath for granted, even before her diagnosis, so the name Breathless fit her to a tee." Their mother's passion for life, to dream big and live life to the fullest was passed down to her daughters and is evident in every aspect of Breathless Wines.
The sisters, who refer to each other as sister 1, 2, and 3, each bring their unique expertise to Breathless. Sharon, (sister 1) Is the "glitz, glamour and panache" behind the bubbles of Breathless and handles all of their Marketing. Rebecca, (sister 2) brings her business savvy to Breathless with over 20 years of experience in the wine industry. She is co-founder of Rack & Riddle and has been the CFO of several wineries. And Cynthia, (sister 3) who is the ambassador for Breathless, has also been in the restaurant and catering area with her husband.
I asked them why they decided to focus on sparkling wines. Sharon said, " Sparkling wine has always been a favorite "go-to" over the years for all of us. Rebecca (sister 2) and her business partner Bruce Lundquist, started what has become the second-largest producer of sparkling wines, only behind Korbel. Custom crush for bubbles has increased in demand as they built the business from the ground up and so we had the perfect launching pad and with Penny, their executive winemaker willing to take us on, we began our quest."
Breathless winemaker, Penny Gadd-Coster, and honorary 4th sister brings her expertise and passion for producing Méthode Champenoise (traditional French method) sparkling wines. She was awarded Winemaker of The Year in 2013, just one of many awards in her 35 years of winemaking.
Breathless Wines works with select vineyards throughout the North Coast of Sonoma County and Mendocino County. Their focus is on sustainability and finding the best grape clones within these choice vineyards. Sharon said, "Penny has worked with our vineyard partners, for over 13 years. She has a love for the Pommard Clone (Pinot Noir) and searches it out as she can. Her profiling and blending of the grapes to make the Breathless wines is spot on to what the sisters are looking for time after time!"
​And, indeed, these wines are "spot on"!

Breathless Brut NV
Sourced from vineyards in Sonoma County, this is a blend of 60% Chardonnay and 40% Pinot Noir. Aging is 24 months.

Deep gold in color, wonderful aromas of brioche, tart apples, and a touch of floral emanate from the glass. Fine bubbles and a refreshing mouthfeel lead to a palate of melon, pear, citrus notes and a hint of vanilla that lingers on the finish.
Alcohol: 12.5%
SRP: $27
​Breathless Blanc De Noirs NV
Grapes for this wine were harvested from Sonoma County and is a blend of 93% Pinot Noir and 7% Pinot Meunier. Aging is 24 months.

A soft salmon color sets the stage for succulent aromas of berries, brioche and a hint of spice. This is a refreshing wine with fine bubbles that enhances the flavors of strawberry, cranberry, cinnamon and a hint of spice. A touch of citrus zest lingers on the finish. Ooh, la la!
Alcohol: 12.5%
SRP: $32
Breathless Blanc De Blancs NV
Sourced from Sonoma County, this 100% Chardonnay is aged for 32 months.

Pale lemon in color this sparkling wine opens to delightful aromas of sweet apple, baking spice, citrus and tropical fruit notes that spill onto the palate with a creamy and fine effervescence. Pear and a touch of vanilla linger on the finish that begs for another sip.
Alcohol: 12.5%
SRP: $34
I love wine labels and this one is certainly an attention-getter. Sharon explained how they chose this particular label. "We searched high and low for a label for Breathless. Our vision was of the hikes we took with our parents while backpacking in Yosemite and Yellowstone and every day hikes in Sonoma County. We would reach the summit and turn around to admire the view and were always reminded of how lucky we were to live and experience the beautiful nature all around. We were breathless from the hike and the view. We just couldn't translate that to the bottle no matter how hard we tried. Our sister Cynthia found this beautiful 1915 vintage poster while googling champagne under Wikipedia. We all agreed it perfectly embodied our mom and her spirit. This label represents how our mom, Martha, lived life every day, always celebrating large and small accomplishments and time together. The woman on our label not only is a tribute to our mother but to all the men and women who teach and remind us to take each breath we are given as a gift to be cherished."
Have a glass of Breathless sparkling wine and enjoy the journey it takes you on. And remember, just breathe.
Click HERE to read this article on the iSante Magazine website.
​
By Liz Thach
Do you enjoy sparkling wine? If so, consider scheduling a visit to Breathless Winery in Sonoma County, California.
As part of our continuing series on supporting local wineries during COVID by scheduling safe visits to winery tasting rooms, a small group of us ventured to the town of Healdsburg where Breathless is located. There we were greeted with a flutes of delicious bubbly wine, potato chip appetizers and a sabering demonstration with a sword.
Breathless Wines Famous Even in France
[Liz Sharon and Fiona Prepare to saber Picmonkey] Liz, Sharon and Fiona select a bottle to saber I first heard of Breathless several years ago when the 2012 Breathless Brut won the top Sweepstakes Award in the Sonoma County Harvest Fair as well as several other competitions, where I was doing blind wine judging. This was quite amazing, because the winery had just opened in 2011, and their first vintage was already stealing all of the awards. They have continued this winning streak, winning 13 medals and a Best of Show with their most recent releases in 2019.
Even more surprising is when I mentioned Breathless Wines to some winemakers in France, and they said that most of the wine industry in France knew Breathless very well, and were especially impressed with the three sisters, Sharon, Rebecca and Cynthia, who started the winery and their famous winemaker, Penny Gadd-Coster. Penny has long been known as a super star in the California wine industry. With more than 30 years of winemaking experience, including stints at Jordan, J Winery, Forenzo Vineyards, and Rack & Riddle, where Breathless is located, Penny was rightly named "Winemaker of the Year" for Napa, Sonoma, and the greater Bay Area by the North Bay Business Journal.
Not a Chateau – Housed in Industrial Warehouse
Wearing masks, we arrived at Breathless Wines for our 11am appointment and were greeted by Sharon Cohn, whose business card reads, "Sister 1 of 3." The winery tasting room is a small, cozy building nestled next to a large industrial complex of three huge warehouse buildings that house Rack & Riddle – the famous custom crush business that makes sparkling and still wine for many wineries in Napa and Sonoma. Indeed, all of the Breathless wines are made here as well.
What makes a visit to Breathless so enticing is not only the wine, but the beautiful outdoor garden with shaded tables, flowering shrubs and tall fir trees that spread out from the tasting room. This is also ideal for COVID outdoor tastings, as the seating areas are more than 6 feet apart.
Wearing a mask, Sharon invited us to take a seat in a large gazebo in the center of the garden. We were pleased to see a small welcome sign for our group, along with crystal Champagne flutes, small bowls of potato chips (one of the best pairings with all types of wine due to the salt and crunch), and a bottle of Breathless Brut chilling in a silver ice bucket.
The Story of Breathless and Its Beautiful "Lady on a Flying Cork" Label
As we sipped the beautiful Brut sparkling wine and nibbled on potato chips, Sharon told us the story of Breathless Winery. She and her other two sisters, Rebecca and Cynthia, decided to start the winery to honor their mother who had passed away from Alpha-1, a disease that makes it hard to breathe. This was also an inspiration for the name "Breathless," along with its double meaning of something so beautiful it leaves you breathless. Today they donate money from wine sales each year to Alpha-1 Foundation, as well as other non-profits.
All three sisters have impressive backgrounds in finance, business strategy, hospitality and wine, so starting the winery was based on passion for wine and family. They decided to focus on sparkling wine, made in the traditional methode Champenoise, where secondary fermentation takes place in the bottle, producing delicate bubbles and fresh exciting wines to celebrate life.
Sharon described how they decided to use the "Lady on a Flying Cork" from a 1920's Champagne poster for their label. "We were working with a graphic designer who told us we should put a picture of our 'chateau' on the label, but we laughed because we make our wine in this warehouse." She gestured to the large aluminum sided building behind her. "However, we found this great old poster of the lady on the flying cork and decided to use this. We pay a royalty to the artist for every bottle sold."
A Tasting of Five Breathless Sparkling Wines with a Sword Demonstration
In total, we tasted five Breathless Sparkling wines, each made in the traditional method with aging 2 to 3 years in bottle as non-vintage wines. They all had very distinctive personalities.
Breathless Brut – 60% Chardonnay, 40% Pinot Noir, inviting red cherry notes with lemon zest and tiny bubbles. Received 98 points in the 2019 Harvest Challenge ($27)
Breathless Blanc de Blanc – 100% Chardonnay, fresh pear and lemon with hints of toast and minerality; great complexity, with a zippy refreshing finish. ($34)
Breathless Rosé – 90% Pinot Noir, 10% Chardonnay, fruit forward and voluptuous with ripe cherry cordial notes, and hint of sweetness on the finish. ($33)
Breathless Blanc de Noirs – 93% Pinot Noir, 7% Pinot Meunier, sophisticated and complex with toasty brioche and lemon brûlée notes – delicious! Sweepstakes Wine at San Francisco Chronicle Wine Competition. ($32)
Breathless Moscato – 98% Muscat Canelli, 2% Chardonnay, perfumed floral nose of honeysuckle with spice and honeydew notes on palate with slightly sweet finish. A perfect brunch or appetizer wine. ($29)
[Fiona and Liz toast at Breathless 2 Picmonkey] Fiona and Liz toast to a successful sabering and the wines of Breathless
When we arrived at the Blanc de Noirs, Sharon invited one of us to "saber" the bottle with a sword. This is an ancient tradition from Europe of breaking a Champagne bottle using a saber (sword). It was popularized by Napoleon's cavalries to celebrate a victory. The French term is sabrage. Since I had already done this several times in the past, I encouraged Fiona to try it (Fiona Fang is a graduate student in Sonoma State's MBA program in Wine Business). Sharon showed her what to do, and after donning gloves and eyeglasses for protection, Fiona deftly sabered the bottle and then poured from it into our glasses.
Meeting with the Famous Breathless Winemaker – Penny Gadd-Coster
We were honored when Penny Gadd-Coster, the award-winning winemaker of Breathless Wines and Director of Winemaking for Rack & Riddle, stopped by our table to chat with us for a few minutes. Penny explained that they make around 20,000 cases of Breathless sparkling wine each year, and that is it sold and shipped to more than 25 states. She also described the impressive size of Rack & Riddle, which produces around 1.7 million cases of sparking and still wine for many different wineries. With more than 70 employees and two locations, Penny has a huge winemaking empire to oversee. However, her true love is making sparkling wine, and the exquisite taste of Breathless wines is a true tribute to her skill and artistry as a world-class winemaker.
Click HERE to read this article from the Taste California Travel website.
Wine Stars Blog:
July 28, 2020 / fangfiona
Have you seen a champagne or sparkling wine bottle being broken open with a saber? I have not, until I was very lucky to have a chance to try it at Breathless Wines, known for their traditional method (the original method for making Champagne) sparkling wine in Healdsburg when Dr. Thach and our group visited!
What is Sabering?
A saber is a type of sword with a curved blade associated with light cavalry in the early modern and Napoleonic periods. The technique of breaking open a champagne bottle using a saber, called "sabrage", was popularized after the French Revolution, when Napoleon's cavalries celebrated their victory by using sabers to open champagne bottles.
Safety First!
For someone who has never held a saber, let alone cut a bottle open with one, it can be quite intimidating. Luckily, Breathless has very careful protocols guided by their friendly experts. I was led by Sharon, one of the Founding Sisters of Breathless Wines. The "Saberer" first puts on protective heavy-duty gloves and safety goggles. Because of Covid-19, an extra pair of disposable gloves are worn before the heavy-duty gloves, and of course, I was masked up like everyone else. Also, using a cold bottle makes it easier to break.
Power Pose
Having the correct posture helps to wield power. To start, Sharon demonstrated how to stand sideways, almost like an archer, and hold the body (where the label sits) using my non-dominant hand. Of course, the bottle must be pointed far away from anyone – everyone needed to stand back!
Learning The Technique
Next, Sharon demonstrated the actual technique of holding the saber, and how to strike the bottle. With the saber in hand, the blade sits at an angle to the bottle, and I took a few turns running the blade along the bottle towards the lip, which is the breakage point.
Blast off!
Finally, the wire cage was taken off as an extra step to make it easier. Shortly after the demo, I was ready. My hand went faster than I was mentally prepared and POP! Went the top. I did not apply much force, and it felt a lot smoother than expected. Indeed, I read later that it is simply the force applied at a fragile point of the bottle – with already much internal pressure – that breaks it. Some wine was lost, but I held it up in victory, still shocked at what happened just seconds ago. I was relieved no one was hurt!
Serving the Wine
What good is opening a wine if you can't enjoy it? After sabering, make sure to check for shards before serving. We all got to enjoy a fresh glass afterwards!
Breathless Wines awards every Saberer with a "Certificate of Completion", and the cork sealed with their signature Breathless label. I am really grateful for such an unforgettable experience, and hope to lose less wine next time!
Try it Yourself!
For more information and to schedule this exciting Sabrage Experience, please click here:
/Visit-Us/Sabrage-Experience
Breathless Wines have earned top medals in the most prestigious competitions in the country so far and 2020 is not over yet! Here are the highlights:
Sweepstakes Winner – Best Sparkling – 2020 San Francisco Chronicle Wine Competition
Platinum Medal & 95 Points – 2020 Winemaker's Challenge
Double Gold & 95 Points – 2020 International Women's Wine Competition
Gold Medal & 91 Points – 2020 American Fine Wine Competition
Gold Medal & 91 Points – 2020 Critics' Challenge Wine Competition
Gold Medal & 90 Points – 2020 Monterey International Wine Competition
Best of Show – 2020 Sonoma International Film Festival
Double Gold & 92 Points – 2020 American Fine Wine Competition
Gold Medal & 92 Points – 2020 International Women's Wine Competition
Gold Medal & 91 Points – 2020 Sunset International Wine Competition
Double Gold Medal – 2020 San Francisco Chronicle Wine Competition
Double Gold & 90 Points – 2020 American Fine Wine Competition
Gold Medal & 92 Points – 2020 Critics' Challenge Wine Competition
Gold Medal & 90 Points – 2020 International Women's Wine Competition
Gold Medal & 91 Points – 2020 Critics' Challenge Wine Competition
Gold Medal & 91 Points – 2020 Sunset International Wine Competition
Gold Medal & 90 Points – 2020 International Women's Wine Competition
Gold Medal & 90 Points – 2020 Monterey International Wine Competition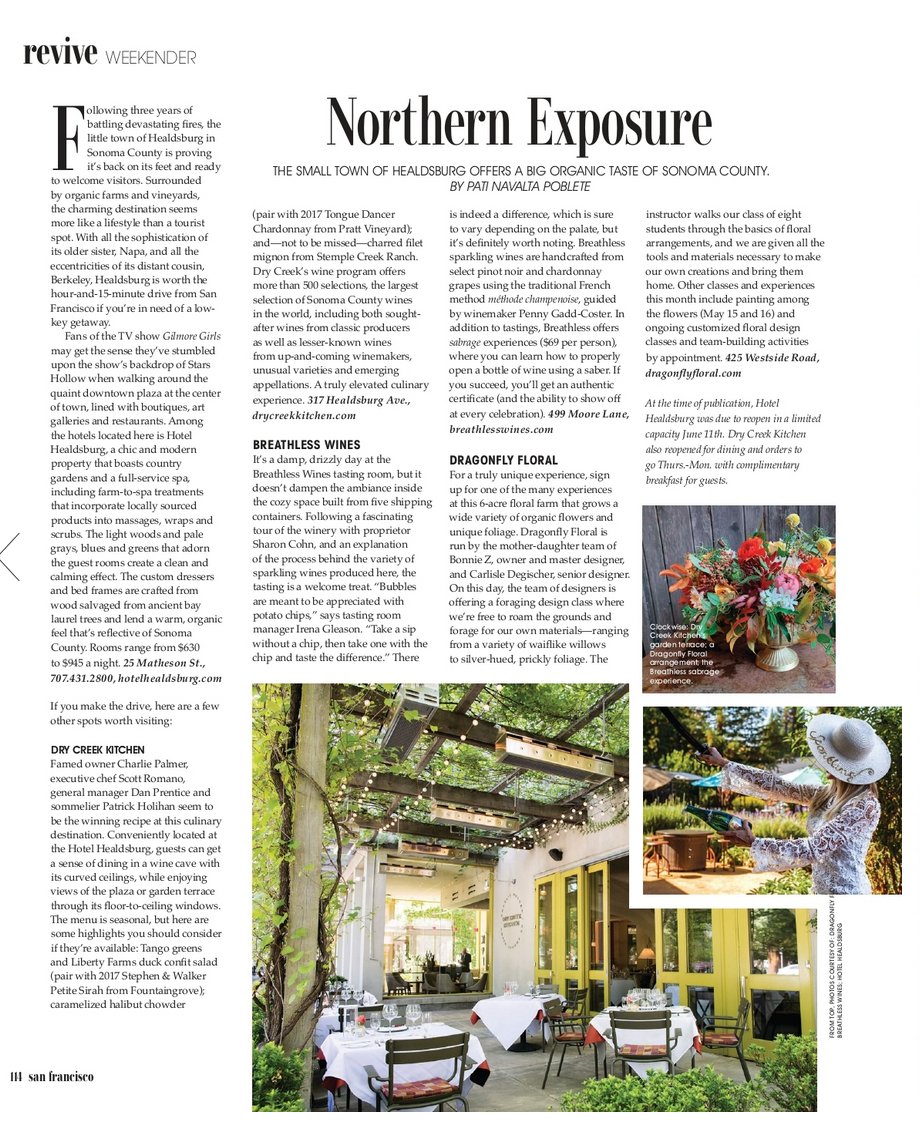 As seen in the July 4th edition of Marla Meridith's Lifestyle Blog.
Happy 4th of July weekend everyone! We are popping the cork and getting our celebration on with @breathlesswines
We love trying new wines and we are thrilled to share Breathless with you. Perfect to quench summer thirst. Breathless has 5 sparkling wines to choose from: Blanc de Blancs, Brut, Blanc de Noirs, Brut Rosé and Sparkling Moscato. Elegant, crisp bubbly at a very fair price point. Their goal is "bringing bubbles to all!" Produced in the traditional méthode Champenoise which is a process involving secondary fermentation in the bottle. This is how Champagne is produced, but any bubbly made ouside the Champagne region of France cannot be labeled as such. So what that means is you are getting a similar experience made in the USA.
I'm a fan of Brut (dry) sparkling wines and Breathless has nailed this with their wine! The label is owned by three sisters and the winemaker is a female too. Sharon Cohn, Rebecca Faust, and Cynthia Faust are sisters who grew up in Northern California. The Breathless label was launched to honor their mother who passed away from a rare lung disease. The wines are such a beautiful tribute to her.
They are seeing great success with their wines and were just featured in Forbes! They offer a Sparkling Society membership club which is a GREAT way to have bubbly delivered directly to your door. Thank you to Breathless for introducing me to your delicious sparkling wine. If you are looking to taste Breathless Wines they have a Sparkling Summer Bundle to check out. Just $49 for a 2-pack bundle.
Kim Westerman, Senior Contributor, Wine & Travel
Saturday, June 13, 2020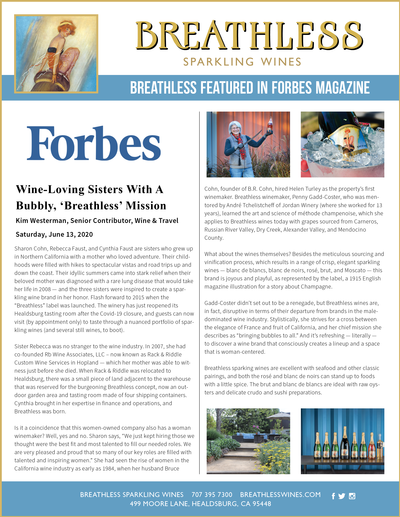 Sharon Cohn, Rebecca Faust, and Cynthia Faust are sisters who grew up in Northern California with a mother who loved adventure. Their childhoods were filled with hikes to spectacular vistas and road trips up and down the coast. Their idyllic summers came into stark relief when their beloved mother was diagnosed with a rare lung disease that would take her life in 2008 — and the three sisters were inspired to create a sparkling wine brand in her honor. Flash forward to 2015 when the "Breathless" label was launched. The winery has just reopened its Healdsburg tasting room after the Covid-19 closure, and guests can now visit (by appointment only) to taste through a nuanced portfolio of sparkling wines (and several still wines, to boot).
Sister Rebecca was no stranger to the wine industry. In 2007, she had co-founded Rb Wine Associates, LLC – now known as Rack & Riddle Custom Wine Services in Hopland — which her mother was able to witness just before she died. When Rack & Riddle was relocated to Healdsburg, there was a small piece of land adjacent to the warehouse that was reserved for the burgeoning Breathless concept, now an outdoor garden area and tasting room made of four shipping containers. Cynthia brought in her expertise in finance and operations, and Breathless was born.
Is it a coincidence that this women-owned company also has a woman winemaker? Well, yes and no. Sharon says, "We just kept hiring those we thought were the best fit and most talented to fill our needed roles. We are very pleased and proud that so many of our key roles are filled with talented and inspiring women." She had seen the rise of women in the California wine industry as early as 1984, when her husband Bruce Cohn, founder of B.R. Cohn, hired Helen Turley as the property's first winemaker. Breathless winemaker, Penny Gadd-Coster, who was mentored by André Tchelistcheff of Jordan Winery (where she worked for 13 years), learned the art and science of méthode champenoise, which she applies to Breathless wines today with grapes sourced from Carneros, Russian River Valley, Dry Creek, Alexander Valley, and Mendocino County.
What about the wines themselves? Besides the meticulous sourcing and vinification process, which results in a range of crisp, elegant sparkling wines — blanc de blancs, blanc de noirs, rosé, brut, and Moscato — this brand is joyous and playful, as represented by the label, a 1915 English magazine illustration for a story about Champagne.
Gadd-Coster didn't set out to be a renegade, but Breathless wines are, in fact, disruptive in terms of their departure from brands in the male-dominated wine industry. Stylistically, she strives for a cross between the elegance of France and fruit of California, and her chief mission she describes as "bringing bubbles to all." And it's refreshing — literally — to discover a wine brand that consciously creates a lineup and a space that is woman-centered.
Breathless sparking wines are excellent with seafood and other classic pairings, and both the rosé and blanc de noirs can stand up to foods with a little spice. The brut and blanc de blancs are ideal with raw oysters and delicate crudo and sushi preparations. Make an appointment to visit the tasting room here.
Do you know who invented dry Brut Champagne?
By Rebecca Rosenberg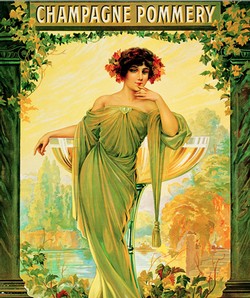 Today, Breathless Brut is Breathless Wines' most popular sparkling wine. But did you know that until 1870, champagne was sweeter than the sweetest dessert wines we have today?
In 1858, Madame Pommery was a French widow with no experience making wine, yet took over her husband's winery that produced red wine. She immediately switched to making sparkling wine, twice as difficult and painstaking as still wine. She'd gone to school in England and knew the English preference for dry (still) wine. Madame Pommery began to experiment with making dry brut champagne, which proved even riskier because grapes needed to stay on the vine longer in order to ripen with a natural sweetness…whereas other champagne makers could disguise premature grapes by adding more sugar.
Madame Pommery's clients rejected her first few years of dry champagne, but she persisted. And, the 1874 vintage of Pommery Brut was so delicious and sought after, the English immortalized it in a popular song: Ode to Pommery!
Breathless raises a glass of Breathless Brut to Madame Pommery who steered the world's taste in sparkling wine from sweet to dry.
For more on my CHAMPAGNE WIDOWS novels:
Breathless Brut's fine mousse fills the palate with a light, refreshing effervescence. Enjoy tropical notes of guava and pineapple with citrus highlights and just a hint of yeast. The finish is smooth and satisfying. 60% Chardonnay, 40% Pinot Noir. Aged 24 months.
98 POINTS , BEST OF SHOW, BEST SPARKLING, BEST OF SONOMA,
DOUBLE GOLD & BEST OF CLASS - 2019 Harvest Challenge
90 POINTS - "Lively and Refreshing!" - Wine Enthusiast Magazine, August 2020
90 POINTS & DOUBLE GOLD - 2020 American Fine Wine Competition
93 POINTS - 2019 North Coast Wine Challenge
92 POINTS - 2019 American Fine Wine Competition
GOLD MEDAL, 91 Points - 2019 Sunset International Wine Competition
GOLD MEDAL, 90 Points - 2019 Orange County Fair Wine Competition
91 POINTS- 2019 North Coast Wine Challenge
92 POINTS - 2019 American Fine Wine Competition
In the upcoming August issue of Wine Enthusiast Magazine - Breathless will be featured with three great scores!
90 POINTS - Breathless NV Brut Rosé Méthode Champenoise (Sonoma County).
A delicate pink hue, this sparkling wine is heady and flavorful in strawberry and peach
tones. Dry and stony in texture, it is nuanced and elegant, with refreshing acidity. —V.B.
90 POINTS - Breathless NV Brut Méthode Champenoise (Sonoma County).
Golden in color, with a firm mousse, this lively, refreshing sparkling wine tastes of apple skin,
pear, mango, and a hint of brioche. It remains fresh in the glass, showing moderate
body weight and finishing stony and dry. —V.B.
90 POINTS - Breathless NV Blanc de Blancs (full review text to come).
Sparkling wines that are for more than special occasions
Woman on Wine with Amy Reiley
When the going gets tough, the tough drink bubbly. Isn't that how the saying's supposed to go?
My consumption of sparkling wine is on the rise. In fact, there's been a steady rise in consumption of bubbles in my house since the middle of March. And I haven't just stuck to Champagne. No, I am an equal opportunity drinker of sparkling wines.
Bubbly from around the world
You see, Champagne is a region, not an endorsement. I know some drinkers are confused as to whether anything sparkling that isn't labeled as Champagne is worth drinking. But there are pleasures to be found from bubbles around the world.
The Italians have their Proseccos. (Check out Annette Tomei's review of a Prosecco that's "more than a brunch wine.") Spain's Cavas represent some of the best values in bubbly in the world. Much of the New World, including the United States and Canada, makes delicious sparkling wines. (Did you know that there's world-class sparkling wine to be found on Long Island? Check out my review of Sparkling Pointe.) Even South Africa is in on the act, making delightfully effervescent wines called méthode Cap Classique.
Here are just a few of the empty bottles of bubbly that currently line my shelf. All of them were obtained by delivery during these past few, difficult months, so I know they're wines you can "go out" and buy without ever leaving your home.
Stay safe, stay healthy, and drink your fill of sparkling wines.
My Sparkling Wine Recommendations
Breathless Blanc de Noirs, Sonoma County CA
[Breathless Blanc de Noir Sparkling Wine] I love surprises and this pleasant surprise showed up on my doorstep as a thank you gift, so this bottle of bubbly received high marks before I ever popped the cork! Of course, I knew I wouldn't be disappointed. Breathless is a relative newcomer on the sparkling wine market, but they've racked up more awards than some veteran Champagne houses. The Blanc de Noir is a pastel pink wine with doughy, brioche aromas and sweet berry flavors that weigh on the mid-palate. It's the kind of bubbly that makes you anxious for the next sip.