News
In the upcoming August issue of Wine Enthusiast Magazine - Breathless will be featured with three great scores!
90 POINTS - Breathless NV Brut Rosé Méthode Champenoise (Sonoma County).
A delicate pink hue, this sparkling wine is heady and flavorful in strawberry and peach
tones. Dry and stony in texture, it is nuanced and elegant, with refreshing acidity. —V.B.
90 POINTS - Breathless NV Brut Méthode Champenoise (Sonoma County).
Golden in color, with a firm mousse, this lively, refreshing sparkling wine tastes of apple skin,
pear, mango, and a hint of brioche. It remains fresh in the glass, showing moderate
body weight and finishing stony and dry. —V.B.
90 POINTS - Breathless NV Blanc de Blancs (full review text to come).
Sparkling wines that are for more than special occasions
Woman on Wine with Amy Reiley
When the going gets tough, the tough drink bubbly. Isn't that how the saying's supposed to go?
My consumption of sparkling wine is on the rise. In fact, there's been a steady rise in consumption of bubbles in my house since the middle of March. And I haven't just stuck to Champagne. No, I am an equal opportunity drinker of sparkling wines.
Bubbly from around the world
You see, Champagne is a region, not an endorsement. I know some drinkers are confused as to whether anything sparkling that isn't labeled as Champagne is worth drinking. But there are pleasures to be found from bubbles around the world.
The Italians have their Proseccos. (Check out Annette Tomei's review of a Prosecco that's "more than a brunch wine.") Spain's Cavas represent some of the best values in bubbly in the world. Much of the New World, including the United States and Canada, makes delicious sparkling wines. (Did you know that there's world-class sparkling wine to be found on Long Island? Check out my review of Sparkling Pointe.) Even South Africa is in on the act, making delightfully effervescent wines called méthode Cap Classique.
Here are just a few of the empty bottles of bubbly that currently line my shelf. All of them were obtained by delivery during these past few, difficult months, so I know they're wines you can "go out" and buy without ever leaving your home.
Stay safe, stay healthy, and drink your fill of sparkling wines.
My Sparkling Wine Recommendations
Breathless Blanc de Noirs, Sonoma County CA
[Breathless Blanc de Noir Sparkling Wine] I love surprises and this pleasant surprise showed up on my doorstep as a thank you gift, so this bottle of bubbly received high marks before I ever popped the cork! Of course, I knew I wouldn't be disappointed. Breathless is a relative newcomer on the sparkling wine market, but they've racked up more awards than some veteran Champagne houses. The Blanc de Noir is a pastel pink wine with doughy, brioche aromas and sweet berry flavors that weigh on the mid-palate. It's the kind of bubbly that makes you anxious for the next sip.
Rack & Riddle Women Making History at Sonoma County Winery
Healdsburg, Calif. (March 23, 2020) — The spirit of Women's History Month is to celebrate the accomplishments and contributions by women in history, culture and society. The month-long dedication not only pays homage to the women who walked before us to fight for equal rights, it's also a time to celebrate women growing up and moving up, in this era of equal opportunities. 2020 marks 100 years since the 19th Amendment of the U.S. Constitution was officially ratified, giving women the right to vote — a feat even more meaningful, considering the U.S. is in the midst of a Presidential election year contest.

Rack & Riddle is honoring their own special team of women this month. The Winery is the leading custom sparkling wine producer in the nation, and the women on the team work tirelessly in their daily efforts to hold that coveted spot. They are also simultaneously bringing women to the forefront of the wine industry.
The Women of Rack & Riddle
[Rebecca Faust, Co-Founder | Managing Partner] Historically, Rack & Riddle has always been a very progressive, forward-thinking company. In general, the Wine Industry is traditionally male-dominated. Rack & Riddle is a unique example of a company breaking that mold. Women currently fill 36% of the key roles at R&R — from production to winemaking.

Co-founder Rebecca Faust is a wine-industry veteran of more than 30 years. Ever humble, Rebecca never likes having the spotlight shined in her direction. However, in the spirit of Women's History Month, Faust says, "Our Winery is truly unique in so many ways. Not only does our winery lead in a very niche marketplace creating custom crush Méthode Champenoise sparkling wines, we also have a very diverse body of employees who make it all happen day-to-day. Our vision wasn't necessarily to be a female-led Winery, because we believe in the empowerment of all employees. But being part of a company where women are encouraged to excel is truly the icing on the cake. We are proud they represent a strong force on our team."
Tenacious Women on the Production Line

Rack & Riddle is a fully automated winery and production facility. Its stellar production crew has 18 women — or 30% of the Winery's overall production crew. These women work in various roles, typically dominated by men, such as: Forklift driving, automated bottling-line operations and maintenance, wine lab work, quality control, and much more.

Production work isn't for the timid. Here is what a few of them have to say about their roles on the production line:
Evelia Carlino Vargas
Line Operator
Years with Rack & Riddle: 4

I manage the still wine labeling line. I setup and oversee the change-out of the many labels/brands we produce, along with handling the automatic case packer and the glue for the labeler. I really like my job, and I enjoy working in production," says Carlino Vargas.
Agustina Cuenca
Disgorging line Operator
Years with Rack & Riddle: 6

I make sure that the disgorging line is running, including the disgorger/doser, corker, wirehooder, agitator and washer/dryer. I also work the tirage bottling line, as well as other areas of production." Ceunca says about working production at Rack & Riddle, "It's my first production job. It's been a great experience. I love to work at Rack & Riddle because of the opportunities the company has given me."
Veronica Jimenez
QC – Quality Control
Years with Rack & Riddle: 7

"I do quality control, ensuring all the labels are correct, and the height of the wine is correct in each bottle. I also check the O2 (oxygen) and CO2 (Sulphur) levels in the lab. I love working at Rack & Riddle, and with my crew — we all get along very well. Every morning, I'm happy to get up and come here — even at 4 a.m.," says Jimenez. She starts her shift at 4 a.m. daily when automated production gets into full-swing.
Maria Orozco
Cellar Worker
Years with Rack & Riddle: 4

"I have three years' experience working the disgorging production line. I work in the cellar - receiving and shipping trucks, preparing wine doses for disgorging, and processing sanitations and additions. I like working the lines and also with sparkling wines," says Orozco.
Winemaking Women at Rack & Riddle
The award-winning Winemaking Team consists of six people led by esteemed Executive Director of Winemaking, Penny Gadd-Coster. Four of the six Rack & Riddle winemakers are women. Each were asked what inspired them to be a winemaker. Here are their responses:
Penny Gadd-Coster
Executive Director of Winemaking
Years with Rack & Riddle: 13
Years in the Wine Industry: 33

"My family of women inspired me tremendously. I actually released my own sparkling label recently, which represents four generations of women from my family on the label — my great grandmother, my grandmother, my mom, and me. Each were business women in a sense, either operating a business, or working at a time when many women didn't work. They really inspired me to be my own person. I've always worked in fields that were 'male dominated'. I never really gave it much thought because of the empowerment of my family. However, looking back, I've been on a team of 30 people doing research when I was only one of two women on the team. In winemaking, it's been the same thing — not many women to work alongside. Interestingly, with Sparkling wine, there generally aren't many people making it. To be a woman winemaker in a relatively small niche field is really unique and gratifying for me," says Gadd-Coster.

When asked how she inspires the winemaking team, Gadd-Coster, says, "I hope my mentoring of the team here at Rack & Riddle inspires them — I've been told by the women I work with that I'm a good leader, and that means a lot to me personally. We're all in this together. I learn from them, they learn from me, and the encouragement is mutual."
Jennifer (Jenn) Zeek
Winemaker
Years with Rack & Riddle: 6
Years in the Wine Industry: 16

16 years ago, Jenn started her career in the wine industry inspired by her time working in restaurants, with wine passionate co-workers and extensive traveling. She said, "A winemaking profession appeared to be the best combination of creativity, sensory, and science. My career choice has not disappointed, and I am still, maybe even more so, challenged, excited and inspired daily," As a winemaker at Rack & Riddle, Jenn deals with a diverse production of both sparkling and still wines. She also caters to numerous custom crush projects, and her day-to-day involves interactions with every department and many clients through planning and tasting. When asked about her fellow women winemakers and crew, she said, "I am especially proud to work with the talented and motivated women at the winery."
Sarah Hunt
Assistant Operations Winemaker
Years with Rack & Riddle: 1.5
Years in the Wine Industry: 17

"I grew up being on the retail side of wine, so the inspiration for me was the desire to get behind the art of making it. I wanted to create something that is memorable to the consumer. When someone has a gathering or get-together, and they are enjoying a beautiful product, it becomes a memory. Your senses inspire memories and pulls them forward. To be part of a beautiful moment when someone is savoring something that I've helped create is definitely part of my inspiration," says Hunt.

When asked about her job at the winery, Hunt says, "I work very closely with the production side of winemaking — bringing the final bubbles to the market. We each have our niche, and this is where my niche lies. Winemaking is a difficult market to break into, because it's male-dominated. You can't exist in this industry without passion behind the drive. It's awesome that Rack & Riddle is a company with a lot of women, and there is great strength in the women that work here. I'm honored to be able to work among them."
Sandrine Bourcier
Sparkling Winemaker
Years with Rack & Riddle: 1
Years in the Wine Industry: 27

"I have an uncle who owns vineyards. It was a great pleasure to be there as a child. I was very involved with that side of my family growing up. Every harvest, we would go with all the cousins and neighbors, and harvesting was a party. It's where I found the passion for winemaking. Being raised in France, wine is part of every-day life. It was something that appealed to me. I was accustomed to having it, tasting and enjoying it," says Bourcier.

On the uniqueness of the group, she says, "We recently had a meeting with the business development and winemaking teams, and we were talking about strategies. For a brief moment I looked around the room — and interestingly there were eight or nine people in the room, and I realized they were all women. I thought, wow, this is super special."
Women in Management at Rack & Riddle
The management team of Rack & Riddle is very diverse. Please meet a few of the women who direct the Sales and Operations of the winery:
Cynthia Faust
Business Development Manager
Years with Rack & Riddle: 10
Years in the Wine Industry: 10

"Rack & Riddle employs a very diverse team. I am blessed to be working side-by-side with team members – most of whom are women — who willingly wear multiple hats each day, and who channel their positions skillfully in serving all of our clients," says Faust.
Stacey Gallagher
Strategic Operations & Human Resources
Years with Rack & Riddle: 5.5
Years in the Wine Industry: 5.5

"Working in Human Resources at Rack & Riddle is a blessing as I am constantly reminded of the diversity of our workforce. Not only do I have the privilege of being surrounded by powerful women in every facet of our business, from Ownership to Production; I am interacting daily with different age groups, cultures, languages and genders," says Gallagher.
Silvia de La Presa Owens
QA/QC Manager
Years with Rack & Riddle: 7
Years in the Wine Industry: 9

"I feel privileged to work with a diverse group of women who reflect the richness of our society and bring different points of view, culture, and knowledge, enriching my everyday experience," says de La Presa Owens.
Additionally, there are multiple other women in key roles at the Winery, making a positive difference in daily operations.

About Rack & Riddle

With three locations in Sonoma County, California, Rack & Riddle is an innovative leader in the custom crush, custom wine services marketplace. Committed to providing pristine facilities where both internal and client winemakers are able to craft award-winning still and sparkling wines, the facilities are bustling year-round.

Rack & Riddle offers complete grape-to-bottle and base-to-bottle production for still and sparkling wines, and private-label sparkling wine services. The installation of state-of-the-art, high-capacity still and sparkling wine production and bottling lines provides the ability for clients to keep up with demand. The facilities house nearly two million gallons of stainless-steel storage and fermentation vessels. An exceptional winemaking team produces 1.7 million cases of wine annually.

To learn more, visit Rack & Riddle online at rackandriddle.com, and follow on Facebook and Twitter.

For information contact Cynthia Faust, cynthia@rackandriddle.com, (707) 433-8400.
Sonoma Calling | Laura Ness | Los Gatos Magazine | February/March 2020
Breathless Wines - Brut Sparkling - Sonoma County
What's up with the dame on the bottle? It's a tribute by three sisters, Sharon, Rebecca and Cynthia, to their late mother, Martha, lost to a pulmonary condition. It conveys her passion for life, reminding us to take each breath with thoughtful, joyous intent. That's what sparkling is all about. Penny Gadd-Coster, recently named "Winemaker of the Year" by the North Bay Business Journal, crafts fine sparklings like this using methode champenoise. This Brut splashes the tip of your tongue with a fine citrus-infused mousse, delicately pirouetting across it like a tropical breeze of guava and pineapple, finishing with a touch of yeast. Made from 60% Chardonnay and 40% Pinot Noir, and aged 24 months, it claimed Best Sparkling and Best of Sonoma at the 2019 Harvest Challenge.
Download PDF of Article
Visit Los Gatos Magazine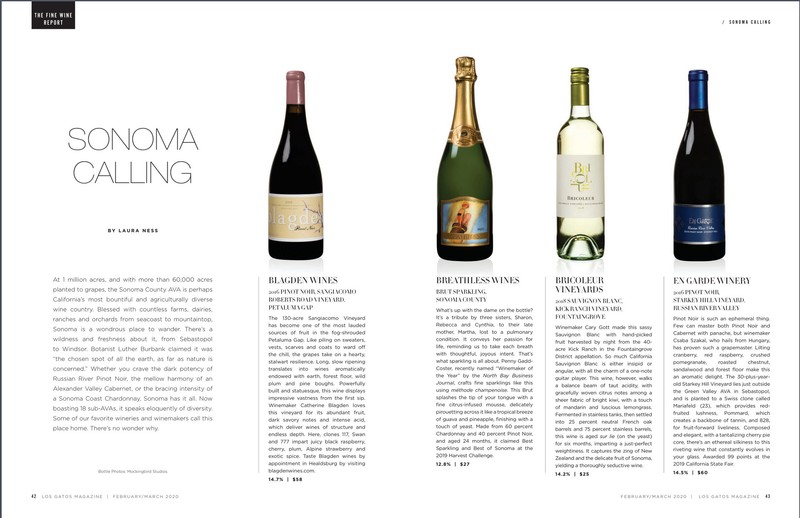 Breathless, Sonoma County (California) Blanc De Noirs NV ($32): Pinot Meunier makes itself known in this tasty blend, with 13% joining 45% Pinot Noir and 42% Chardonnay. It adds floral and cherry notes to the expected citrus and apple, making for a very complex Blanc De Noir worthy of its price and your cellar. Fine mousse, bright flavors, and good depth. Very impressive! A Platinum Award winner at the 2020 Winemaker Challenge International Wine Competition. 95 Points.
-Rich Cook Jan 28, 2020
Mike Dunne is a longtime SFCWC wine judge and the former food editor, wine columnist, and restaurant critic. This year, Dunne shares his insights and tasting notes for each of the 180 Best of Class winners, giving wine consumers an inside look at why these wines were named the best of each category.
Blanc de Noirs Breathless NV Blanc de Noirs:
"Breathless" is aptly named, taking away your breath just like your first visit to Yosemite did, thanks to its brassy twilight color, effusive mousse, suggestions of granite as well as wild fruit and almonds in flavor, and a finish as feathery and bracing as spray from Bridalveil Fall. Winner of the sparkling-wine sweepstakes award at the San Francisco Chronicle Wine Competition.
Read all of Mike's Tasting Notes HERE.
Press Release
FOR IMMEDIATE RELEASE
Cloverdale, CA, January 10, 2020 – There were over sixty-five judges, representing various North American wine regions, evaluating nearly 6,700 wines from over 1,000 wineries for the 2020 San Francisco Chronicle Wine Competition.
Bob Fraser, SFCWC executive director, says, "The response from the wineries of North America at our 2020 competition was outstanding. Sweepstakes awards hail from Ohio, New Mexico, and California."
The Sweepstake winners are as follows:
Sparkling Sweepstake Winner:
Breathless (CA) Sonoma County Blanc de Noir $32.00
White Sweepstake Winner:
Trader Moon Wine Company (CA) 2018 California Honey Moon Viognier $5.99
Rose Sweepstake Winner:
Ferrari-Carano (CA) 2019 Sonoma County Dry Sangiovese Rose $15.00
Red Sweepstake Winner:
deLorimier Winery (CA) 2016 Crazy Creek Alexander Valley Cabernet Sauvignon Reserve $75.00
Specialty Sweepstake Winner:
Ferrante Winery (OH) 2017 Grand River Valley Vidal Blanc Ice Wine $30.00
Packaging Sweepstake Winner:
VARA (NM) New Mexico Vina Cardinal Rose Wine Label $32.00
Consumers are invited to enjoy these award-winning wines at the 2020 San Francisco Chronicle Wine Competition Public Tasting at Fort Mason Center in San Francisco on February 15, 2020, from 1 to 4:30 pm. Tickets may be purchased here.
By Linda Murphy for Sonoma Magazine
Excerpt below. Click HERE for the full article
There is no better time than the week between Christmas and New Year's Day to get out and about in Wine Country, sample bubblies of all styles, and stock up for New Year's Eve and beyond. Any day can be a sparkling wine day at my house, although foam for the holidays is particularly appropriate.
Longtime Sonoma bubbly makers Gloria Ferrer Caves & Vineyards, Iron Horse Vineyards, J Vineyards & Winery, and Korbel Champagne Cellars continue to rule the roost, yet dozens of Sonoma wineries now offer sparklers in their tasting rooms.
The relocation of Rack & Riddle Custom Wine Services from Mendocino County to Healdsburg has provided the equipment, storage space, and know-how to produce fine fizz locally. Traditionally made sparklers, for which still wine goes through a secondary fermentation in the bottle to create the bubbles (often labeled as "méthode champenoise" or "méthode traditionelle") are labor- and time-intensive. Rack & Riddle supplies everything a winemaker needs to turn his or her own grapes into liquid gold.
"When I worked at J (Vineyards & Winery), through 2006, there were a dozen producers of sparkling wine in California," partner Bruce Lindquist said. "Now Rack & Riddle has 100-plus sparkling clients, a private-label business, and most (Sonoma) tasting rooms have bubbles."
All the wineries below are bubbly masters and also produce and sell still wines. Guest experiences might include wine and food pairings, tours, and the opening of older vintages and magnum-size bottles. Tasting room hours vary, so call ahead before visiting.
Breathless Wines
Rack & Riddle co-founder Rebecca Faust and her sisters, Cynthia Faust and Sharon Cohn, own Breathless Wines and pour their sparklers at a tasting room adjacent to Rack & Riddle.
Don't let the industrial park setting deter you from visiting: They offer a fun, art deco France-meets-Sonoma vibe, with several sparkling wines, patio and inside service, recorded music and experiences that include instruction on the art of sabrage – the removal of a sparkling wine cork with a sword. Recent events have included crepe and dim sum brunches.
The wines, made by Penny Gadd-Coster, are fruity and so very easy to drink, made in a slightly sweet, crowd-pleasing yet remarkably refreshing style.
In this last competition of 2019, Breathless Wines saved the best for last! Winning Best of Show for the second time this year and numerous double gold medals!
98 Points
Double Gold
Best of Class
Best Sparkling Wine
and Best of Sonoma County!
Breathless 2012 Brut
The Harvest Challenge is a wine competition that bases its judging on a group of vineyards (or even vines) from the same region, belonging to a specific appellation, and sharing the same type of soil, weather conditions, grapes and winemaking savoir-faire, which contribute to give the specific personality to the wine.
In other competitions, this factor is ignored. At the Harvest Challenge, judges taste wines with other wines of the same appellation. Thus, with cross-regional competition removed, the inherent quality of wines can be seen without the influences that sometimes eclipse even a wine of very high quality.
Beyond the determination of medals, the Harvest Challenge affords its winners a unique selling proposition - its region ranked against its competitors. Harvest Challenge recognizes wine entries that best exemplify the soil and climate of their respective viticultural areas, and acknowledges its influence on wine quality. A medal in this wine competition not only gives your wine prestige and selling power, it adds talking points in your retail room. Favorable awards support increased local and regional sales. A win in the Harvest Challenge can put your wine into a whole new sales category.
A goal of Harvest Challenge is to learn how soil and climate contribute to the excellence and distinctiveness of wines. Over the course of this event, judges have learned to recognize when a wine's region is - and is not - a factor of wine quality. We think the bar has been lifted a little, and as a result, each year we perceive greater interest by winemakers and critics alike. Favorable awards support increased local and regional sales. A win in the Harvest Challenge can put your wine into a whole new sales category. All wines are judged in the context of their viticultural region in order to accomplish two things: greater sensitivity to the complexities and nuances of regional wines and also to measure the influence of regional soil and weather characteristics on the taste and quality of individual wines.
According to Harvest Challenge spokesman, Christopher Sawyer, "The Harvest Challenge is a judge's dream come true. Beyond varietal category and price point, this one-of-a-kind competition is based on appellation instead of mass-production. The end result is more definition of the wines made with grapes inside the boundaries of a specific viticultural area and distinct flavors that have helped wines rise to the top of the scale in the global marketplace."
"Sparkling Wines That Pair Well With Life's Special Moments"
Breathless Wines is located North of San Francisco in the State of California, America, it was built by three sisters, Sharon, Rebecca, and Cynthia. Along with Breathless Winemaker Penny Gadd-Coster, the sisters are dedicated to making Sparkling Wine in the traditional method from Pinot Noir and Chardonnay grapes.
Each bottle is aged with the yeast still in the bottle for 2 to 4 years. Their bottles are riddled mechanically using a machine called a gyropalette this simulates manual riddling on a larger scale.
We have two of Breathless Wines here to review, the Blanc De Noirs and the Blanc De Blancs.
The woman on the label is a tribute to their Mother, Martha, and all the men and women who teach and remind us to take each breath we are given as a gift to be cherished.
Blanc De Noirs Tasting Notes: "Strawberries and raspberries on the nose. Fruity flavours with green apple skin with gooseberries in the mouth. A Silver Medal Winner in the Fruity & Floral Category in The World's Finest Glass of Bubbly Awards 2017." Click for Full Review.
Blanc De Blancs Tasting Notes: "Slight touch of petrol with citrus on the nose. Tropical fruits, pineapple and citrus in the mouth. A Bronze Medal Winner in the Fruity & Floral Category in The World's Finest Glass of Bubbly Awards 2017." Click for Full Review.
In my opinion, they are both fabulous wines, with each bringing something different to the table, even though they are non-vintage wines they have both aged very well and I personally think they would now receive a higher score in The World's Finest Glass of Bubbly Awards this year.
-
Oliver Walkey
Journalist focused on Champagne, Sparkling Wines and Food Pairings. Social Media manager for Glass of Bubbly.
You know you want to


Sign Up For Our Newsletter

Keep up to date on the latest wine releases, events, and promotions and get 10% off your next order.