News
Owned and operated by three sisters, the winery was named in honor of their late mother, Martha, and for all the breathless moments she created.
Under the warm spring sun, Breathless Wines becomes an oasis in Healdsburg for regality. Any troubles are melted away with an array of sparkling champagne choices placed outside as the drapes miming an isolated royal tent guard against the May breeze. The noble ambience peaks once the saber is introduced.
Sabrage is the art of opening a wine bottle with one sweep of the blade against the bottle, popping the cork off in dramatic fashion. It's one of the many grandiose ideas Breathless brings to wine tasting.
Owned and operated by three sisters, the winery was named in honor of their late mother, Martha, and for all the breathless moments she created. "Our mother was a very inspirational woman who never took a breath for granted," says Sharon Cohn, one of the three sisters. "How she lived every day is pretty amazing. We thought we could create something that would represent that."
"My sister Rebecca kept saying, 'Come on, let's do a label, let's do a label.' We started thinking about it in 2010, and she kept pushing and pushing, 'We got to do this,' " says Cohn. Sharon had a business at the time, a massage parlor called Massage Envy. But once she sold her stake at the parlor, all three sisters jumped into the world of wine together. The third sister, Cynthia, was working for business development at Rack & Riddle Wine Services at the time, where she met Penny Gadd-Coster.
Gadd-Coster, the winemaker for Breathless Wines, began her renegade career with Jordan Winery before working with Rack & Riddle and Breathless. "Once I got the opportunity to start making wines for Rack & Riddle, I was able to bring my own style from some of my mentoring," says Gadd-Coster. "Then I took another step with Breathless Wines, where I was able to craft these wines in a style that I believed fit what we are trying to do."
Gadd-Coster had to combat a male-dominated wine industry while she mastered methode champenoise. Of the 4,200 wineries in California, just 14% are led by a female winemaker in 2020 according to Lucia Albino Gilbert, Ph.D., and John Carl Gilbert, Ph.D. in a study for Santa Clara University. And what better winery to do so at then Breathless, a company run by three women. Gadd-Coster's call to action is to bring bubbles to all, and the women-centered team of Breathless is bringing her goals to life.
To read the rest of the article click here.
In 2012, in Healdsburg, sisters Sharon Cohn, Cynthia Faust, and Rebecca Faust founded a winery, Breathless, to honor their mother, Martha, who taught them to live large and dream big. They wished both to erect a living homage to their mother and to celebrate life—so bubbles seemed the obvious focus. And there was so much sisterly love in the effort that that they added a fourth sister—honorary sibling, winemaker Penny Gadd-Coster.
Today their wines, hand-crafted from North Coast Pinot Noir and Chardonnay in the centuries-old French méthode champenoise, are receiving steady accolades. The 100% Chardonnay Russian River Valley McMinn Vineyard Blanc de Blancs exudes Bartlett pear, orange flower, and crispy apple amid tiny, creamy bubbles. Pommard Clone Blanc de Noir (100% Pinot Noir) exhibits black cherry, a pinch of pepper, and elegant depth with a lighter than expected color—just to note a couple.
We had the chance to sip with one sister, Sharon Cohn, and winemaker Penny Gadd-Coster. Here's how they answered our questions.
"Family winery" sometimes conjures images of a mom and pop operation, but this one takes that notion in a somewhat different direction.
Sharon: This idea was kicked around at many a family gathering. Rebecca and her partner, Bruce Lundquist, started up a custom crush facility for sparkling named Rack and Riddle. They brought on Penny, who we knew could make amazing wines that we would be proud of!
You are the honorary sister and the winemaker. What's your winemaking philosophy?
Penny: My philosophy for winemaking is to let the grapes express themselves in the best way possible—they worked hard to be made into wine! The philosophy for the wines is to bring together the elegance of Champagne with the fruit of California. They should be food friendly and can be drunk with any part of a meal, and should not just be for celebrations. After all, every day is a celebration.
Pinot Noir plays a big role in your wines. What quality does that add?
Penny: Traditionally in Champagne Pinot Noir is a big component of the blends for Rose, Brut, and Blanc de Noir. I follow that tradition. Since it is a red grape, it is sometimes the forgotten component. Pinot Noir brings what the area brings to that grape—and that can mean berry fruit, earthiness, and spice to bubblies. It helps to bring complexities to all of the wines it blends into.
Winemaker Penny Gadd-Coster (at left) with the Breathless sisters.
Why sparkling?
Sharon: A breathless moment can be any moment in time, if you want to make it that. My sisters and I want life to be savored and enjoyed. We feel that a glass of bubbles makes it truly feel like a celebration. Bubbles creation takes longer than all wines, so it is a special occasion to pop open a bottle (or saber, our favorite way). Every glass shared with friends and family is meant to remind us to create more of those special moments in our lives.
Speaking of special moments—can you give us some holiday pairing notes?
Penny: The Blanc de Blanc is my favorite with oysters, but the Brut is also great. Any kind of fish or shellfish with either one, along with pork, roasted chicken …turkey. With the Blanc de Noir, try duck or lamb, salty cheese, or holiday ham. The Rosé does well with ham, fruit desserts, nuts, salty cheeses and my favorite—pizza. Seriously, the color just makes you happy. Last of all the Moscato: my favorite dishes with this are curries, but it is also fun with desserts, especially apple desserts. This is what I am going to have . . . with pumpkin pie.
You've said your mother inspired you to dream big, and that Breathless grew from her influences and leadership. Tell us about her.
Sharon: Our mom had passed away from Alpha 1—a disease of the lungs, much like emphysema, though she never smoked in her life!—and we wanted to do something in her honor, so the idea really grew on us all. It has been a wonderful opportunity to do something together that has so much meaning and inspiration for us. Martha Jane, our amazing mom, woke up every day with enthusiasm for the three of us to make the day the best it could be—as we were growing up, and even going through the trials and tribulations of Alpha 1. She always encouraged us to follow our dreams, even me at age 17 telling her I was joining the USAF. She had to sign for me since I was not yet 18, and she told me no matter what I was assigned, to do the best job I was capable of. Those words stuck with me through life.
To read the article on the Wine & Whiskey Blog, click HERE.
While Thanksgiving this year was not like other years, one traditional event is the Black Friday sales. And, another annual tradition is Small Business Saturday! As a small business owner myself, this week's Please The Palate pick of the week is Small Business Saturday.
It has been a challenging year for so many, especially independent business owners. On top of Covid, wine regions were challenged by fires. And, there has been the beginning of a reckoning of gender and racial inequality in the wine industry. So, what better way to celebrate Small Business Saturday than supporting female winery owners.
Breathless Wines
Founded in 2012 in Healdsburg, CA, Breathless is a boutique family winery owned by sisters, Sharon Cohn, Rebecca Faust, and Cynthia Faust who, along with acclaimed Winemaker Penny Gadd-Coster, are dedicated to crafting refreshing method champenoise sparkling wines for life's special moments.
For the Full Article and all the Women-Owned-Wineries Click HERE.
Breathless has earned two Gold Medals at this year's Sunset International Wine Competition!
Breathless Sonoma County Blanc de Blancs - Gold Medal & 91 Points

Breathless Sonoma County Brut Rose - Gold Medal & 91 Points
Congratulations to our winemaker extraordinaire Penny Gadd-Coster!
To read more about the competition and see all the winners, please visit:
https://issuu.com/sunsetmag/docs/1_sunset_wine_2020_issue_47ddcfb4cfb0c9/146
Breathless Brut has been Named one of the "Top 100" Wines of the 2020 by Sonoma Magazine.
The Review Reads:
"Sisters Rebecca and Cynthia Faust and Sharon Cohn produce sparkling wines in Healdsburg, the brand name honoring their Mother, Martha Jane Faust, who died from a rare respiratory condition. "Fourth Sister" Penny Gadd-Coster produced this somewhat rich, beautifully balanced blend of Chardonnay and Pinot Noir, with red berry, citrus and tropical fruit notes and a subtle yeastiness. It's an excellent value in the high-priced world of serious California sparkling wines."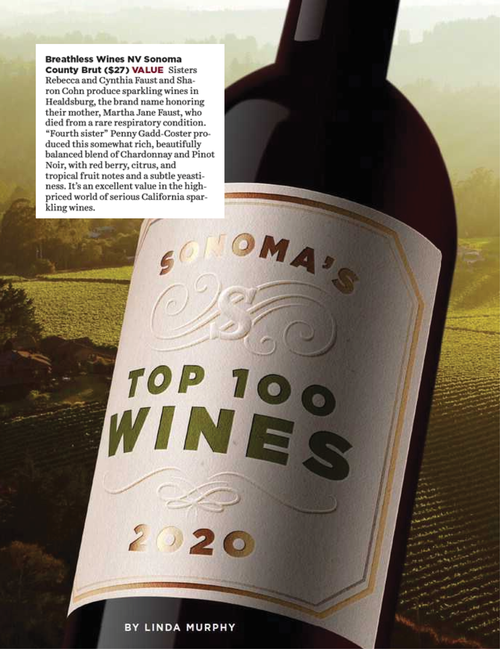 Breathless Wines earns two Golds in the 2020 Sonoma County Harvest Fair! Both the Blanc de Blancs and Brut won gold in this year's competition! This brings Breathless to over 20 Gold Medals in 2020!
YOU on Technology Revolution: The Future of Now Radio - September 30, 2020
Sharon Cohn took part in this interview with other wonderfully savvy and passionate panel of dedicated wine experts!
Link to the audio and video files HERE.
Breathless has been honored with the BEST OF, Gold for Sparkling Wine in the annual readers poll. Thank you to all who took the time to vote for Breathless!
Breathless is Honored with Winery of the Year Distinction
Annual Rising Wine Stars Award
From LuxeSF Magazine
The Rising Wine Star Awards acknowledge individuals and organizations that are building reputations and conquering an ever-changing marketplace, and who epitomizes the new generation of the wine industry in California, specifically Napa and Sonoma.
A 14-person panel of respected industry influentials made the decision on this year's Wine Stars across 5 award categories. Congratulations to ALL this year's nominees and recipients! Read the article HERE

WINERY OF THE YEAR
[Breathless Sparkling Wines Winery of the Year]
Breathless Sparkling Wines
Founded in 2011, and built by the love of three sisters, and the passion for life that their mother passed down to them, the 2020 Rising Wine Stars Winery of the Year is a family affair. The three sisters, Sharon Cohn, Cynthia Faust, and Rebecca Faust have created a winery which is both a living tribute to their mother, Martha, who passed away from illness, and a portfolio of stunning wines that celebrate her philosophy — to dream big, live life to the fullest and never take a single breath for granted.
The fourth "sister", winemaker Penny Gadd-Coster brings years of experience and accolades to the operation. In 2013, she was recognized as Winemaker of the Year by the North Bay Business Journal, an award that honors the best in the trade from Sonoma, Napa, Mendocino, and the greater Bay Area. Her wines, too, have garnered much attention: Wine Enthusiast awarded 90 Points to her Breathless Brut; her Blanc de Noirs received the Gold Medal in the 2015 San Francisco Chronicle Wine Competition and Gold/Best of Class in the 2014 Grand Harvest Awards; and her Brut Rosé took home the Gold Medal and 92 Points from the 2014 Pinot Noir Shootout.
The sisters, along with their talented winemaker, are dedicated to sparkling winemaking in the traditional method, creating refreshing sparkling wines that are hand-crafted from select Pinot Noir and Chardonnay grapes using the traditional French method, méthode champenoise — the same process of tirage, riddling, and disgorging that the great Champagne houses have practiced for centuries. "We aspire to be as much like Champagne as possible," says Sharon Cohn. The winery uses the same grape varieties as well, sourcing fruit from Carneros, Russian River Valley, Dry Creek Valley, and the North Coast. Chardonnay, Pinot Noir, and Pinot Meunier turn into traditional Blanc de Blancs, Brut, Brut Rosé, and Blanc de Noirs bottlings, as is customary in Champagne.
In its short operating history, the winery has accumulated a slew of awards and accolades each attesting to the quality of its wines and the mastery of its winemaker. These include the Sweepstakes Award for Best Sparkling & Specialty Wine at the 2018 Sonoma County Harvest Fair for the 2012 Brut, 94 points and a Double Gold Medal at the 2019 American Fine Wine Competition for the Blanc de Noirs, 92 Points from Wine Enthusiast Magazine for the Blanc de Blancs, 95 Points and a Double Gold Medal at the 2018 California State Fair for Blanc de Noirs and the Winemaker of the Year Award from the North Bay Business Journal to winemaker Penny Gadd-Coster for Exceptional Still and Sparkling Winemaking Skills.
The tasting room is an homage to "industrial chic". A metalworking artist who has contributed art to Burning Man fashioned the space from four shipping containers. The design style is an eclectic medley of 1920s Art Deco, Parisian-themed bric-a-brac, and vintage Vespa motor scooters. The sabrage experience arms the guest with an official sciabola del sommelier, safety glasses, gloves, and careful instruction by staff on how to "slice off" the bottle top without inflicting damage to the wine or the handler. Quieter times include a "Books and Bubbles" package that supports local authors, April through October holiday shopping, with bubbles on Black Friday and Cyber Monday, and a boisterous New Year's Day open house with music, dim sum, and tarot card readers.
In honor of their mother, the sisters have taken an active role in the local community, hosting events for multiple charities throughout the year. They also donate to the Alpha-1 Foundation, a cause that was near and dear to their mother's heart.
15 Sonoma Wines for Stressful Times
Quench your thirst during warm and smoky summer days with these light sparkling or fruity wines.
BY LINDA MURPHY
AUGUST 2020
Featured in the Santa Rosa Press Democrat and Sonoma Magazine
The skies are clogged with smoke from fires burning in Sonoma County, Napa Valley and throughout the state. Evacuations, warnings to evacuate and emergency alerts have us all on edge. Temperatures of 100 degrees and higher have eased for the moment but can return anytime, with almost a month left of official summer.
Sonoma wines are here to help: to quench the thirst during the remaining warm days before fall, for Labor Day (and COVID-19-safe) get-togethers and for celebrating small victories. In moderation, wine can bring people together, make food taste more delicious and give us some joy in difficult times.
But do check yourself. According to the National Institute on Alcohol Abuse and Alcoholism, while drinking alcoholic beverages temporarily dampens the brain and body's response to stress, feelings of stress and anxiety can return, and worsen, once the alcohol wears off.
The following Sonoma wines are a pleasure to drink, and buying them supports the grape growers, vineyard workers and wineries that produced them. These recommendations, good year-round, are also specific to this season of heat, smoke and uncertainty. They don't have firm, drying tannins or heavy toast or smoky aromas and flavors (there are enough of those in the air). Instead, they have vibrant and flavorful fruit, succulence and crisp acidity. Cabernet sauvignon and merlot will have their starring moments in fall and winter.
Sparkling wines
They're wonderful for celebrations of all kinds, from a negative COVID-19 test to the dog's birthday to your first hair styling in months. Or enjoy them as simple, pure refreshment.
Start with the Breathless Wines NV Sonoma County Brut ($27), an energizing burst of red berry, citrus and tropical fruit overlaying classic brioche-like yeastiness. It's available in many Sonoma markets and restaurants, at the Healdsburg tasting room and online.
Read the full article and see what other wines made the list HERE.