News
Honored to be included in Healdsburg's first ever Sip and Shop, Small Business Saturday on November 27th, partnering with American Express.
"Sharon Cohn's (the eldest of her three founding vintner sisters, Rebecca and Cynthia) pick is their Brut. Sharon was pouring at the beautiful Arena Gallery. It's a tasty bubbly and who can resist their pretty, fun packaging?"
Read the full article here.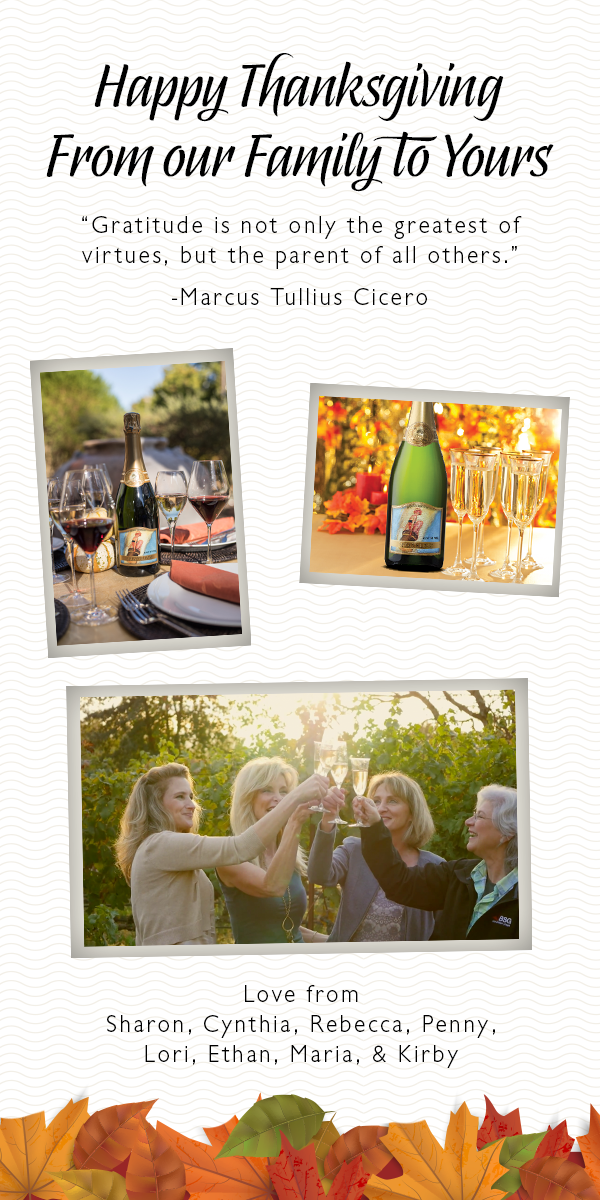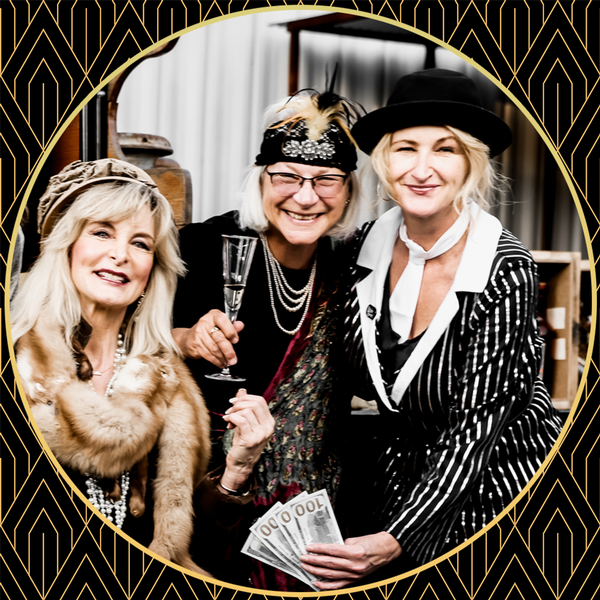 Thank you for joining us at the Bootleggers Bash for great food, music and Camaraderie. We trust you enjoyed yourselves as much as we did, in your fabulous costumes!
We also want to thank April's Pantry and Stella Heath and her Quintet, The Billy Holiday Project!
See ALL photos here in vintage and color corrected.
Kudos to our photographer, Will Bucquoy.
Please feel free to share these links with your guests – you all look amazing!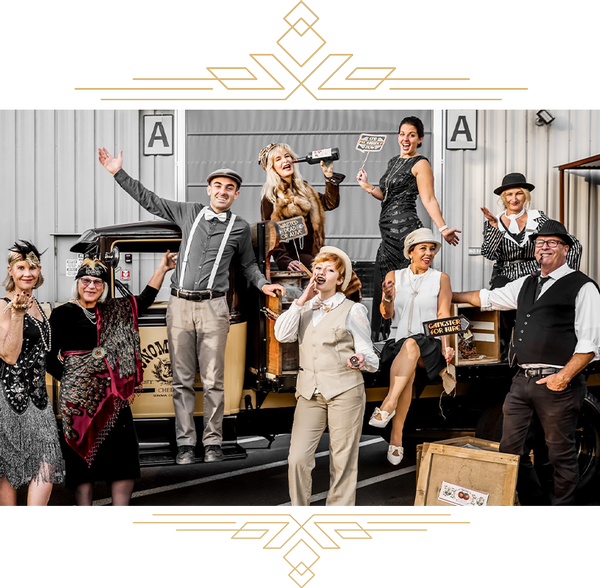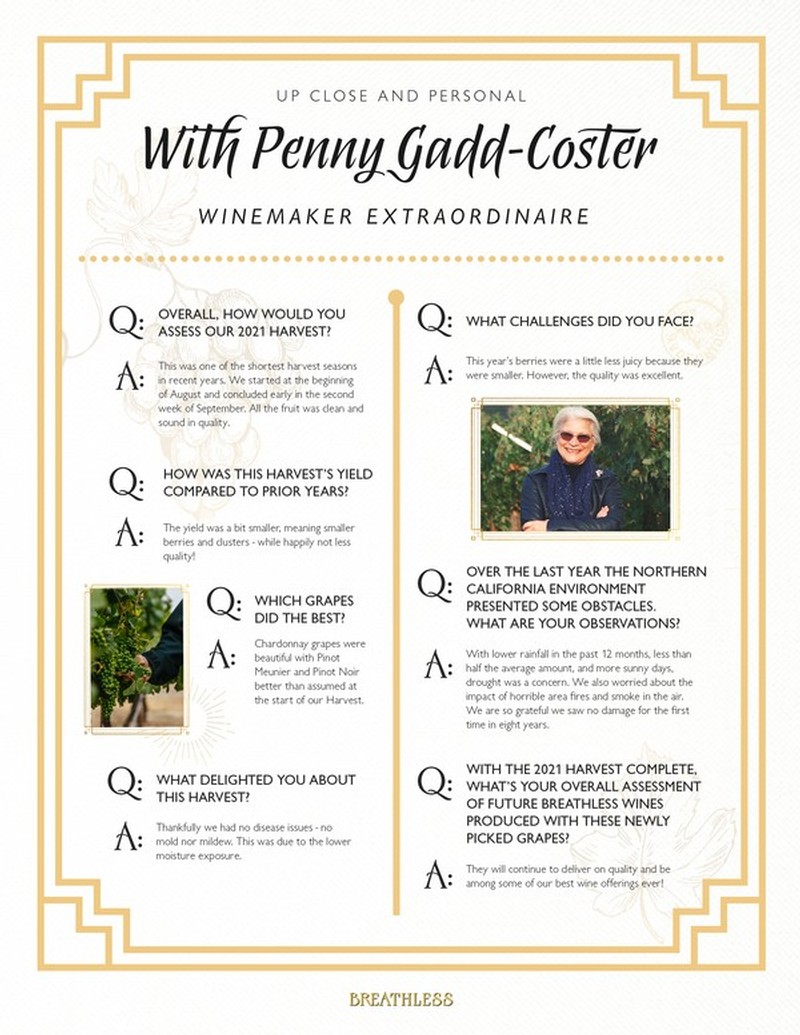 A Note from Jim Morris and Hope Katz Gibbs, hosts, Women Who Make Us Wine Radio Show — We were thrilled to launch our new show by interviewing two women who are taking the wine industry by storm — Sharon Cohn, who with her sisters own Breathless Wines, and their masterful winemaker Penelope Gadd-Coster.
"We started this winery to honor our mother, Martha, who taught us to live largely and dream big," explains Sharon.
We know you'll be inspired!
Click here to listen to the interview...
AND the 15% off discount code that Sharon mentions in the interview is ICAN
The female-led team comprised of three sisters Sharon Cohn, Rebecca Faust, and Cynthia Faust are at the helm of Breathless Winery in Healdsburg, CA. The winery's mantra is about celebration, which is why they believe in the breathless moments of life. While they have a variety of tasting and small group event options, the most unique offering is the sabrage experience for groups up to 10 people. Guests are brought together to learn the fine, historic art of sabering that has a connection to Napoleon and the French Revolution. As the story goes, during Napoleon's victorious battles, soldiers would ride on horseback through villages and towns with bottles of champagne to mark their victory. Without the ability to use their hands, they would strike the bottle with their sabers to pop the cork. Groups can learn the history of the experience along with the "how-to" led by a private instructor. After the instruction, they are left to enjoy the bottle along with optional charcuterie and cheese plate options and additional pairings.
To read the rest of the article, click here.
The Future of California Sparkling Wine
So what is the future of California Sparkling wine? Will sales continue to grow, or will they flatten? Competition from Champagne and Prosecco is fierce, especially since both of these regions have large marketing associations that frequently reach out to wine buyers and consumers with compelling ads to purchase their wines.
The California sparkling wine industry, however, does not have a marketing association to represent its producers. In the past, this was because there were not that many bubble houses. But according to CaliforniaChampagne.com, there are now around 150 sparkling wine producers in California.
The state also ships far more wine in the US compared to its competitors. According to a recent report by market research firm, Gomberg-Frederickson, California sparkling houses shipped an average of 11.8 million 9L cases per year, from 2016 to 2020. During the same period, Italy shipped an average of 8.5 million imported cases (primarily of Prosecco) to the US, while France only shipped an average of 3.5 million cases.
However, some producers are very positive about the future of California bubbles, and expect to see continued growth in the category, due to new trends and changes in consumer behavior. Joy Sterling, CEO of Iron Horse Vineyards in Sonoma County says: "The future of California bubbly is very bright. It is encouraging that more and more people are coming to see bubbly as a wine to be enjoyed on any and every occasion."
Penny Gadd-Coster, Executive Director of Winemaking at Rack & Riddle, and head winemaker for the much touted Breathless Wines brand, reports, "I believe the future looks good for sparkling as people are looking for lower alcohol wines which sparkling inherently is."
To read the rest of the article click here.
Owned and operated by three sisters, the winery was named in honor of their late mother, Martha, and for all the breathless moments she created.
Under the warm spring sun, Breathless Wines becomes an oasis in Healdsburg for regality. Any troubles are melted away with an array of sparkling champagne choices placed outside as the drapes miming an isolated royal tent guard against the May breeze. The noble ambience peaks once the saber is introduced.
Sabrage is the art of opening a wine bottle with one sweep of the blade against the bottle, popping the cork off in dramatic fashion. It's one of the many grandiose ideas Breathless brings to wine tasting.
Owned and operated by three sisters, the winery was named in honor of their late mother, Martha, and for all the breathless moments she created. "Our mother was a very inspirational woman who never took a breath for granted," says Sharon Cohn, one of the three sisters. "How she lived every day is pretty amazing. We thought we could create something that would represent that."
"My sister Rebecca kept saying, 'Come on, let's do a label, let's do a label.' We started thinking about it in 2010, and she kept pushing and pushing, 'We got to do this,' " says Cohn. Sharon had a business at the time, a massage parlor called Massage Envy. But once she sold her stake at the parlor, all three sisters jumped into the world of wine together. The third sister, Cynthia, was working for business development at Rack & Riddle Wine Services at the time, where she met Penny Gadd-Coster.
Gadd-Coster, the winemaker for Breathless Wines, began her renegade career with Jordan Winery before working with Rack & Riddle and Breathless. "Once I got the opportunity to start making wines for Rack & Riddle, I was able to bring my own style from some of my mentoring," says Gadd-Coster. "Then I took another step with Breathless Wines, where I was able to craft these wines in a style that I believed fit what we are trying to do."
Gadd-Coster had to combat a male-dominated wine industry while she mastered methode champenoise. Of the 4,200 wineries in California, just 14% are led by a female winemaker in 2020 according to Lucia Albino Gilbert, Ph.D., and John Carl Gilbert, Ph.D. in a study for Santa Clara University. And what better winery to do so at then Breathless, a company run by three women. Gadd-Coster's call to action is to bring bubbles to all, and the women-centered team of Breathless is bringing her goals to life.
To read the rest of the article click here.
In 2012, in Healdsburg, sisters Sharon Cohn, Cynthia Faust, and Rebecca Faust founded a winery, Breathless, to honor their mother, Martha, who taught them to live large and dream big. They wished both to erect a living homage to their mother and to celebrate life—so bubbles seemed the obvious focus. And there was so much sisterly love in the effort that that they added a fourth sister—honorary sibling, winemaker Penny Gadd-Coster.
Today their wines, hand-crafted from North Coast Pinot Noir and Chardonnay in the centuries-old French méthode champenoise, are receiving steady accolades. The 100% Chardonnay Russian River Valley McMinn Vineyard Blanc de Blancs exudes Bartlett pear, orange flower, and crispy apple amid tiny, creamy bubbles. Pommard Clone Blanc de Noir (100% Pinot Noir) exhibits black cherry, a pinch of pepper, and elegant depth with a lighter than expected color—just to note a couple.
We had the chance to sip with one sister, Sharon Cohn, and winemaker Penny Gadd-Coster. Here's how they answered our questions.
"Family winery" sometimes conjures images of a mom and pop operation, but this one takes that notion in a somewhat different direction.
Sharon: This idea was kicked around at many a family gathering. Rebecca and her partner, Bruce Lundquist, started up a custom crush facility for sparkling named Rack and Riddle. They brought on Penny, who we knew could make amazing wines that we would be proud of!
You are the honorary sister and the winemaker. What's your winemaking philosophy?
Penny: My philosophy for winemaking is to let the grapes express themselves in the best way possible—they worked hard to be made into wine! The philosophy for the wines is to bring together the elegance of Champagne with the fruit of California. They should be food friendly and can be drunk with any part of a meal, and should not just be for celebrations. After all, every day is a celebration.
Pinot Noir plays a big role in your wines. What quality does that add?
Penny: Traditionally in Champagne Pinot Noir is a big component of the blends for Rose, Brut, and Blanc de Noir. I follow that tradition. Since it is a red grape, it is sometimes the forgotten component. Pinot Noir brings what the area brings to that grape—and that can mean berry fruit, earthiness, and spice to bubblies. It helps to bring complexities to all of the wines it blends into.
Winemaker Penny Gadd-Coster (at left) with the Breathless sisters.
Why sparkling?
Sharon: A breathless moment can be any moment in time, if you want to make it that. My sisters and I want life to be savored and enjoyed. We feel that a glass of bubbles makes it truly feel like a celebration. Bubbles creation takes longer than all wines, so it is a special occasion to pop open a bottle (or saber, our favorite way). Every glass shared with friends and family is meant to remind us to create more of those special moments in our lives.
Speaking of special moments—can you give us some holiday pairing notes?
Penny: The Blanc de Blanc is my favorite with oysters, but the Brut is also great. Any kind of fish or shellfish with either one, along with pork, roasted chicken …turkey. With the Blanc de Noir, try duck or lamb, salty cheese, or holiday ham. The Rosé does well with ham, fruit desserts, nuts, salty cheeses and my favorite—pizza. Seriously, the color just makes you happy. Last of all the Moscato: my favorite dishes with this are curries, but it is also fun with desserts, especially apple desserts. This is what I am going to have . . . with pumpkin pie.
You've said your mother inspired you to dream big, and that Breathless grew from her influences and leadership. Tell us about her.
Sharon: Our mom had passed away from Alpha 1—a disease of the lungs, much like emphysema, though she never smoked in her life!—and we wanted to do something in her honor, so the idea really grew on us all. It has been a wonderful opportunity to do something together that has so much meaning and inspiration for us. Martha Jane, our amazing mom, woke up every day with enthusiasm for the three of us to make the day the best it could be—as we were growing up, and even going through the trials and tribulations of Alpha 1. She always encouraged us to follow our dreams, even me at age 17 telling her I was joining the USAF. She had to sign for me since I was not yet 18, and she told me no matter what I was assigned, to do the best job I was capable of. Those words stuck with me through life.
To read the article on the Wine & Whiskey Blog, click HERE.
While Thanksgiving this year was not like other years, one traditional event is the Black Friday sales. And, another annual tradition is Small Business Saturday! As a small business owner myself, this week's Please The Palate pick of the week is Small Business Saturday.
It has been a challenging year for so many, especially independent business owners. On top of Covid, wine regions were challenged by fires. And, there has been the beginning of a reckoning of gender and racial inequality in the wine industry. So, what better way to celebrate Small Business Saturday than supporting female winery owners.
Breathless Wines
Founded in 2012 in Healdsburg, CA, Breathless is a boutique family winery owned by sisters, Sharon Cohn, Rebecca Faust, and Cynthia Faust who, along with acclaimed Winemaker Penny Gadd-Coster, are dedicated to crafting refreshing method champenoise sparkling wines for life's special moments.
For the Full Article and all the Women-Owned-Wineries Click HERE.