June 7, 2020 | Sandi Coero
The History and Inventor of Brut Champagne - By Rebecca Rosenberg
Do you know who invented dry Brut Champagne?
By Rebecca Rosenberg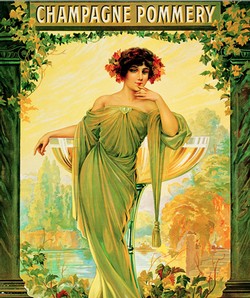 Today, Breathless Brut is Breathless Wines' most popular sparkling wine. But did you know that until 1870, champagne was sweeter than the sweetest dessert wines we have today?
In 1858, Madame Pommery was a French widow with no experience making wine, yet took over her husband's winery that produced red wine. She immediately switched to making sparkling wine, twice as difficult and painstaking as still wine. She'd gone to school in England and knew the English preference for dry (still) wine. Madame Pommery began to experiment with making dry brut champagne, which proved even riskier because grapes needed to stay on the vine longer in order to ripen with a natural sweetness…whereas other champagne makers could disguise premature grapes by adding more sugar.
Madame Pommery's clients rejected her first few years of dry champagne, but she persisted. And, the 1874 vintage of Pommery Brut was so delicious and sought after, the English immortalized it in a popular song: Ode to Pommery!
Breathless raises a glass of Breathless Brut to Madame Pommery who steered the world's taste in sparkling wine from sweet to dry.
For more on my CHAMPAGNE WIDOWS novels:
Breathless Brut's fine mousse fills the palate with a light, refreshing effervescence. Enjoy tropical notes of guava and pineapple with citrus highlights and just a hint of yeast. The finish is smooth and satisfying. 60% Chardonnay, 40% Pinot Noir. Aged 24 months.
98 POINTS , BEST OF SHOW, BEST SPARKLING, BEST OF SONOMA,
DOUBLE GOLD & BEST OF CLASS - 2019 Harvest Challenge
90 POINTS - "Lively and Refreshing!" - Wine Enthusiast Magazine, August 2020
90 POINTS & DOUBLE GOLD - 2020 American Fine Wine Competition
93 POINTS - 2019 North Coast Wine Challenge
92 POINTS - 2019 American Fine Wine Competition
GOLD MEDAL, 91 Points - 2019 Sunset International Wine Competition
GOLD MEDAL, 90 Points - 2019 Orange County Fair Wine Competition
91 POINTS- 2019 North Coast Wine Challenge
92 POINTS - 2019 American Fine Wine Competition
Comments
Commenting has been turned off.
You know you want to


Sign Up For Our Newsletter

Keep up to date on the latest wine releases, events, and promotions and get 10% off your next order.

Sign Up