Penny's Grilled Shrimp and Arugula Salad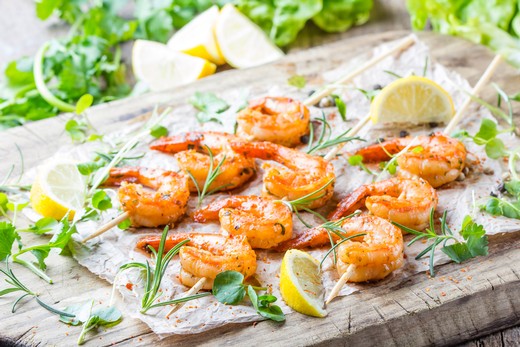 Recipe Date:
July 2, 2018
Measurements:
Imperial (US)
This super easy marinated grilled shrimp is a favorite of our very own winemaker Penny Gadd-Coster! It can be a starter or main dish. The summery flavors pair beautifully with Breathless Sparkling Wine!
Ingredients
1 lb Medium to large shrimp, shelled and deveined
1/4 cup Olive Oil
2 tbsps Chopped fresh dill
2 tbsps Minced shallots
2 tbsps Smoked Paprika
Salt and Pepper to taste
4 cups Fresh baby arugula, rinsed
1/4 cup Olive Oil
1/8 cup Champagne or sherry vinegar
Salt and Pepper to taste
Directions
In a medium bowl, whisk olive oil, dill, shallots, paprika together, add salt and pepper to taste. Add prawns and turn to coat. Marinate prawns for up to 1 hour. Divide evenly among bamboo skewers and grill on medium heat for 2-3 minutes per side, until cooked through, but not rubbery. Whisk together olive oil and champagne vinegar, toss to lightly coat arugula, salt and pepper to taste. Serve shrimp on arugula salad. Serve with Breathless Blanc de Noirs or Brut Rose!