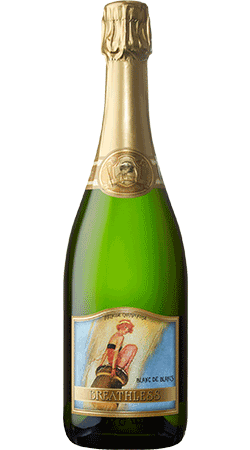 Wine Specs
Appellation
Sonoma County
Breathless Blanc de Noirs 750ML
Description
Aromas of Black truffle, black cherry, and earth. Dry with balanced fruit and acidity. While the fine mousse of our Blanc de Noirs highlights these notes in the mouth, the lingering, long finish demands yet another taste.
93% Pinot Noir, 7% Pinot Meunier. Aged 32 months.
Awards and Accolades
- SWEEPSTAKES WINNER 98 Points - 2021 Sonoma County Harvest Fair Wine Competition!
- Platinum Medal 94 Points - 2021 Critics Challenge International Wine & Spirits Competition
- Double Gold Medal 95 Points - 2021 American Fine Wine Competition
- Double Gold Medal 97 Points - 2021 Sunset International Wine Competition
- Double Gold Medal 96 Points - 2021 North Coast Wine Challenge
- Gold 92 Points - 2021 Winemaker Challenge International Wine & Spirits Competition

- Platinum Award—2020 Winemaker's Challenge
- Double Gold & 95 Points – 2020 International Women's Wine Competition
- Gold Medal & 91 Points—2020 Critics' Challenge Wine Competition
- Double Gold & 91 Points –2020 American Fine Wine Competition
- Gold Medal & 90 Points—2020 Monterey International Wine Competition
- 95 Points/"Very Impressive!" - Rich Cook /January 2020
- 94 Points & Double Gold Medal—2019 Harvest Challenge
- 94 Points, Double Gold Medal—2019 American Fine Wine Competition
- 94 Points, Gold Medal—2019 North Coast Wine Challenge
- Gold, Best Of Class, 94 Points—2019 Sunset International Wine Competition
- Gold Medal, 90 Points—2019 Los Angeles International Wine Competition
- Gold Medal—2019 Sonoma County Harvest Fair
- "Breathless Is Aptly Named, Taking Away Your Breath Just Like Your First Visit To Yosemite Did" - Mike Dunne
- Sweepstakes Winner: Best Sparkling Wine 2020 San Francisco Chronicle Wine Competition