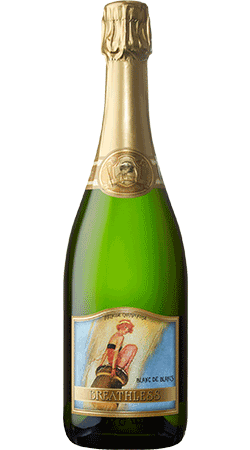 Wine Specs
Appellation
Sonoma County
Breathless Blanc de Noirs 750ML
Our Blanc de Noirs tastes of brioche and a hint of berry, with bright citrus aromas. While the fine mousse highlights these notes in the mouth, the lingering finish demands yet another taste. 93% Pinot Noir, 7% Pinot Meunier. Aged 32 months.
SWEEPSTAKES WINNER! - Best Sparkling Wine - 2020 San Francisco Chronicle Wine Competition.

Platinum Award - 2020 Winemaker's Challenge

91 Points & Double Gold - 2020 American Fine Wine Competition

90 Points & Gold Medal - 2020 Monterey International Wine Competition

95 POINTS - "Very Impressive!" - Rich Cook, January 2020

GOLD, BEST OF CLASS, 94 POINTS -2019 Sunset International Wine Competition

94 POINTS & Double Gold Medal - 2019 Harvest Challenge

94 POINTS, DOUBLE GOLD MEDAL - 2019 American Fine Wine Competition

94 POINTS, GOLD MEDAL - 2019 North Coast Wine Challenge

GOLD MEDAL, 90 Points - 2019 Los Angeles International Wine Competition

GOLD MEDAL - 2019 Sonoma County Harvest Fair

"Breathless" is aptly named, taking away your breath just like your first visit to Yosemite did - Mike Dunne
Product Reviews
Larry Willis
(Apr 24, 2018 at 10:41 AM)
We serve this to our guests at our inn, The Gables Wine Country Inn, and they absolutely love it. It is also our personal favorite.
David Thompson
(Sep 2, 2018 at 2:51 PM)
Had a wonderful experience at a winetasting All wines tasted were great