Truffled Deviled Eggs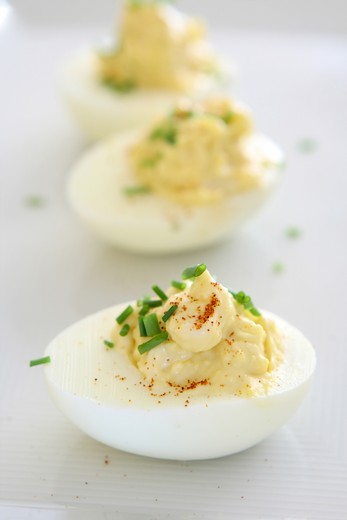 Recipe Date:
December 1, 2018
Measurements:
Imperial (US)
A holiday party classic with an elegant twist - these delicious "devils" make a delicious sparkling wine partner. The filling makes enough to make 20 halves, you will have 2 extra egg white halves. Enjoy with Breathless Brut, Blanc de Noirs or Blanc de Blancs!
Ingredients
12 Hard boiled eggs
2 tbsps Mayonnaise
2 tbsps Sour Cream or Creme Fraiche
2 tbsps Truffle oil
1 tsp Truffle paste or chopped peelings (optional)
1/4 tsp Salt
3 tbsps Finely slice chive (garnish)
1 tsp Finishing salt of your choice such as red Hawaiian or black salt (garnish)
Directions
Split hard boiled eggs lengthwise and separate the yolks from whites. Place the yolks in a mixing bowl and lay egg white halves on a platter or cookie sheet. With a small whisk or fork, mash the egg yolks. Add the mayonnaise, sour cream, truffle oil, salt and truffle paste (optional). Continue to mix until smooth. Transfer mixture to a small piping bag with a straight or large star tip. (if you do not have a piping bag, a plastic bag with one corner cut off will substitute). Fill 20 egg white halves with mixture. Garnish with finely sliced chives and finishing salt.