Spring in a Bite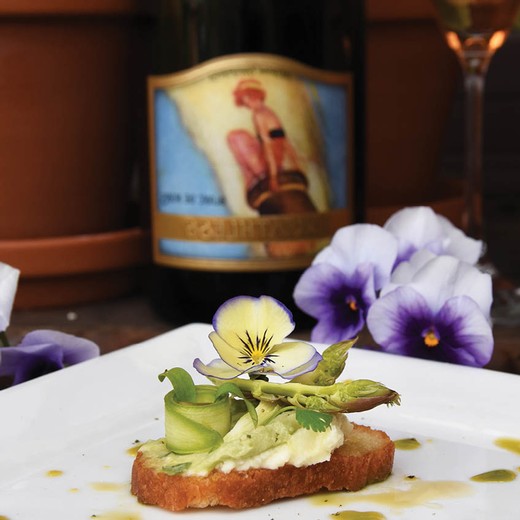 Recipe Date:
April 8, 2019
Measurements:
Imperial (US)
Breathless has partnered with a local Chef for some delicious, seasonal and fun recipes to pair with our bubbles! This delicious crostini has all the elements of Spring in one beautiful bite and pairs perfectly with our Blanc de Noirs.
Ingredients
1 French baguette, cut into rounds for crostini
8 ozs Ricotta Cheese (Bellweather Farms Basket Ricotta is a favorite)
1 cup Shelled and steamed English Peas or Fava Beans
12 Asparagus Tips, sliced lengthwise
2 tbsps Creme Fraiche
2 tbsps Mascarpone
1 tsp Good quality olive oil
1 tsp Lemon Zest
Handful microgreens or edible flowers
Directions
—Make the crostini: Slice baguette into small rounds, toast with a mix of butter, olive oil, salt, dried herbs and lemon zest at 300 degrees on a sheet pan for 15 minutes.
—Make the ricotta mix: In a small bowl combine ricotta, olive oil, zest, and a pinch of kosher salt. Mix until combined.
—Make the pea purée: Take fresh peas or fava beans and steam them until tender. Then put them into a food processor and blend with creme fraiche, mascarpone, and lemon zest until smooth. Salt to taste.
Cut asparagus lengthwise in half and only use the tips. Steam them lightly then drizzle with a bit of salt, lemon juice, and olive oil.
—Assemble: Take the crostini and top first with the ricotta then the pea purée. Finally, arrange two asparagus tips, microgreens and edible flowers on top. Drizzle with a little olive oil to finish. Enjoy with Breathless Blanc de Noirs!
Recipe created by local chef: Cuisine by Lela
follow her on Instagram: @cuisine_by_lela
Website: cuisinebylela.com