Mushroom Tart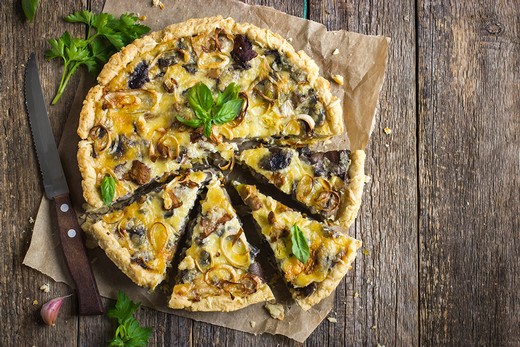 Recipe Date:
October 4, 2020
Measurements:
Imperial (US)
Fall brings us so many wonderful flavors that pair with sparkling. Mushrooms are one of our favorites! Their rich earthy flavors marry so well with the crisp brightness of bubbles! This delicious tart can be served for brunch, a light lunch with a salad, or cut into thin slivers as an appetizer.
Ingredients
1 Circle purchased pie dough (or you can make your own)
1 lb Mixed mushrooms (we like cremini, oyster and chantrelle)
1/4 cup Finely chopped shallot
1 tsp Chopped fresh thyme (dried will also work)
1/3 cup Shredded gruyere cheese
1 tbsp Butter
1 tbsp Olive Oil
3 Eggs
1/2 cup Whole milk
Salt and Pepper to taste
Directions
Line a 9 or 10" tart pan with the pie dough. Lightly pierce all over with a fork. Preheat oven to 350 degrees. Bake crust until edge is golden – about 18-20 minutes. (you may use pie weights or rice if you wish). Remove and let cool. While shell is baking, heat butter and oil in a heavy skillet over medium-high heat. Sauté mushrooms shallots and thyme, stirring frequently until the liquid evaporates from the mushrooms. Add salt and pepper to taste. Whisk eggs and milk together until blended. Fill tart shell with the mushroom mixture. Sprinkle gruyere evenly over and pour the custard over. Bake 30-45 minutes or until custard is set. Cool. Serve warm or at room temperature. Serve with Breathless Blanc de Noirs!