Focaccia Bread with Tomatoes and Feta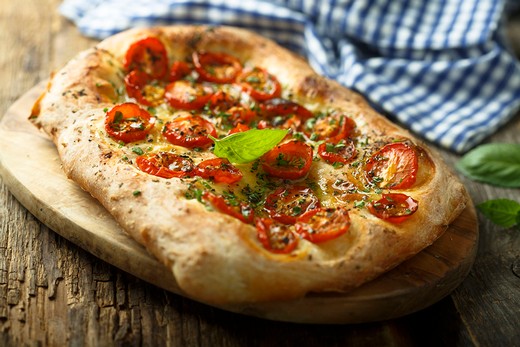 Recipe Date:
May 10, 2020
Measurements:
Imperial (US)
A special recipe from Winemaker Penny! You can use a basic bread you make -yeast, flour, salt, water. I make mine in a bread machine and stop it after the first rise. Or you can buy fresh dough from many markets these days. No Kneading required. This is an easy fresh bread that makes the meal extra special.
Ingredients
1 lb Bread Dough
1 tbsp Dried Italian Herbs (basil, oregano, etc.)
1 Roma Tomato - thinly sliced
1/3 cup Feta Cheese (or substitute Goat Cheese if you prefer)
Coarse Sea Salt to taste
Olive oil for drizzling
Directions
Preheat oven to 400F.
Line a sheet pan with parchment paper.
Place bread dough on the parchment and press out the dough to about a 12 inch round.
Sprinkle the dough with herbs.
Lay on the tomatoes- just like for a pizza.
Sprinkle on the feta- you can add more or less to your taste.
Drizzle the bread with olive oil.
Then sprinkle the bread with the coarse salt.
Bake for about 20 minutes or until brown. Let cool slightly and slice.
Perfect with the Blanc de Noir- cheers!