Ahi Poke Spring Bite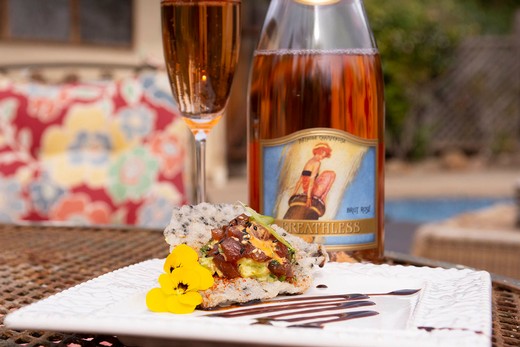 Recipe Date:
February 28, 2020
Measurements:
Imperial (US)
These lovely and light appetizers, created by Chef Lela, taste just like Spring in a bite with their fresh flavors and delicious umami.
Ingredients
1 Large ahi steak (the best grade A "sashimi grade" you can find.)
1 Ripe avocado
Black sesame crackers (available at any Asian market)
1 cup Vegetable oil
1 tbsp Togarashi (Japanese spice blend)
Salt to taste
2 tbsps Shoyu
1 tsp Plus one dash Sesame oil
1 tsp Grated ginger
Juice and zest of 1 lime
2 Spring onions, minced
1 tbsp Finely chopped cilantro
1/2 cup Japanese Mayo
1 tsp Sriracha (more if you like it hot!)
Directions
Peel the avocado and give it a rough "smash". Make the crackers: Heat up the vegetable oil, break the crackers apart. Test one piece into the hot oil (it should puff up instantly as it fries). Put on a paper towel to drain. Dust with Togarashi and salt. Make the dressing: In a small bowl, whisk together the shoyu, sesame oil, ginger, lime juice and zest, onions, cilantro. Cut up the ahi into a small dice and then toss with the dressing. In a small bowl, whisk the mayo, sriracha and dash of sesame oil. To assemble: Take a cracker, spread the avocado "smash", then Poke mixture, then a bit of sriracha mayo. Garnish with green onion.
Add-ins: You can add... microgreens, mango, furikake, sweet soy drizzle or keep it plain! It's all about that tuna and those incredible gluten-free crackers! If you need more instructions to make the crackers, visit Chef Lela on Instagram. @cuisine_by_lela. Have fun and enjoy with Breathless Sparkling Brut Rose!