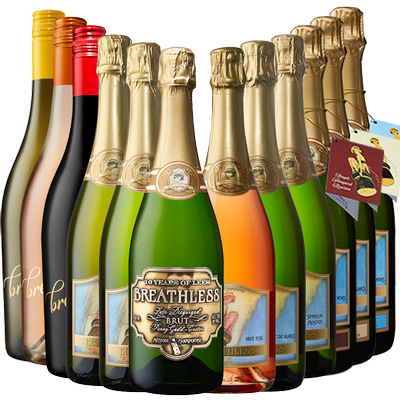 Twelfth Month
A special bundle of each Breathless Wine we offer and only $1 shipping!
Late Disgorged Brut - Aromas of Asian Pear, Yellow Delicious apple, Brioche, hazelnut. a very classic Champagne style
SV Blanc de Blancs-McMinn Vineyard - Aromas of Golden delicious apple, Asian pear, light citrus, brioche. A hint of lemon and citrus blossom. This Blanc de Blancs is natural, no sugar, wine or brandy was added
Blanc de Blancs - Aromas of White truffle, tropical fruit- pineapple, passion fruit, bosc pear, brioche. Fine bubbles bring softness and lushness to the mouth. Elegant, crisp, balanced acidity with dosage, long finish
Brut - Aromas of pear, yellow Delicious apple, brioche, citrus, and Crenshaw melon, this Brut's fine mousse fills the palate with a light, refreshing effervescence.
Blanc de Noirs - Aromas of black truffle, black cherry, and earth. Dry with balanced fruit and acidity. While the fine mousse of our Blanc de Noirs highlights these notes in the mouth, the lingering, long finish demands yet another taste.
SV Blanc de Noirs-Pommard Clone - This clonal selection was picked for its beautiful Bing cherry fruit and softness in the mouth. This wine will bring you to the Burgundy region in France with its balance of fruit, oak, and acidity- the perfect food wine! Long finish, round with blueberry, cherry, and caramel notes on the palate
SV Blanc de Noirs-Robledo Vineyard - Beautiful ruby color with aromas of blueberry, Bing cherry, and vanilla. This follows through in the mouth with balance and softness on the palate. The wine finishes long with fruit and brown sugar notes.
Sparkling Rosé - A dramatic salmon color and lovely aromatics of strawberry, lime, and watermelon balanced by well-placed acidity, our Brut Rosé has a crisp, clean finish.
Sparkling Moscato - Citrus floral aromas, our Moscato is made from the Orange Muscat grape, a white grape evocative of orange blossom and apricot, often used for dessert wines. Pair our dry Moscato with Asian meals to enjoy the beautiful fine bubbles with a balanced, lingering finish
2019 Chardonnay - Aromas of vanilla, oak, lemon drops, and citrus flower notes. The fruit dances on the tongue in harmony with the light oak. Balanced, clean, fresh with hints of spice
2020 Rosé of Pinot Noir - Beautiful light rose color, aromas of strawberry, watermelon, and lime that follow through in the mouth with freshness from the acidity and fresh fruit flavors. Finishes crisp with lingering fruit that dances on the tongue
2018 Pinot Noir - Aromas of Bing Cherry and light, sweet oak. The palate is soft on the tongue with fruit and acid balanced perfectly. This wine finishes long with cherry and caramel.