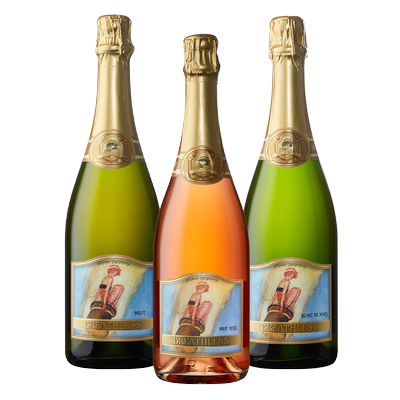 Subscriber Exclusive Offer
$15 Flat rate Shipping
Enjoy 3 Breathless favorites at a special price, plus $15 Flat Rate Shipping!
Brut - Aromas of pear, yellow Delicious apple, brioche, citrus, and Crenshaw melon, this Brut's fine mousse fills the palate with a light, refreshing effervescence.
Blanc de Noirs - Aromas of black truffle, black cherry, and earth. Dry with balanced fruit and acidity. While the fine mousse of our Blanc de Noirs highlights these notes in the mouth, the lingering, long finish demands yet another taste.
Sparkling Rosé - A dramatic salmon color and lovely aromatics of strawberry, lime, and watermelon balanced by well-placed acidity, our Brut Rosé has a crisp, clean finish.