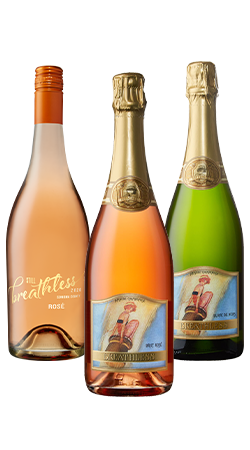 Subscriber Exclusive February Offer
$10 Flat Rate Shipping
Blanc de Noirs - Aromas of black truffle, black cherry, and earth. Dry with balanced fruit and acidity. While the fine mousse of our Blanc de Noirs highlights these notes in the mouth, the lingering, long finish demands yet another taste.
Sparkling Rosé - A dramatic salmon color and lovely aromatics of strawberry, lime, and watermelon balanced by well-placed acidity, our Brut Rosé has a crisp, clean finish.
Still Rosé - inspired by the traditional Provençal style, this dry and refreshing Rosé is noted for its pale pink hue. Aromas of strawberry, watermelon, and lime that follow through in the mouth with freshness from the acidity and fresh fruit flavors.