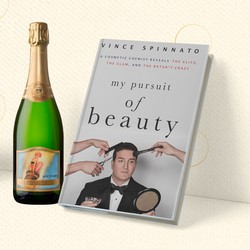 "My Pursuit of Beauty" & Breathless Brut
Vince Spinnato invites readers to join him on the roller-coaster retelling of his batsh*t-crazy life, from the lowest lows to the highest highs, culminating in his rise to fame crafting beauty products for scores of Hollywood's glitziest celebrities, and hundreds of cosmetic treatment and healthcare companies, entrepreneurs, retailers, and well-known brands.
His revealing memoir shares not only the entertaining stories of life in glamorous Hollywood, loves lost, and the scramble to "make it," but also the touching journey to self-acceptance.
Hilarious, outrageous, and totally engaging, My Pursuit of Beauty will have you howling with laughter and contemplating your own life goals.