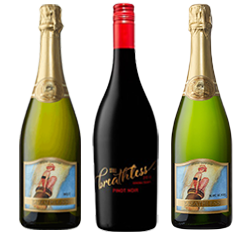 Dads & Grads
$1 Shipping Through June
With a hint of berry, our Blanc de Noirs tastes of brioche with bright citrus aromas. While the fine mousse highlights these notes in the mouth, the lingering finish demands yet another taste. 93% Pinot Noir, 7% Pinot Meunier. Aged 32 months.
Introducing our second still red wine release, Still Breathless 2018 Sonoma County Pinot Noir. Burgundian in style, earthy and lean with classic Pinot Noir characteristics.. 100% Pinot Noir.
With light refreshing effervescence, the Brut's tropical guava and pineapple notes with citrus highlights plus just a hint of brioche adds up to a smooth and satisfying finish. 60% Chardonnay, 40% Pinot Noir. Aged 24 months. Winner of 7 Gold Medals in 2020.