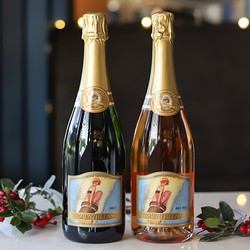 Brut & Sparkling Rosé Bundle
Our Brut Rosé has dramatic color and lovely aromatics. It offers fresh flavors of strawberry with a hint of cream and spice balanced by well-placed acidity. The finish is crisp and clean. Sonoma County. 90% Pinot Noir, 10% Chardonnay. Aged 32 months.
90 POINTS - "Heady, flavorful, nuanced, and elegant!" - Wine Enthusiast Magazine (August 2020)
The Brut's fine mousse fills the palate with a light, refreshing effervescence. Enjoy tropical notes of guava and pineapple with citrus highlights and just a hint of yeast. The finish is smooth and satisfying. 60% Chardonnay, 40% Pinot Noir. Aged 24 months.
98 POINTS , BEST OF SHOW, BEST SPARKLING, BEST OF SONOMA,
DOUBLE GOLD & BEST OF CLASS - 2019 Harvest Challenge
90 POINTS - "Lively and Refreshing!" - Wine Enthusiast Magazine, August 2020