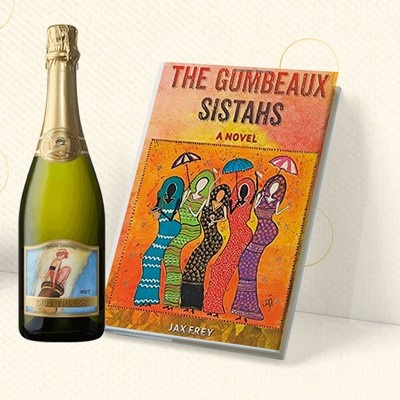 "The Gumbeaux Sistahs" & Breathless Brut
When southern artist, Judith Lafferty, loses her long-time, prestigious museum job to a smarmy, do-nothing younger man, she finds herself devastated, alone in her middle age, and on the brink of financial disaster. Enter the incomparable Gumbeaux Sistahs, who deliver day-old coffee to her front door as a ploy, then go on to kidnap her, feed her excellent gumbo, and come up with outrageous solutions to her problems. The Gumbeaux Sistahs has many twists and laugh-out-loud moments as well as some truly heart-wrenching ones too. It's a heart-warming, smart story of friendship and unexpected shenanigans that you do not want to miss.
Our Books & Bubbles gift set includes a bottle of our Sonoma County Brut and a copy of "The Gumbeaux Sistahs" at a promotional price of $39.
Award-Winning Breathless Sonoma County Brut beautifully packaged with a paperback book, "The Gumbeaux Sistahs."