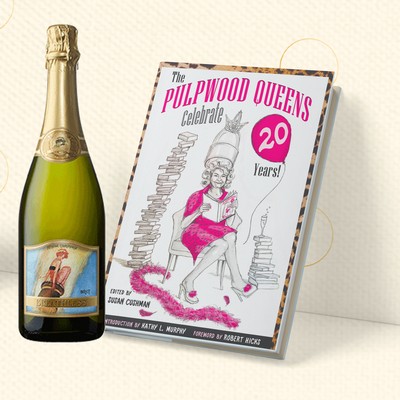 "Pulpwood Queens Celebrate 20 Years" & Breathless Brut
PULPWOOD QUEENS CELEBRATE 20 YEARS GIFT SET:
Kathy Murphy and her Pulpwood Queens are a source of much-needed inspiration and big-heartedness in the world of books and book clubs. The tales here are as wise as they are entertaining, a testament to living large and joyfully in a sisterhood of storytelling. --Paula McLain, New York Times best-selling author of The Paris Wife and Love and Ruin
In 2020, the Pulpwood Queens--and their male counterparts, the Timber Guys--are celebrating twenty years as the world's largest meeting-and-discussing bookclub, with over 750 local clubs internationally. The fact that many of these women also wear tiaras, leopard prints and bright pink to their meetings gives us a peek into their exuberant love for life, which is reflected in their love for books and each other. This collection of essays by authors, book club members, and supporters of the Queens, is a love letter to the founder and director, Kathy L. Murphy, and an ode to the written word and the place that literature and reading play in all of our lives.
Award-Winning Breathless Sonoma County Brut beautifully packaged with a paperback book, THE PULPWOOD QUEENS CELEBRATE 20 YEARS, by Kathy Murphy.