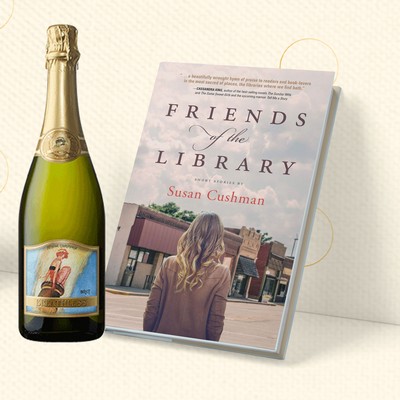 "Friends of the Library" & Breathless Brut
FRIENDS OF THE LIBRARY GIFT SET:
Friends of the Library by Susan Cushman
". . . a beautifully wrought hymn of praise to readers and book-lovers in the most sacred of places, the libraries where we find both." —Cassandra King, author of the best-selling novels The Sunday Wife
WHEN ADELE COVINGTON becomes an author in her sixties, she goes on a book tour to speak to the Friends of the Library groups in ten small towns in her home state of Mississippi. Chasing her personal demons through the Christ-haunted South of her childhood, Adele befriends an eclectic group of wounded people and decides to tell their stories. From Eupora to Meridian, from a budding artist with an abusive husband to a seven-year-old with a rare form of cancer, each story contains elements of hope and healing and honors the heart, soul, and history of the Magnolia State.
Award-Winning Breathless Sonoma County Brut beautifully packaged with a hardcover book, FRIENDS OF THE LIBRARY, by Susan Cushman.