Warm Apricot Champagne Muffins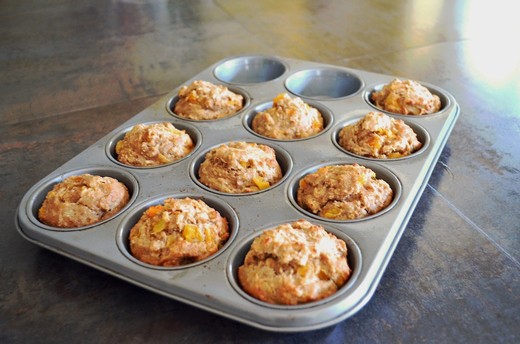 Recipe Date:
April 16, 2020
Measurements:
Imperial (US)
This recipe was created by Amy Reiley - cookbook author and authority on aphrodisiac foods. Amy's been making these muffins for herself for years. (And she has two kids, so they must be doing something right!) The reason she loves this recipe is because you can make as many muffins as you need and save the rest of the batter for up to a week in the refrigerator. You can woo your lover every morning with warm, butter-drenched muffins. Who is going to say "no" to you when you're holding a plate of hot, Champagne-laced muffins? Now, you don't have to use a vintage Champagne to make this morning pick-me-up, any sparkling wine will serve your purposes. (Just make sure you choose something you want to drink, because you'll only need a small amount of the bubbly for the recipe—the rest is for your indulgence. And keep in mind, Champagne is hands-down one of the world's greatest aphrodisiacs.)
Ingredients
1/2 cup Dried Turkish apricots
1/2 cup Breathless Brut
1 1/2 cups Rolled oats, divided
1/2 cup Whole wheat flour
1/2 cup All-purpose flour
2 tsps Baking powder
1/2 tsp Baking soda
1/2 tsp Ground cinnamon
1 Large egg
1/2 cup Almond, soy or rice milk*
2 tbsps Honey
1 tbsp Grapeseed, avocado or canola oil
1 tsp Flaxseed meal or ground flax
3 tbsps Water
Directions
Finely chop apricots and transfer to a small bowl. Add the Champagne and soak the apricots in the Champagne for 1-2 hours.
Process 1 cup of the oats in a food processor or blender to the consistency of a coarse flour.
In a large mixing bowl, combine the oat flour and remaining ½ cup of whole oats, whole wheat and all-purpose flours, baking powder, baking soda and cinnamon. Set aside.
In a separate bowl, lightly beat the egg then add the non-dairy milk, honey and oil. Stir until well combine. (You can use a mixer for this step if you prefer.)
Add the ground flax and water to the wet ingredients and stir until the flax is completely combine.
Add wet ingredients to the oat and flour mixture and stir until just mixed.
With the gentle touch usually reserved for a lover, fold in the apricots and Champagne.
If you are not making the muffins right away, transfer the batter to an airtight container and store in the refrigerator for up to one week. You can use the batter to make one or two muffins at a time to eat warm, or bake the whole batch.
To bake:
Preheat oven to 375 degrees.
Spray as many compartments of a muffin tin as you need with a non-stick cooking spray.
Fill each cup 3/4 full and bake for 16-18 minutes, until cooked through.
Serve warm. If you're in a decadent mood, smear with butter and a little apricot jam.
*We don't recommend dairy milk for this recipe as the acidity of the Champagne may make it curdle slightly.
Learn More about Amy by visiting her blog: eatsomethingsexy.com