Peaches & Cream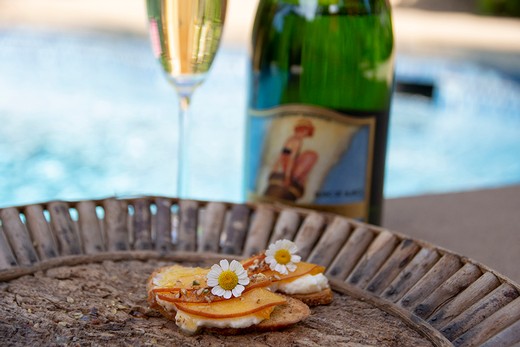 Recipe Date:
July 23, 2019
Measurements:
Imperial (US)
This is one delicious bite of Summer! Fresh ripe summer peaches, creamy cheese and honey on a crisp crostini. With a glass of Blanc de Blancs, it is Heaven!
Ingredients
1 Sweet French Baguette cut into 24 slices
1 1/2 cups Triple cream
1/2 cup Peach Jam (Peach Bellini jam from Trader Joe's is amazing)
Fresh peach or nectarine slices (enough for 1-2 slices per baguette slice)
1/2 cup Sweet pecans, ground or chopped up
1/2 cup Raw honey
Handful of edible flowers for garnish
Butter for toasting baguettes
Directions
Toast the baguette slices with sweet butter infused with a bit of honey and salt. Layer: Toast, cheese, jam, peaches, drizzle of honey, sweet pecans.. garnish with a flower!
Recipe created by local chef: Cuisine by Lela
follow her on Instagram: @cuisine_by_lela
Website: cuisinebylela.com
You know you want to


Sign Up For Our Newsletter

Keep up to date on the latest wine releases, events, and promotions and get 10% off your next order.