Sparkling Blackberry Mojito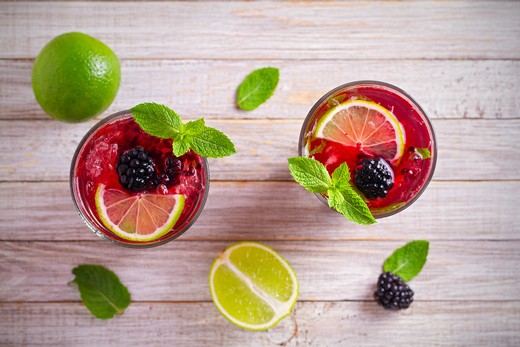 Recipe Date:
June 22, 2020
Measurements:
Imperial (US)
Blackberries are one of the summer's wonderful treasures. The berries are high in healthful antioxidants, fiber, and vitamin C – plus, we already know they taste pretty darn good in cobblers, jams and fresh off the bush. So we thought, why not pair these fresh summer delights with some Breathless bubbles?
Ingredients
1 Bottle Chilled Breathless Brut
2 1/2 ozs Fresh Blackberry Juice
2 tsps Fresh lime juice
4 ozs Good quality white rum (optional)
1 tbsp Coarse sugar for muddling
Fresh Spearmint leaves
Lime slices and whole fresh blackberries for garnish
Directions
Add the lime juice, sugar and about 4-6 mint leaves to the bottom of a pitcher. Using a muddler or the bottom of a wooden spoon, crush together so the mint releases its oils. Add the blackberry juice, rum, sparkling wine, and stir. Pour into glasses over ice. Garnish with a lime wedge, a mint leaf, and fresh blackberries. For a lower-alcohol version omit the rum. Enjoy!