Rosemary Pink Diamond Fizz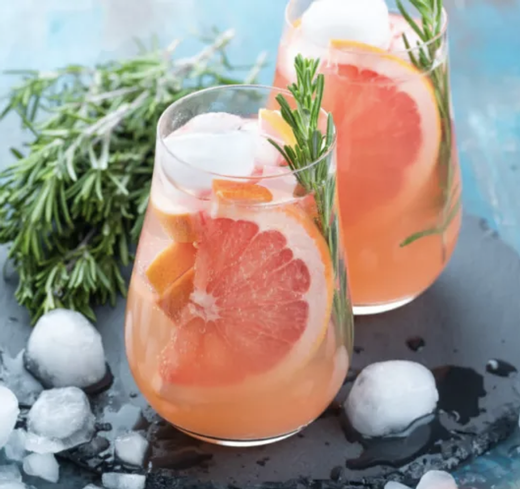 Recipe Date:
April 5, 2022
Measurements:
Imperial (US)
Ingredients
5 6-inch sprigs fresh rosemary
1 cup Granulated sugar
1/2 cup Ruby Red grapefruit juice freshly squeezed
1/3 cup Good-quality gin or vodka
1/4 cup Breathless Brut Rosé
Garnish: rosemary sprigs, sliced grapefruit
Directions
To make the simple syrup: Combine the rosemary and sugar with 1 cup water in a small saucepan. Bring to a boil, swirling occasionally to dissolve the sugar. Remove from the heat and let the rosemary infuse the sugar syrup for 10 minutes. Strain, discard the rosemary, and refrigerate until cold or up to 2 weeks. You'll have enough syrup for many cocktails.
Fill a cocktail shaker half full of ice. Pour the grapefruit juice, gin or vodka, and 2 Tbs. of the rosemary syrup over the ice. Put the lid on the shaker and shake vigorously. Strain into two Champagne glasses and top each with a generous splash of Breathless Brut Rosé. Garnish with rosemary sprigs and sliced grapefruit. Enjoy!