Penny's Apple Cranberry Galette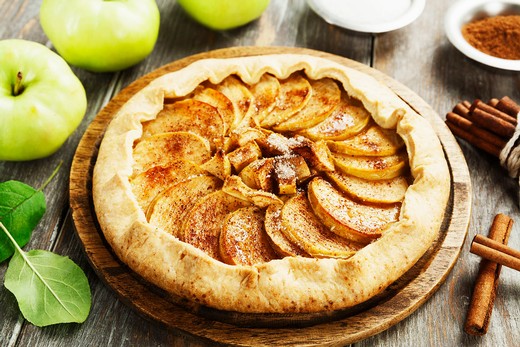 Recipe Date:
April 27, 2020
Measurements:
Imperial (US)
This is Winemaker Penny's own recipe that she likes to pair with Breathless Blanc de Blancs. It's a simple, free form, rustic apple pie jazzed up with dried cranberries for flavor and color. Any fruit and be used for a galette- blueberries, peaches- have fun!
Ingredients
Refrigerator pie dough- I like to keep these in the freezer then take them out about an hour ahead before use or until thawed.
3 Apples, cored and sliced- I like to use granny smith, or golden delicious
1/2 cup Dried cranberries
2 tbsps Packed brown sugar
1 tsp Ground cinnamon
Pinch kosher salt
1 tbsp All-purpose flour
4 tbsps Butter
1 tbsp White sugar
Lemon zest
Directions
Preheat over to 400° F
Lay pie dough onto a parchment-lined sheet pan.
Prep your fruit filling: Combine sliced apples, brown sugar, lemon juice, cinnamon, dried cranberries, AP flour, and a pinch of salt in a large bowl. Gently fold to coat apples. Arrange apple slices on top of the dough, leaving a 1 1/2" border around the edge. Break up butter into pieces and place on top of apples. Fold the edge nearest to you towards the center. Rotate sheet plan slightly and repeat, until all edges are folded towards fruit.
Bake until crust is golden and fruit is tender, 35 to 45 minutes depending on how cold the dough and apples are. Check after 35 minutes and adjust from there. When golden brown and bubbly, remove from oven and sprinkle the white sugar and the lemon zest over the top of the pie. Transfer to a cooling rack and let cool completely before slicing.