Mushroom Risotto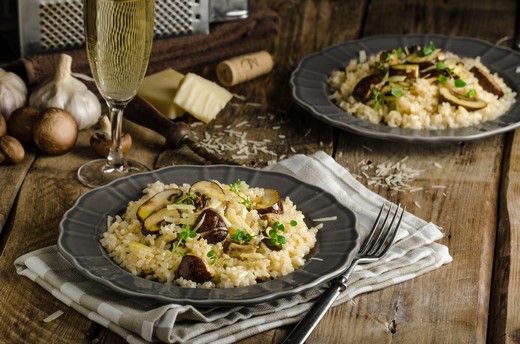 Recipe Date:
November 2, 2022
Measurements:
Imperial (US)
Ingredients
2 tbsps Olive oil
1 tbsp Butter
2 Garlic cloves, chopped
1 lb Mushrooms, sliced
1 Onion
1 Bay leaf
1 1/2 tsps Dried thyme
3 cups Arborio Rice
1/2 cup White wine
5 1/2 cups Vegetable stock
1 cup Parmesan cheese
3 tbsps Butter
Directions
Have this to accompany your Turkey- the wine is a perfect match with both. Or have alone- it is a very hardy dish on a winter day! ~ Penny Gadd-Coster, Winemaker
Made in an Instant Pot type pressure cooker- helps save space on your stove. I have a Crock Pot Pressure Cooker that I use.
Set pot to BROWN/SAUTE – high temp setting. When to temp add the oil and butter. When melted, add the mushrooms. Cook until the liquid has cooked off and mushrooms are slightly browned. Then add the garlic and cook for about 1-2 minutes.. Add the rice and stir to coat the rice. Turn off BROWN/SAUTE. Add the wine, broth, bay leaf and Thyme. Put on the lid with the pressure valve closed.
Set pot to RICE/RISOTTO – set pressure to low if needed. Set time to 8 minutes and press start.
When finished allow release pressure slowly. When released add the cheese and butter- stir until mixed.
Open bottle of Breathless Blanc de Noir, pour into a glass- enjoy!