Lump Crab Cakes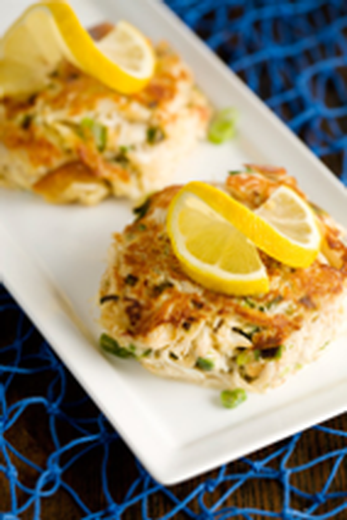 Recipe Date:
February 9, 2023
Measurements:
Imperial (US)
It is crab season here on the Sonoma Coast- the perfect pairing with Sparkling wine from Breathless Wines!
Ingredients
1/2 cup cup mayonnaise
1 large egg- beaten
1 tsp of Dijon mustard
1 tsp of Worcestershire sauce
1/2 tsp of hot sauce- optional
1 lb of Dungeness crab meat
20 saltine crackers or butter crackers, finely crushed
1/4 cup of canola oil
Lemon wedges, for serving
Directions
In a small bowl, whisk the mayonnaise with the egg, mustard, Worcestershire sauce, and hot sauce until smooth.
In a medium bowl, lightly toss the crabmeat with the cracker crumbs. Gently fold in the mayonnaise mixture. Cover and refrigerate for at least 1 hour.
Scoop the crab mixture into eight 1/3 cup mounds; lightly pack into 8 patties, about 1 1/2 inches thick. In a large skillet, heat the oil until shimmering. Add the crab cakes and cook over moderately high heat until deeply golden and heated through, about 3 minutes per side. Transfer the crab cakes to plates and serve with lemon wedges.
I like to serve these over an arugula salad or a corn and tomato salad- yummy! For the perfect breakfast or brunch, serve these on English muffins with Hollandaise sauce and a glass of bubbles- magnificent!