Grilled Strawberry Shortcake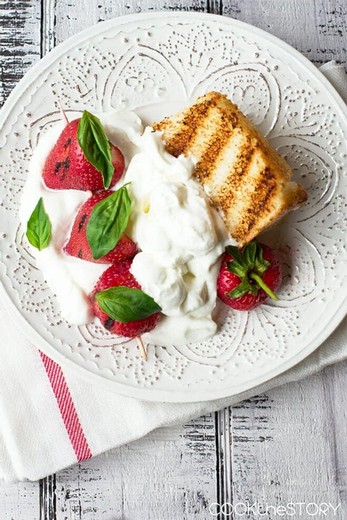 Recipe Date:
August 12, 2022
Measurements:
Imperial (US)
Grilling fruit in season is such an incredible way to bring out the nuance of flavors, and this grilled strawberry shortcake is no exception!
Ingredients
1 1/2 cups Whipping cream
Zest of 1 lemon
2 tbsps Powdered sugar
1 lb Strawberries
2 tbsps Honey
12 ozs Angel food cake
6 Skewers
Fresh basil or mint leaves for garnish
Directions
Pour the whipping cream into a medium bowl or the bowl of a stand mixer.
Use the stand mixer or egg beater at medium speed to whip the cream for 2-3 minutes. Add the lemon zest and the powdered sugar.
Whip until soft peaks form, 4-6 minutes more. Refrigerate until serving.
Prepare grill for direct cooking over medium heat. Cut angel food cake into 6 wedges.
Thread 4 strawberries onto each skewer.
Drizzle each skewer of strawberries with 1 teaspoon of honey. Use a brush or fingers to spread it around and coat berries.
Transfer berry skewers and angel food cake to the grill. Grill on one side until grill marks appear, 1-2 minutes. Flip and grill until grill marks appear on the other side, 1-2 minutes more. Remove from grill.
Serve each slice of angel food cake with a skewer of grilled strawberries and about ½ cup of whipped cream.
Garnish with basil or mint leaves, if desired.