Gougeres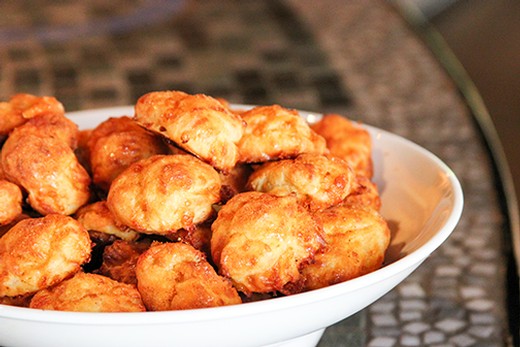 Recipe Date:
April 27, 2020
Measurements:
Imperial (US)
Winemaker Penny shares one of her favorite Gougere recipes featuring rich Gruyere and bright lemon zest. The savory, toasty cheese flavors are a perfect match with the Breathless Blanc de Blancs!
Ingredients
1 cup Water
2 tbsps Unsalted butter
1/2 tbsp Kosher salt
1 cup All-Purpose flour
4 Large eggs
1 cup Grated Gruyere
1 tbsp Chopped chives
1/4 tsp Lemon zest
Freshly ground white pepper
Directions
Preheat the oven to 425 degrees F. Line two baking sheets with Silpats or parchment paper.
In a medium saucepan, combine the water, butter, salt and bring to a boil. Add all the flour at once, reduce the heat to medium, and stir with a wooden spoon for 2 minutes, or until the mixture forms a ball and the excess moisture has evaporated. (If the ball forms more quickly, continue to cook and stir for a full 2 minutes.)
Remove from heat and cool slightly. Add 4 eggs- one at a time incorporating each before adding the next egg. Continue to mix until completely combined and the batter has a smooth, silky texture. Finally, mix in 3/4 cup of the Gruyère, lemon zest and chives and adjust the seasoning with salt and white pepper.
Fill a pastry bag fitted with a 3/8-inch plain pastry tip or a plastic ziplock with a corner snipped off, with the gougère batter.
Pipe the batter into one-tablespoon mounds on the baking sheets, leaving about 2 inches between the gougères as the mixture will spread during the baking. Sprinkle the top of each gougère with about 1/2 teaspoon of the remaining grated cheese.
Bake for 15 -20 minutes or until golden brown. When the gougères are done, they should be a light golden brown color. When you break one open, it should be hollow; the inside should be cooked but still slightly moist. Remove the pans from the oven and serve the gougères while hot or let them cool.
These can be warmed later if desired.