Holiday Dungeness Crab Bites on Brioche Crisps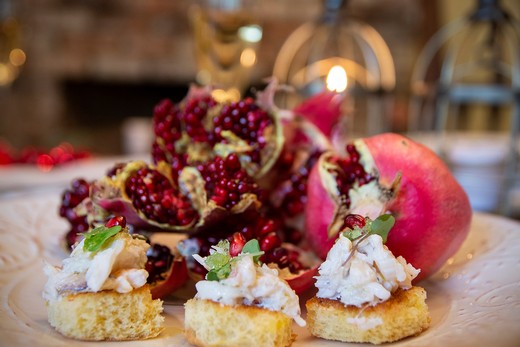 Recipe Date:
November 4, 2019
Measurements:
Imperial (US)
Late fall is Dungeness Crab season and we love this yummy little bite of crab on buttery brioche deliciousness. It's a simple and light bite for the holidays.
Ingredients
Sliced brioche bread
Melted butter
1 cup Fresh Dungeness Crab Meat
1/3 cup Creme fraiche
1 tsp Lemon zest
1 tsp Minced fresh parsley
Pinch of salt
Pomegranate seeds
Directions
Make brioche toast: We use Trader Joe's sliced brioche... it's amazing! Then you can use a cookie cutter and make any shape you like.. place the toasts on a sheet pan and brush with butter.. place in a 300-degree oven and watch closely as you toast them up and make sure you turn them over once and re-brush with butter. After they are done... nice and golden brown on each side.. set aside. Crab: (Buy the best Dungeness Crab possible!) Mix crabmeat with creme fraiche and then add whatever seasoning you love - we like the tang of lemon zest and fresh parsley. Pile crab mixture on top of each toast and top with some pomegranate seeds for "pop"... just like sparkling wine!
enjoy with Breathless Brut!
Recipe created by local chef: Cuisine by Lela
follow her on Instagram: @cuisine_by_lela
Website: cuisinebylela.com