Crostini with Grilled Fig and Proscuitto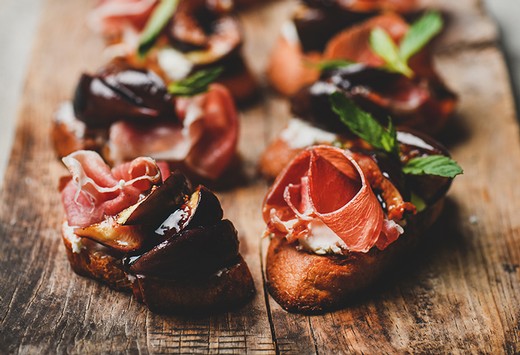 Recipe Date:
November 24, 2020
Measurements:
Imperial (US)
An elegant little holiday appetizer that hits all the notes: salty, crunchy, chewy, sweet, and tangy – in a beautiful bite that is perfect when washed down with a sip of bubbles. You can prepare all the ingredients the day before and just assemble the crostini about an hour before serving.
Ingredients
1 Sweet French Baguette cut into 24 slices
1 1/2 cups Your favorite spreadable cheese such as herbed farmers, goat or cream cheese.
6 large figs, sliced into 4 slices each (24 slices)
2 tbsps Olive oil
1 4 -6 oz package of sliced proscuitto, divided into 24 slices
1 cup Balsamic Vinegar
Butter for toasting baguettes
Sea Salt
Fresh Basil leaves for garnish
Directions
Toast the baguette slices with butter and a sprinkle of sea salt. Heat vinegar in a saucepan and reduce until it is syrupy (for added sweetness or thickness you can add some honey). Heat your grill to medium heat. Brush figs with olive oil, grill on each side for 1-2 minutes, just to soften them up and achieve a little caramelization. Layer: Toast, cheese, fig slice, prosciutto, a drizzle of balsamic and basil leaf for garnish! Serve at room temperature and pair with Breathless Brut.