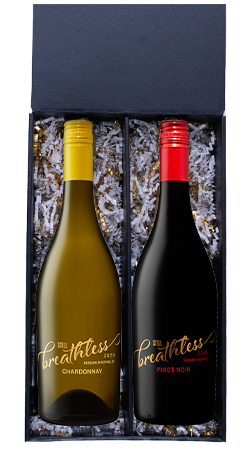 Still Breathless Duo
2020 Chardonnay: 100% Chardonnay. Aromas of this wine burst from the glass with vanilla oak, lemon drop candy, and citrus flower notes. The fruit dances on the tongue in harmony with the light oak. Balanced, clean, fresh with hints of spice.
2019 Pinot Noir: 100% Pinot Noir. Burgundian in style. earthy and lean. Aromas of Bing Cherry, light sweet oak. The palate is soft on the tongue with fruit and acid balanced perfectly. This wine finishes long with cherry and caramel.