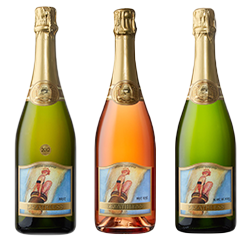 Three Bottle Gift Set
Our three most popular wines, bundled in the perfect gift set!
Our Brut Rosé has dramatic color and lovely aromatics. It offers fresh flavors of strawberry with a hint of cream and spice balanced by well-placed acidity. The finish is crisp and clean. Sonoma County. 90% Pinot Noir, 10% Chardonnay. Aged 32 months. 90 POINTS - "Heady, flavorful, nuanced, and elegant!" - Wine Enthusiast Magazine
The Brut's fine mousse fills the palate with a light, refreshing effervescence. Enjoy tropical notes of guava and pineapple with citrus highlights and just a hint of yeast. The finish is smooth and satisfying. 60% Chardonnay, 40% Pinot Noir. Aged 24 months. Winner of 7 Gold Medals in 2020!
Our Blanc de Noirs tastes of brioche and a hint of berry, with bright citrus aromas. While the fine mousse highlights these notes in the mouth, the lingering finish demands yet another taste. 93% Pinot Noir, 7% Pinot Meunier. Aged 32 months. SWEEPSTAKES WINNER! - Best Sparkling Wine - 2020 San Francisco Chronicle Wine Competition.