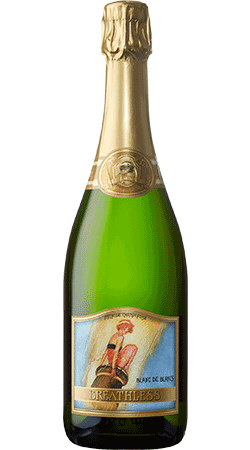 Wine Specs
Appellation
Sonoma County
Breathless Blanc de Blancs 750ML
A lovely wine exhibiting citrus, crisp apple, light pear, kiwi and a slight hint of caramel flavors. The bubbles bring forth aromas, and brings a roundness to the mouth and finishes with light tropical notes. 100% Chardonnay.
Best of Show Sparkling Wine - 2020 Sonoma International Film Festival
92 POINTS & Double Gold Medal - 2020 American Fine Wine Competition
Gold Medal – 2020 Sonoma County Harvest Fair
Gold Medal & 92 Points – 2020 International Women's Wine Competition
Gold Medal & 91 Points – 2020 Sunset International Wine Competition
97 POINTS & Double Gold Medal - 2019 Harvest Challenge
95 POINTS & Double Gold Medal - 2019 Orange County Fair
91 POINTS - 2019 American Fine Wine Competition
GOLD MEDAL - 2019 San Francisco Chronicle Wine Competition
Product Reviews
Susie Whipple
(Mar 14, 2017 at 10:44 AM)
As an avid lover of bubbles, I had to write a review for the Breathless sparkling wines! I stop in the tasting room in January out of sheer luck. I was out in California for a business retreat- I am in the wine industry, and Breathless was recommended to me as a "must visit if you like bubbles"! Of course I had to follow through. Balanced, crisp, refreshing, dances on the palate...true to the Méthode Champennoise!! I brought a couple bottles back home with me!
Rebecca Rosenberg
(Apr 1, 2020 at 9:53 AM)
Breathless Blanc de Blanc is light and effervescent, a delightful teaser to the tongue! It is wonderful in the summer for parties or at the water. delicious!