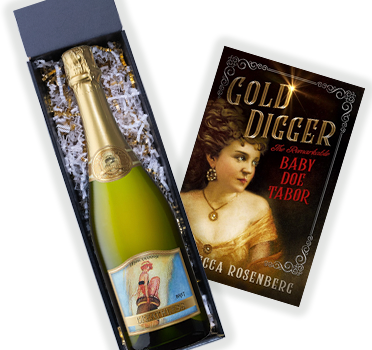 "Gold Digger" & Breathless Brut
GOLD DIGGER GIFT SET:
GOLD DIGGER, the Remarkable Baby Doe Tabor, by Rebecca Rosenberg
One look at Baby Doe and you know she was meant to be a legend! She was just twenty years old when she came to Colorado to work a gold mine with her new husband. Little did she expect that she'd be abandoned and pregnant and left to manage the gold mine alone. But that didn't stop her!

She moved to Leadville and fell in love with a married prospector, twice her age. Horace Tabor struck the biggest silver vein in history, divorced his wife and married Baby Doe. Though his new wife was known for her beauty, her fashion, and even her philanthropy, she was never welcomed in polite society.

Discover how the Tabors navigated the worlds of wealth, power, politics, and scandal in the wild days of western mining.
Praise for Gold Digger:
10 out of 10! "An engaging and beautifully-written story, this fact-based novel celebrates the endurance of the human spirit in one woman's determination to survive." -- Publisher's Weekly BookLife Prize

"An accomplished and absorbing novel...
Rosenberg brings forth a fine historical inspired by Elizabeth McCourt Tabor, better known as Baby Doe whose rags-to-riches and back to rags again story made her a famous figure in history. The skillful plotting and richly crafted characters get readers immediately drawn in. Rosenberg's poignant account delivers a stunning historical, and the open-ending climax makes readers wait eagerly for the next installment." -The Prairies Book Review
"Gold Digger is a gripping story of female grit and resilience. Lizzie, or Baby Doe, as she becomes known, has a wonderful, indomitable spirit, and Rosenberg brings her physical and emotional challenges vibrantly to life. The story is fast-paced but also moving. Lizzie faces many hurdles as a woman, an abandoned wife, and then a divorcee and mistress, earning the disapproval of many, including her own, much-loved mother." - Historical Novel Society
Award-Winning Breathless Sonoma County Brut beautifully packaged with paperback book, GOLD DIGGER by Rebecca Rosenberg.