News
Gold Medals & great scores for Breathless as we kick off the 2019 Wine Competition season!
The Blanc de Blancs was awarded a gold medal from the 2019 San Francisco Chronicle Wine Competitions, one of the largest and most prestigious competitions in the U.S.
And the following scores and medals were awareded from the 2019 American Fine Wine Competition. The AFWC, which began in 2007, has become the most influential wine invitational in the country. The competition takes place each January, and is followed by a series of SIP Social events that feature the award winning wines and help to raise money for a variety of non-profits and continues to promote the wines throughout the year.
Breathless Blanc de Noirs - 94 Points & Double Gold Medal
Breathless Brut - 92 Points
Breathless 2012 Brut - 92 Points
Breathless Blanc de Blancs - 91 Points
For Immediate Release.
Press Contact: Sharon Cohn

(HEALDSBURG, Calif.) – Breathless Sparkling Wines is celebrating their Downtown Healdsburg tasting room's two-year anniversary in glitzy 1920's style with their annual "Cirque du Breathless" event, which will take place on Saturday, September 15, 2018 from 3 p.m. to 6 p.m.
Guests are invited to don their best "Gatsby" apparel and enjoy amazing Cirque-themed entertainment, delicious food paired with Breathless sparkling wines and music. During the event, guests will be treated to high-flying aerialist Lei Lei de Kirby and world champion juggler Jeremiah Johnston who will be showing off some fiery skills. Exotic animals from Sonoma's Lyon Ranch Sanctuary will be on hand to delight and educate guests. Sweet and savory Cirque-themed snacks will be followed by an authentic Spanish paella. There will be special discounts on wine and sign-up gifts for all new wine club members during the event. Admission is $45.00 per person and Breathless Sparkling Society Members receive a discount on tickets. For guests who love to dress up – this is your event! Prizes for best 1920's costume will be awarded. Space is limited and tickets can be purchased HERE.
Breathless Wines is a family affair, built by the love of three sisters, Sharon, Rebecca and Cynthia, and the passion for life that their mother passed down to them. The sisters, along with Breathless Winemaker Penny Gadd-Coster, are dedicated to creating refreshing méthode champenoise sparkling wines that pair well with life's special moments. The Breathless Tasting Room and Garden, located within walking distance to the downtown Healdsburg Plaza, is a place where guests can taste delicious sparkling wines, stroll the gardens, enjoy a leisurely picnic or take lessons in beheading a bottle of sparkling with an authentic Italian Saber. Nominated for Best New Winery from San Francisco Magazine in 2017. Regular tasting room hours are Thurs. – Tues. 11:00 a.m. to 6:00 p.m. and Wednesdays by appointment.
####
We value education! Our parents were both teachers in the Santa Rosa School district and so we are collecting school supplies for the Boys and Girls Club of Sonoma County! Please take a look at the supplies they are looking for and come by and donate during normal tasting room hours: Thurs - Tues 11am to 6pm and Wednesdays by appointment. The Challenge runs from now through August 15, 2018.

Surprises for donors!

Here is the Supply Shopping List:
*Thank you for donating only new items
Most Needed
#2 Pencils and Erasers
Crayola Markers (fine & fat tip)
Dry Erase Markers
Elmer's Glue (Gallon Jugs & Small Bottles) and Glue Sticks
Pencil Boxes
White Copy Paper
Gift Cards to:
Walmart
Office Depot
Target
Staples
Visa Cards

Other Needs:
A-Z Index Tab Dividers; Band-aids; Batteries (AAA & AA); Blue & Black ballpoint pens; Clorox Wipes; Composition Books; Construction Paper; Crayola Crayons and Colored Pencils; Crayola Water Colors; First Aid Kits; Graph Paper; Hand sanitizer; handheld pencil sharpeners; Kleenex; Paint Brushes (multi-sized); Post-its; Tape (Scotch, masking, painters and duct).
Sharon Cohn and Breathless Wines will be featured on the ABC show, "Days with Zarah" - Sunday, July 1st at 11am on ABC-7. This show takes viewers all around the world in an effort to live life to the fullest! We dive into a variety of cultures, tasting outstanding food and sipping extraordinary wine. We want to show you where to travel and create unforgettable memories. From The Napa Valley, The Riviera Maya and San Francisco to New York, Tuscany and Oahu, we will take you to the best places to eat, sip, play and stay. http://dayswithzahrah.com/the-show/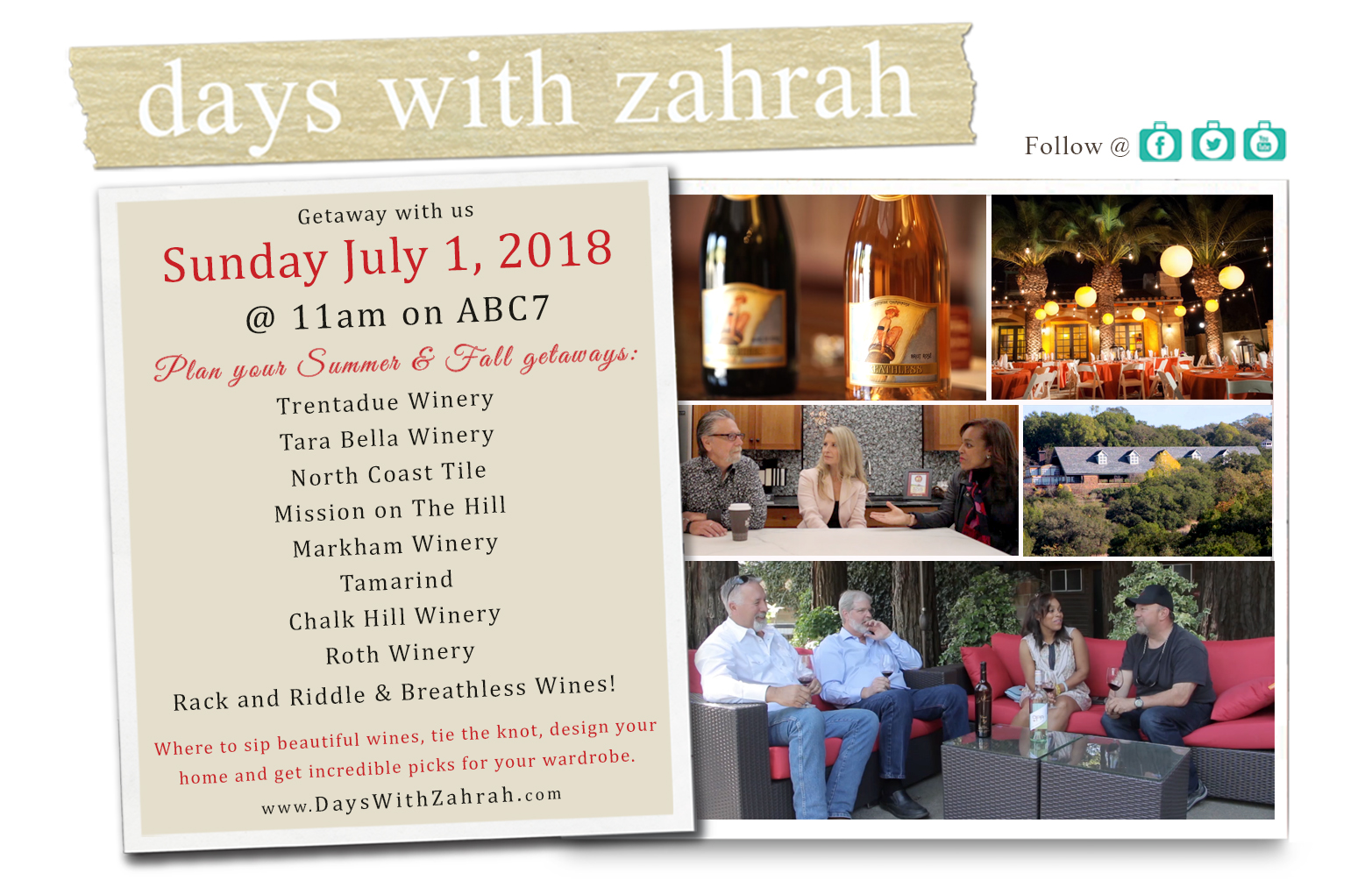 Breathless was featured in the San Jose Mercury News on April 28, 2018 as a special feature for Mother's Day! Excerpt below and click here to view the whole article.
Breathless Wines
If it's bubbles and baubles mom is after, a visit to Breathless Wines is in order. Sisters Sharon Cohn and Rebecca and Cynthia Faust, who have eight children and one grandchild between them, launched their label as a tribute to their mother, Martha.
Like their wine, the tasting room also sparkles. Crafted out of four shipping containers that feel more chic than industrial, the room doubles as a boutique, filled with jewelry and a collection of pretty Champagne flutes and coupes.
Surrounded by a flower garden, the patio is an attractive oasis a few blocks off Healdsburg's town square, and a great place to sample sparkling wine from award-winning winemaker Penny Gadd-Coster. The pinot noir-based Blanc de Noirs is a treat, as is the Brut, which is served with a side of potato chips.
Details: Tastings are available from 11 a.m. to 6 p.m. Thursday through Tuesday, for $16 or up to $69, if you opt for the sabrage experience, which includes a lesson in opening a bottle of bubbly with a saber. 499 Moore Lane, Healdsburg; www.breathlesswines.com
Breathless Sister 1-of-3, Sharon Cohn poured Breathless Bubbles on May 20th at a Tribute to Kim Novak at the Castro theater in San Francisco, where Kim talked about her legendary movie "Vertigo" and the #metoo movement.
Read the full article here...

Breathless Sister 1-of-3, Sharon Cohn was interviewed for the popular Wine Country Podcast by Jeff Davis from "On The Wine Road". It's a great interview! Click Here to Listen.
Breathless Wines is having an extraordinary wine competition season so far in 2018, here are some noteworthy medals!
Blanc de Blancs
Double Gold - American Fine Wine Competition
Double Gold - San Francisco Chronicle Wine Competition
Gold & 90 Points - San Diego Wine Challenge

Blanc de Noirs
Double Gold - American Fine Wine Competition
Gold & 90 Points - San Diego Wine Challenge
Gold - Monterey International Wine Competition
Brut
Gold - American Fine Wine Competition
Gold - San Francisco Chronicle Wine Competition
2012 Brut
Gold - San Francisco Chronicle Wine Competition
Brut Rose
Double Gold - American Fine Wine Competition
Bringing fun and style to an urban sparkling wine experience, this Healdsburg bubbly specialist pours rosé, brut, and blanc de blancs. They're served from a bar window in their freestanding tasting room, which was made from shipping containers by a welder who's created work at the annual Burning Man festival. Landscaping makes a little oasis in this light industrial district, just steps away from Healdsburg's downtown. By the glass, $12. Read the full article here.
Breathless wines and an interview with Sharon Cohn was featured on the Weekly Wine Show podcast! Read the article and listen to the interview HERE.
You know you want to


Sign Up For Our Newsletter

Keep up to date on the latest wine releases, events, and promotions and get 10% off your next order.

!function(f,b,e,v,n,t,s) {if(f.fbq)return;n=f.fbq=function(){n.callMethod? n.callMethod.apply(n,arguments):n.queue.push(arguments)}; if(!f._fbq)f._fbq=n;n.push=n;n.loaded=!0;n.version='2.0'; n.queue=[];t=b.createElement(e);t.async=!0; t.src=v;s=b.getElementsByTagName(e)[0]; s.parentNode.insertBefore(t,s)}(window, document,'script', 'https://connect.facebook.net/en_US/fbevents.js '); fbq('init', '2489394094704216'); fbq('track', 'PageView');