News
Press Release
FOR IMMEDIATE RELEASE
Cloverdale, CA, January 10, 2020 – There were over sixty-five judges, representing various North American wine regions, evaluating nearly 6,700 wines from over 1,000 wineries for the 2020 San Francisco Chronicle Wine Competition.
Bob Fraser, SFCWC executive director, says, "The response from the wineries of North America at our 2020 competition was outstanding. Sweepstakes awards hail from Ohio, New Mexico, and California."
The Sweepstake winners are as follows:
Sparkling Sweepstake Winner:
Breathless (CA) Sonoma County Blanc de Noir $32.00
White Sweepstake Winner:
Trader Moon Wine Company (CA) 2018 California Honey Moon Viognier $5.99
Rose Sweepstake Winner:
Ferrari-Carano (CA) 2019 Sonoma County Dry Sangiovese Rose $15.00
Red Sweepstake Winner:
deLorimier Winery (CA) 2016 Crazy Creek Alexander Valley Cabernet Sauvignon Reserve $75.00
Specialty Sweepstake Winner:
Ferrante Winery (OH) 2017 Grand River Valley Vidal Blanc Ice Wine $30.00
Packaging Sweepstake Winner:
VARA (NM) New Mexico Vina Cardinal Rose Wine Label $32.00
Consumers are invited to enjoy these award-winning wines at the 2020 San Francisco Chronicle Wine Competition Public Tasting at Fort Mason Center in San Francisco on February 15, 2020, from 1 to 4:30 pm. Tickets may be purchased here.
By Linda Murphy for Sonoma Magazine
Excerpt below. Click HERE for the full article
There is no better time than the week between Christmas and New Year's Day to get out and about in Wine Country, sample bubblies of all styles, and stock up for New Year's Eve and beyond. Any day can be a sparkling wine day at my house, although foam for the holidays is particularly appropriate.
Longtime Sonoma bubbly makers Gloria Ferrer Caves & Vineyards, Iron Horse Vineyards, J Vineyards & Winery, and Korbel Champagne Cellars continue to rule the roost, yet dozens of Sonoma wineries now offer sparklers in their tasting rooms.
The relocation of Rack & Riddle Custom Wine Services from Mendocino County to Healdsburg has provided the equipment, storage space, and know-how to produce fine fizz locally. Traditionally made sparklers, for which still wine goes through a secondary fermentation in the bottle to create the bubbles (often labeled as "méthode champenoise" or "méthode traditionelle") are labor- and time-intensive. Rack & Riddle supplies everything a winemaker needs to turn his or her own grapes into liquid gold.
"When I worked at J (Vineyards & Winery), through 2006, there were a dozen producers of sparkling wine in California," partner Bruce Lindquist said. "Now Rack & Riddle has 100-plus sparkling clients, a private-label business, and most (Sonoma) tasting rooms have bubbles."
All the wineries below are bubbly masters and also produce and sell still wines. Guest experiences might include wine and food pairings, tours, and the opening of older vintages and magnum-size bottles. Tasting room hours vary, so call ahead before visiting.
Breathless Wines
Rack & Riddle co-founder Rebecca Faust and her sisters, Cynthia Faust and Sharon Cohn, own Breathless Wines and pour their sparklers at a tasting room adjacent to Rack & Riddle.
Don't let the industrial park setting deter you from visiting: They offer a fun, art deco France-meets-Sonoma vibe, with several sparkling wines, patio and inside service, recorded music and experiences that include instruction on the art of sabrage – the removal of a sparkling wine cork with a sword. Recent events have included crepe and dim sum brunches.
The wines, made by Penny Gadd-Coster, are fruity and so very easy to drink, made in a slightly sweet, crowd-pleasing yet remarkably refreshing style.
In this last competition of 2019, Breathless Wines saved the best for last! Winning Best of Show for the second time this year and numerous double gold medals!
98 Points
Double Gold
Best of Class
Best Sparkling Wine
and Best of Sonoma County!
Breathless 2012 Brut
The Harvest Challenge is a wine competition that bases its judging on a group of vineyards (or even vines) from the same region, belonging to a specific appellation, and sharing the same type of soil, weather conditions, grapes and winemaking savoir-faire, which contribute to give the specific personality to the wine.
In other competitions, this factor is ignored. At the Harvest Challenge, judges taste wines with other wines of the same appellation. Thus, with cross-regional competition removed, the inherent quality of wines can be seen without the influences that sometimes eclipse even a wine of very high quality.
Beyond the determination of medals, the Harvest Challenge affords its winners a unique selling proposition - its region ranked against its competitors. Harvest Challenge recognizes wine entries that best exemplify the soil and climate of their respective viticultural areas, and acknowledges its influence on wine quality. A medal in this wine competition not only gives your wine prestige and selling power, it adds talking points in your retail room. Favorable awards support increased local and regional sales. A win in the Harvest Challenge can put your wine into a whole new sales category.
A goal of Harvest Challenge is to learn how soil and climate contribute to the excellence and distinctiveness of wines. Over the course of this event, judges have learned to recognize when a wine's region is - and is not - a factor of wine quality. We think the bar has been lifted a little, and as a result, each year we perceive greater interest by winemakers and critics alike. Favorable awards support increased local and regional sales. A win in the Harvest Challenge can put your wine into a whole new sales category. All wines are judged in the context of their viticultural region in order to accomplish two things: greater sensitivity to the complexities and nuances of regional wines and also to measure the influence of regional soil and weather characteristics on the taste and quality of individual wines.
According to Harvest Challenge spokesman, Christopher Sawyer, "The Harvest Challenge is a judge's dream come true. Beyond varietal category and price point, this one-of-a-kind competition is based on appellation instead of mass-production. The end result is more definition of the wines made with grapes inside the boundaries of a specific viticultural area and distinct flavors that have helped wines rise to the top of the scale in the global marketplace."
"Sparkling Wines That Pair Well With Life's Special Moments"
Breathless Wines is located North of San Francisco in the State of California, America, it was built by three sisters, Sharon, Rebecca, and Cynthia. Along with Breathless Winemaker Penny Gadd-Coster, the sisters are dedicated to making Sparkling Wine in the traditional method from Pinot Noir and Chardonnay grapes.
Each bottle is aged with the yeast still in the bottle for 2 to 4 years. Their bottles are riddled mechanically using a machine called a gyropalette this simulates manual riddling on a larger scale.
We have two of Breathless Wines here to review, the Blanc De Noirs and the Blanc De Blancs.
The woman on the label is a tribute to their Mother, Martha, and all the men and women who teach and remind us to take each breath we are given as a gift to be cherished.
Blanc De Noirs Tasting Notes: "Strawberries and raspberries on the nose. Fruity flavours with green apple skin with gooseberries in the mouth. A Silver Medal Winner in the Fruity & Floral Category in The World's Finest Glass of Bubbly Awards 2017." Click for Full Review.
Blanc De Blancs Tasting Notes: "Slight touch of petrol with citrus on the nose. Tropical fruits, pineapple and citrus in the mouth. A Bronze Medal Winner in the Fruity & Floral Category in The World's Finest Glass of Bubbly Awards 2017." Click for Full Review.
In my opinion, they are both fabulous wines, with each bringing something different to the table, even though they are non-vintage wines they have both aged very well and I personally think they would now receive a higher score in The World's Finest Glass of Bubbly Awards this year.
-
Oliver Walkey
Journalist focused on Champagne, Sparkling Wines and Food Pairings. Social Media manager for Glass of Bubbly.
Gold Medals & great scores for Breathless as we kick off the 2019 Wine Competition season!
The Blanc de Blancs was awarded a gold medal from the 2019 San Francisco Chronicle Wine Competitions, one of the largest and most prestigious competitions in the U.S.
And the following scores and medals were awareded from the 2019 American Fine Wine Competition. The AFWC, which began in 2007, has become the most influential wine invitational in the country. The competition takes place each January, and is followed by a series of SIP Social events that feature the award winning wines and help to raise money for a variety of non-profits and continues to promote the wines throughout the year.
Breathless Blanc de Noirs - 94 Points & Double Gold Medal
Breathless Brut - 92 Points
Breathless 2012 Brut - 92 Points
Breathless Blanc de Blancs - 91 Points
For Immediate Release.
Press Contact: Sharon Cohn

(HEALDSBURG, Calif.) – Breathless Sparkling Wines is celebrating their Downtown Healdsburg tasting room's two-year anniversary in glitzy 1920's style with their annual "Cirque du Breathless" event, which will take place on Saturday, September 15, 2018 from 3 p.m. to 6 p.m.
Guests are invited to don their best "Gatsby" apparel and enjoy amazing Cirque-themed entertainment, delicious food paired with Breathless sparkling wines and music. During the event, guests will be treated to high-flying aerialist Lei Lei de Kirby and world champion juggler Jeremiah Johnston who will be showing off some fiery skills. Exotic animals from Sonoma's Lyon Ranch Sanctuary will be on hand to delight and educate guests. Sweet and savory Cirque-themed snacks will be followed by an authentic Spanish paella. There will be special discounts on wine and sign-up gifts for all new wine club members during the event. Admission is $45.00 per person and Breathless Sparkling Society Members receive a discount on tickets. For guests who love to dress up – this is your event! Prizes for best 1920's costume will be awarded. Space is limited and tickets can be purchased HERE.
Breathless Wines is a family affair, built by the love of three sisters, Sharon, Rebecca and Cynthia, and the passion for life that their mother passed down to them. The sisters, along with Breathless Winemaker Penny Gadd-Coster, are dedicated to creating refreshing méthode champenoise sparkling wines that pair well with life's special moments. The Breathless Tasting Room and Garden, located within walking distance to the downtown Healdsburg Plaza, is a place where guests can taste delicious sparkling wines, stroll the gardens, enjoy a leisurely picnic or take lessons in beheading a bottle of sparkling with an authentic Italian Saber. Nominated for Best New Winery from San Francisco Magazine in 2017. Regular tasting room hours are Thurs. – Tues. 11:00 a.m. to 6:00 p.m. and Wednesdays by appointment.
####
We value education! Our parents were both teachers in the Santa Rosa School district and so we are collecting school supplies for the Boys and Girls Club of Sonoma County! Please take a look at the supplies they are looking for and come by and donate during normal tasting room hours: Thurs - Tues 11am to 6pm and Wednesdays by appointment. The Challenge runs from now through August 15, 2018.

Surprises for donors!

Here is the Supply Shopping List:
*Thank you for donating only new items
Most Needed
#2 Pencils and Erasers
Crayola Markers (fine & fat tip)
Dry Erase Markers
Elmer's Glue (Gallon Jugs & Small Bottles) and Glue Sticks
Pencil Boxes
White Copy Paper
Gift Cards to:
Walmart
Office Depot
Target
Staples
Visa Cards

Other Needs:
A-Z Index Tab Dividers; Band-aids; Batteries (AAA & AA); Blue & Black ballpoint pens; Clorox Wipes; Composition Books; Construction Paper; Crayola Crayons and Colored Pencils; Crayola Water Colors; First Aid Kits; Graph Paper; Hand sanitizer; handheld pencil sharpeners; Kleenex; Paint Brushes (multi-sized); Post-its; Tape (Scotch, masking, painters and duct).
Sharon Cohn and Breathless Wines will be featured on the ABC show, "Days with Zarah" - Sunday, July 1st at 11am on ABC-7. This show takes viewers all around the world in an effort to live life to the fullest! We dive into a variety of cultures, tasting outstanding food and sipping extraordinary wine. We want to show you where to travel and create unforgettable memories. From The Napa Valley, The Riviera Maya and San Francisco to New York, Tuscany and Oahu, we will take you to the best places to eat, sip, play and stay. http://dayswithzahrah.com/the-show/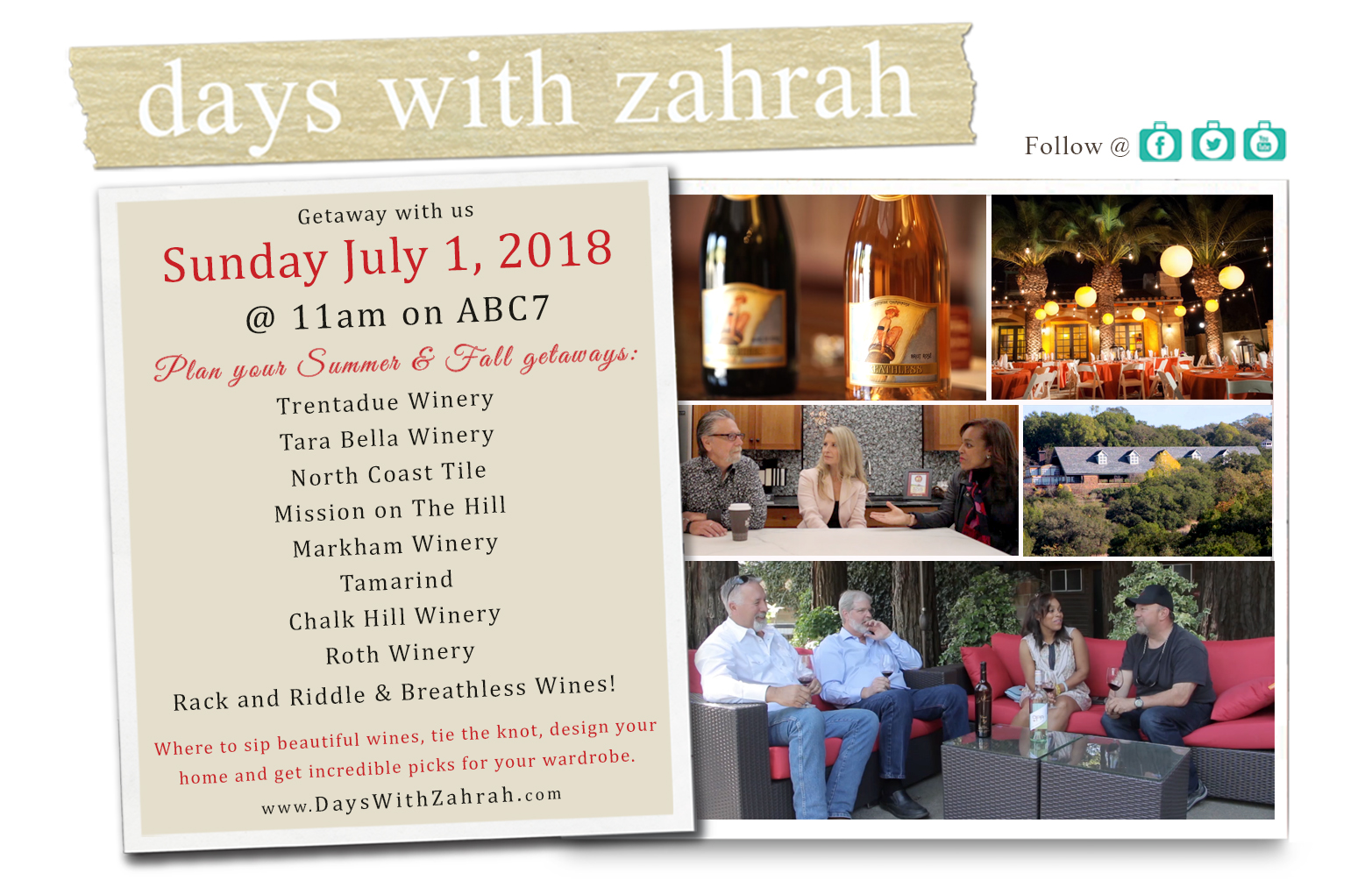 Breathless was featured in the San Jose Mercury News on April 28, 2018 as a special feature for Mother's Day! Excerpt below and click here to view the whole article.
Breathless Wines
If it's bubbles and baubles mom is after, a visit to Breathless Wines is in order. Sisters Sharon Cohn and Rebecca and Cynthia Faust, who have eight children and one grandchild between them, launched their label as a tribute to their mother, Martha.
Like their wine, the tasting room also sparkles. Crafted out of four shipping containers that feel more chic than industrial, the room doubles as a boutique, filled with jewelry and a collection of pretty Champagne flutes and coupes.
Surrounded by a flower garden, the patio is an attractive oasis a few blocks off Healdsburg's town square, and a great place to sample sparkling wine from award-winning winemaker Penny Gadd-Coster. The pinot noir-based Blanc de Noirs is a treat, as is the Brut, which is served with a side of potato chips.
Details: Tastings are available from 11 a.m. to 6 p.m. Thursday through Tuesday, for $16 or up to $69, if you opt for the sabrage experience, which includes a lesson in opening a bottle of bubbly with a saber. 499 Moore Lane, Healdsburg; www.breathlesswines.com
Breathless Sister 1-of-3, Sharon Cohn poured Breathless Bubbles on May 20th at a Tribute to Kim Novak at the Castro theater in San Francisco, where Kim talked about her legendary movie "Vertigo" and the #metoo movement.
Read the full article here...