Breathless Wine Club Trip to Champagne, France
September 21–26, 2021
5 NIGHTS / 6 DAYS ♦ 12 – 24 GUESTS
Join Breathless Wines for a 5 night/6 day tour through Champagne, France, with Sharon Cohn of the Breathless sisters and Champagne Widows author, Rebecca Rosenberg! VIP tours of the champagne houses of the famous champagne widows: Veuve Clicquot, Pommery, and Bollinger. Plus the magnificent houses of Mumm, Moet and Chandon. Discover Dom Perignon, the father of champagne, and Abbey of Hautvillers who made wine for Louis XIV. Explore the ancient city of Reims with the Notre Dame Cathedral where French kings were coronated. Dine at the Le Theatre in Epernay and the Abby of Hautvillers. Walk through the vineyards to Chigny-les-Roses where Madame Bollinger had her summer cottage and rose gardens. Indulge in a dozen small producer tastings at their charming facilities. We will stay at Chateau de Rilly, a vacation on its own with first class rooms, restaurant, and spa.
Your trip Includes: 5 nights at the luxurious Chateau de Rilly, 5 major champagne house tours and tastings, 12 small producer tours/tastings, 6 memorable gourmet meals, transportation, guides and tours as needed. Plenty of opportunities for additional gourmet meals, spa treatments, and shopping if you want to expand your experience. (Trip Cost will be announced shortly).
The Breathless team designed the experience so you can tailor it to your taste. Chateau de Rilly has an excellent full or continental breakfast, fine dining restaurant, and there are plenty of gourmet restaurants available by taxi from our chateau. Flights and rail and extra meals are up to you.
YES! I am interested, please email me with updates about this amazing experience!
(Note: Available reservations for our Champagne Experience will first be filled by Breathless Sparkling Society
Members, and then opened up to the general public on a first-come first served basis thereafter).











Trip Itinerary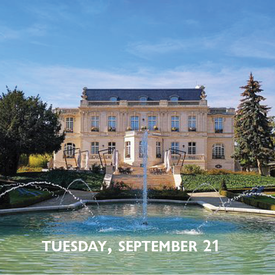 Day 1
Arrival
Arrive in Paris and take the train to Reims, where we'll meet at the stunning Chateau de Rilly. A former wine house of the end of the 18th century, the Château de Rilly is an exceptional place where art of living and a warm welcome are the key-words. We'll be treated to a delightful welcoming dinner at Chateau de Rilly (included).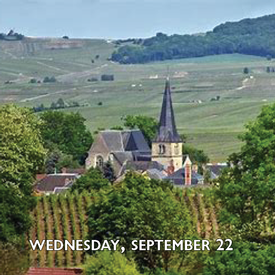 Day 2
Rilly le Montagne
Breakfast on your own at Chateau de Rilly. In the morning we'll walk through town and explore small to medium champagne houses such as J & H Fagot, Didier Herbert, Roger Manceaux and Paques et Fils. Then take a leisurely 25 minute walk through the vineyards to Chigny les Roses and gourmet lunch at Couvert de Vignes. In the afternoon, we'll take part in a tasting at J. Lasalle before walking back to Chateau de Rilly.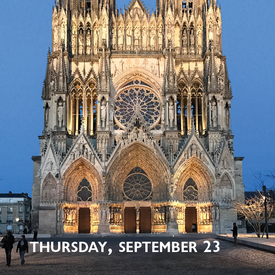 Day 3
Reims
We will visit the stunning Notre Dame de Reims and Palace of Tau. We'll then tour and taste at Champagne Pommery before a delicious lunch at Boulingrin. From here, you'll have the option of a tour and tasting at one of our famous widows: Veuve Clicquot, or explore the automobile museum, the Musee de Reddition or the Beaux Arts. Late afternoon, we'll enjoy the Mumm Grand Cru Experience, then stroll the Rue de Verdun to Tressors de Champagne. We'll finish off the day with a gourmet dinner at Brasserie Excelsior.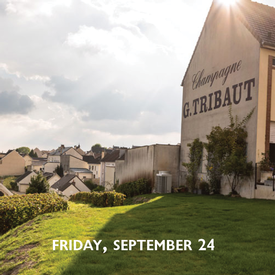 Day 4
Small Producers
Breakfast on your own at Chateau de Rilly. This morning will be our tour of the quaint village of Hautevillers. The Abbaye Saint-Pierre d'Hautvillers is the site of the grave of monk Dom Pérignon, an 18th-century pioneer of the champagne-making process. Then we will tour and taste at Tribaut Champagne and lunch at the Restaurant Abbaye de Hautvillers. In the afternoon, we will delight in some smaller producers in Cumieres: Alaine Suisse and Philippe Martin before heading back to Chateau de Rilly.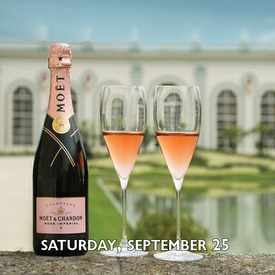 Day 5
Epernay and Ay
In the morning we'll head to Moet & Chandon at for a tour and tasting experience. Moët et Chandon is one of the world's largest champagne producers and a prominent champagne house. Next we'll dine at Le Theater or La Banque in Epernay. In the afternoon comes a tour and tasting at our third widow, Bollinger, or perhaps one of the regions sought-after producers, Lallier. And to end this extravaganza, we'll have a parting dinner at Chateau de Rilly, where we'll share stories and our favorite champagnes!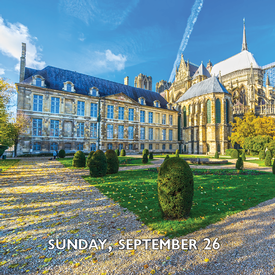 Day 6
Depart
Savor breakfast at Chateau de Rilly before boarding the train back to Paris.
You know you want to


Sign Up For Our Newsletter

Keep up to date on the latest wine releases, events, and promotions and get 10% off your next order.